Travis Kelce's Ex Walks Back Taylor Swift Shade – But Doubles Down On Cheating Claim!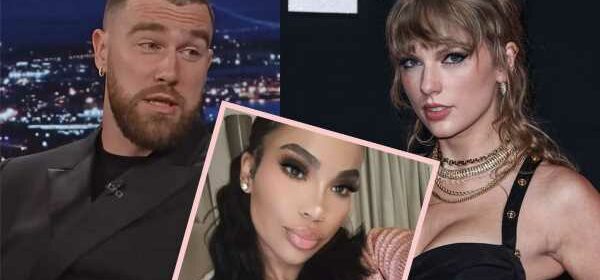 Travis Kelce's ex is not even close to done!
On Tuesday Maya Benberry gave an interview in which she warned Taylor Swift about dating the Kansas City Chiefs tight end. She said ominously:
"Only time will tell, but like the saying always goes: 'once a cheater, always a cheater.'"
After winning Catching Kelce, the Bachelor-esque dating show in which women competed to date Travis, the two dated for just a couple months in 2016. But after their breakup she claimed there was overlap with his next girlfriend, sports broadcaster Kayla Nicole. Her tweets were later deleted, but in this new DailyMail.com interview, she was proving she did NOT forgive and forget!
She also put forth positivity toward Taylor herself, saying:
"Taylor seems like such a fun girl with a beautiful spirit so I wish her the best of luck but I wouldn't be a girls' girl if I didn't advise her to be smart! I'm sure by now she has mastered the ability to see who is really there for her — and who is just using her."
However… She did kind of shade the I Knew You Were Trouble singer afterwards! On Monday, after Taylor and Travis went public, a fan commented on one of Maya's glamorous Instagram pics:
"On everything you are



and Travis gotta hold the L

he out side in public with a FRAIL GAIL Taylor Swift who beside her fame is 5″
Taylor is a 5?! Wow. And Maya LIKED the comment! So much for being "a girls' girl" huh??
Well, not so fast! That part Maya is walking back! She not only unliked the comment after the word got out, in a subsequent IG Story she said she never even noticed the jab at Taylor:
"I don't think that Taylor is a 5. The initial comment was someone complimenting me so I liked it without even paying attention just like I do every other comment on my page. But once I caught wind that it was shade I deleted the comment entirely."
She added:
"I am not a coward and if I truly felt that way about her, I would stand on it, just like I am standing on my infidelity answer."
She also said about her decision to come forward about the cheating once again, she said:
"I don't hate Taylor nor am I bitter. I got asked about my relationship and spoke on it because I can. It's my life and I can speak on it or about it whenever I please."
Over on X (Twitter) she hit back even harder at Travis after sources close to the NFL star blasted her cheating accusation as someone looking for 15 minutes of fame. She wrote:
"It's crazy how this man has been doing interviews and podcasts about the show for YEARS but when I make a comment about it, I'm wrong? The hypocrisy is real. If he can speak on his experience, why cant I?"
As for her just coming out now and lying for fame? She blasted that with the same point we made — how did she know seven years in advance this would be a story?? She wrote back on IG:
"Everything I said now about my experience I said then after we broke up. So my narrative hasn't changed, nor will it. What I'm not going to do is put on façade about my experience when asked about infidelity. You don't have to like my answer, but the truth is the truth."
Girl has a point! But is she really being magnanimous? Or doing revenge??
What do YOU think, Perezcious readers? Is Maya really looking out for Taylor here, being "a girls' girl"? Or just hitting back at a man who she thinks did her wrong??
Source: Read Full Article