Glastonbury 2024 set to be headlined by 'really big' artist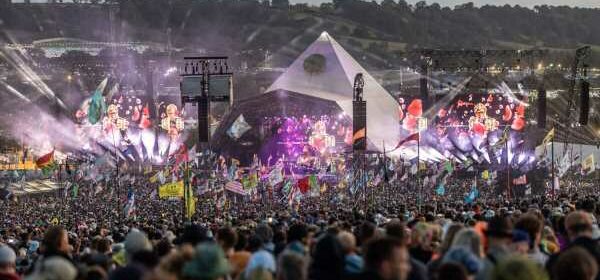 Glastonbury co-organiser Emily Eavis has revealed a "really big" star is set to perform at Glastonbury 2024.
It comes as the Internet has been awash with rumours suggesting hitmaker Madonna could be making an appearance at the legends slot next year. The 65-year-old is currently on tour celebrating four decades in the music industry.
Speaking on the BBC Sidetracked podcast, Eavis said the line-up for the five-day event in June is still "a little up in the air" but that she hopes there will be two females headliners. She did not reveal any identities, but said a "really big American artist" had recently reached out.
She told podcast hosts Annie Macmanus and Nick Grimshaw on Thursday's episode: "I've been talking to people about headline slots for next year for about two years and those are still very much up in the air so it takes a long time."
READ MORE: Iconic US popstar set to be headlining Glastonbury 2024
The festival organiser said she thought things were "taking shape" until she received a phone call last week that changed things. She said: "This is what happens if you wait a little longer, because quite often we'll be booked up from July but this year we're holding out for a little bit longer.
"And then last week, I got a call from a really big American artist saying 'This person's around next year' and I was like, 'Oh my god, this is incredible. Thank god we held the slot'."
Last year's festival was criticsed as headliners Guns N' Roses, Sir Elton John and Arctic Monkeys were all men. Eavis said she had tried to book a female headliner, but they had to pull out due to a calendar clash.
Don't miss… Freddie Mercury's road manager reveals the backstage secrets of the rock god[LATEST]
Advert-free experience without interruptions.
Rocket-fast speedy loading pages.
Exclusive & Unlimited access to all our content.
Reflecting about the balance on the podcast she said: "I've always been really passionate about gender split. I think actually our problem was that I've been so outspoken about it that having a year where there wasn't a female, it (made) some people a bit mad…
"And actually we did have a female, she pulled out and we replaced with Guns N' Roses on Saturday."
She added: "It is difficult with female artists because there aren't enough headliners but we're also creating them… there's female artists on smaller stages and (we're) bringing them through all the time so I feel the pool is going to be bigger soon.
"And who knows next year we might get two and certainly I can say that the legend is female."
Source: Read Full Article