Priscilla Presley Talks "Love Of My Life" Elvis At Emotional Press Conference For Sofia Coppola's 'Priscilla' – Venice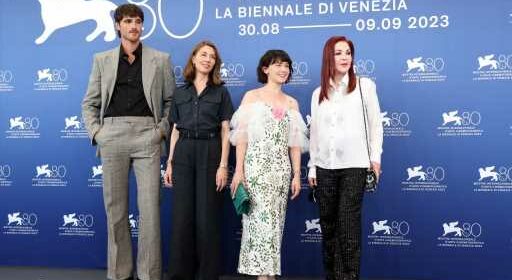 Although she wasn't seated at the dais this afternoon, and rather in the audience, Priscilla Presley loomed large over the Venice press conference for Sofia Coppola's film, Priscilla, which screens in competition here tonight.
Presley at one point choked up when she took the mic and told the Venice press corps, "It's very difficult to sit and watch a film about you and about your life and about your love. Sofia did an amazing job, she did her homework… And I really put everything out for her that I could."
Written and directed by Coppola, Priscilla is based on the 1985 memoir Elvis and Me co-authored by Presley and Sandra Harmon. The story begins when teenage Priscilla Beaulieu meets Elvis at a party and the man who is already a meteoric rock-and-roll superstar becomes someone entirely unexpected in private moments: a thrilling crush, an ally in loneliness, a vulnerable best friend. From Priscilla's point of view, the film looks at the unseen side of a great American myth in Elvis and Priscilla's long courtship and turbulent marriage.
Related Stories
Breaking News
Woody Allen Gets Rapturous Reception At Venice; Talks Love Of European Cinema; Life-Career Luck & Hope Of Shooting In New York Again
Breaking News
Lorenzo Mieli: How The Italian Producer Of Sofia Coppola's 'Priscilla', Luca Guadagnino's 'Queer' & HBO's 'My Brilliant Friend' Is Breaking Global Boundaries – Venice
Coppola said she was drawn to the project because she was "so struck with how the setting is so unusual but she goes through all of the things that all girls go through growing up into womanhood — her first kiss and becoming a mother — all of these moments I could relate to, but in this very unusual setting that we're so curious to know."
Presley said of her age when she first started seeing Elvis, "It was very difficult for my parents to understand that Elvis would be so interested in me and I really do think because I was more of a listener, Elvis would pour his heart out to me, his fears, his hopes, the loss of his mother which he never ever got over, and I was the person who really really sat there to listen and to comfort him. I was a little bit older in life than in numbers and that was the attraction. People think, 'Oh it was sex, it was this.' Not at all. I never had sex with him. He was very kind, very soft, very loving but he also respected the fact I was only 14-years-old."
Presley also clarified that when she left years later, "it wasn't because I didn't love him, he was the love of my life. It was the lifestyle that was so difficult for me… We had our daughter and I made sure that he saw her all the time, it was like we never left each other. I want to make that clear."
The film stars Cailee Spaeny as Priscilla Beaulieu Presley and Jacob Elordi as Elvis. The cast was able to travel to Venice to support the movie after having received a SAG-AFTRA Interim Agreement. Commenting on the strike, Coppola said, "It's hard work to fight for fair compensation and I hope it's resolved soon because there's so many people, they all want to get back to work."
Said Spaeny of taking on the role, "It was very daunting, but I got very lucky to have some time with Priscilla. She was very generous with her time and very kind to me and supportive."
Elordi commented, "The whole prospect facing me was this kind of huge mountain and it really was, 'Put the blinders on and just go all out.' There was no space not to do that."
He drew applause when he spoke of the relationship between Priscilla and Elvis, "The most impressive things to me is the scale of this love and the power of this love. And even to this day even though he's not here, when you talk to Priscilla you can still feel the love. It's true and it's undying and it's just beautiful… It's this tether that ties two people together and I think that's for eternity."
Priscilla hits domestic theaters on October 27 via A24. Mubi has also taken rights across multiple territories including the UK.
Must Read Stories
ITV & Equity Progressing On Landmark Artificial Intelligence Deal
Woody Allen Returns; Priscilla Presley & 'Priscilla'; Barbera Interview; 'Killer' Coverage; More
'Equalizer 3' Heading To Second Best Labor Day Opening Ever With $42M+
Disney Tells Spectrum Customers They Have Options In Carriage Dispute
Read More About:
Source: Read Full Article