'Pet Sematary: Bloodlines' Trailer: Paramount+ Horror Prequel Reveals 'Sometimes Dead Is Better' Origins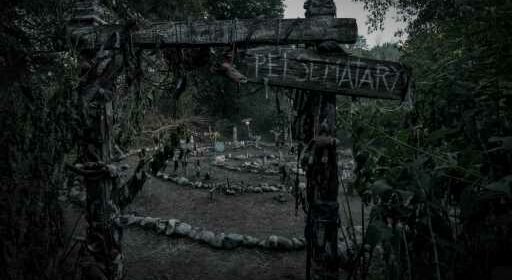 Now we see in detail how Pet Sematary's Jud Crandall came to the conclusion that sometimes dead is better.
In a new trailer for Paramount+ upcoming film prequel Pet Sematary: Bloodlines, Jud, portrayed in the 1989 original by Fred Gwynne and in the new movie, set in 1969, by Jackson White, has his first run-in with undead critters (and people). We even hear the classic "sometimes dead is better" quote again.
Based on Stephen King's novel Pet Sematary, the new prequel will premiere Friday, October 6, exclusively on Paramount+ in the U.S., Canada, Latin America and Brazil, and Saturday, October 7, in all other Paramount+ international markets.
Related Stories
Breaking News
'Rustin' Teaser: Netflix Drops Trailer On 60th Anniversary Of March On Washington
Documentary
Ukraine Soccer Club Docuseries 'Football Must Go On' Gets Premiere Date At Paramount+
The film will get a world premiere screening later this month at Austin's Fantastic Fest (Sept. 21-28) and will be featured in the Paramount+ Peak Screaming curated streaming collection for Halloween.
The official synopsis: "In 1969, a young Jud Crandall has dreams of leaving his hometown of Ludlow, Maine behind, but soon discovers sinister secrets buried within and is forced to confront a dark family history that will forever keep him connected to Ludlow. Banding together, Jud and his childhood friends must fight an ancient evil that has gripped Ludlow since its founding, and once unearthed has the power to destroy everything in its path."
The origin story was referenced in the original film.
In addition to White (Tell Me Lies), the prequel features Forrest Goodluck, Jack Mulhern, Henry Thomas, Natalie Alyn Lind, Isabella Star LaBlanc and Samantha Mathis, with Pam Grier and David Duchovny.
Pet Sematary: Bloodlines, a Paramount+ original movie in association with Paramount Pictures' Players Label, is a di Bonaventura Pictures Production. The film is directed by Lindsey Anderson Beer with a script written by Beer and Jeff Buhler, and produced by Lorenzo di Bonaventura and Mark Vahradian.
Check out the trailer above, and see the official poster below.
Must Read Stories
WGA Investigating "Delayed" & Lower Residual Checks From Studios To Scribes
Stars & Directors Decry Fest Sponsor; Talking Heads; 'Pain Hustlers'; Reviews & More
'One Piece' Spends Another Week Atop TV Charts: How Streamer Made It Happen
Dana Walden & Jimmy Pitaro On Spectrum Deal: "The Future Of Our Business"
Read More About:
Source: Read Full Article