Meet the stars of My Mum, Your Dad – Davina McCall's show dubbed 'midlife Love Island'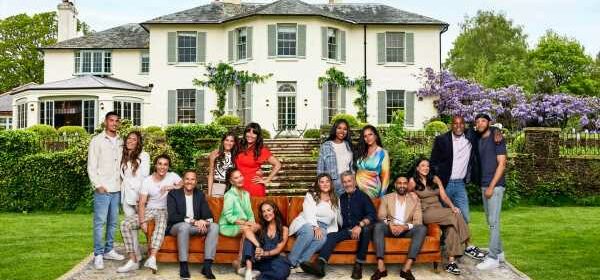 My Mum, Your Dad is ITV's latest reality dating show set to send pulses racing after already being dubbed a "midlife Love Island".
Viewers are gearing up to watch connections form between unlucky-in-love hopefuls on the highly-anticipated new series helmed by presenter Davina McCall.
The programme is set in a luxurious country mansion and has been designed to attract older viewers more interested in grown-up conversations and the slow burn of love, rather than dramatic arguments and risqué bedroom scenes a la Love Island.
The swanky location also features an indoor and outdoor swimming pool, tennis courts, and ginormous living areas, but the cameras have been set up to film the housemates in every area bar the bedrooms.
As well as nine men and women in their 40s and 50s excited to find love after a number of setbacks in life, their grown-up children will also be starring on screens- holed up in a viewing room.
The younger generation will be discussing their parents' connections with each other, and even setting up dates and matches in secret.
Meet the stars of the new TV series set to light up screens…
The first pair is relationship recovery coach Natalie, 44, and her 20 year old Kaliel, who is a plumbing apprentice.
The mum and son are from Bournemouth, and Natalie has spent years on her own because she's been more focused on growing her business.
The new star joked that her dating history has been a "colourful shambles" and she's apprehensive of her children watching her "kiss" on screen.
Decorating company owner Paul, 47, is next to try his hand at finding love, with his daughter Mazey, 21, to support him.
Bath-based Paul has explained that his issue in relationships in the past has been "not opening up" and he gets bored with online dating.
Student Mazey is hoping her dad will think of dating outside the box because he's got a "million hobbies".
Welfare officer Sharon, 53, is a bombshell from Sunderland, who will be guided through her time in the Retreat by her daughter Tia, 24, who is a social media influencer.
Sharon is a fashionista who takes care of her looks and looks stunning in full glam makeup and a satin green blazer dress.
Despite being utterly gorgeous, the newcomer admitted that her love life has been "sad" and she thinks after a string of dating the wrong men her confidence has been "knocked".
Tia is convinced her mum needs to give more down to earth men a chance and ignore the "six packs".
Baby clinic worker Caroline, 51, seems to be in a similar boat, as the beautiful brunette with a "colourful dating history" admitted to being a "bad judge of character".
Along with the support of her flight attendant daughter Karli, 20, Caroline, who is from South Lanarkshire, is excited to get to know some "genuine" men in the Retreat.
Karli is convinced her bubbly and kind mum just needs a "best friend".
Next up is 50 year old Monique, another brunette and qualified therapist, who is joined on the show by her 21 year old daughter Talya.
The hopeful, who is from North London, cites "poor judgement" as the reason for her lack of success in the romance department.
After a "disappointing and disheartening" history, she's hopeful to meet someone as equally honest as her despite being "fussy" in the past.
Talya is determined it's her mum's "time" to shine after putting her daughters' needs first for many years.
There is also a postman joining the cast, Roger, 58, who sadly became a widow 18 months ago when his wife died.
Joined by his network rail planner daughter Jess, 28, the Derbyshire pair have decided it's time for Roger to get back out there in the dating world, and the cautious star is hoping to gain some "confidence" from going on the show.
"He's funny, handsome and caring. He needs someone with a sense of humour," Jess shared, praising her dad in the process.
Pastoral support officer Clayton, 57, and his 35 year old graphic artist son Christian, are also joining the cast.
The Nottingham-based dad has had a "hit and miss" experience with dating and finding love over the years.
Often plunging in with a woman and becoming fully "invested" early on, things can fall apart quickly.
Christian is hopeful that living with a group of other women will help his dad to get "tips", but knows that Clayton will need someone traditional, who has manners, and with a bit of "culture" and patience ready to join a big Jamaican family.
Singer and blonde bombshell Janey, 47, is a stunner who has been unlucky in the dating world for almost all of her 19 year old son Will's life.
The West Sussex star is also a recruitment manager in the corporate world and is finally ready to get back out there now her son's left home for university.
"It's getting a bit desperate now!" Will joked about his mum's love life. "She's an outgoing chatty lady who's up for a drink."
Last but not least is 53 year old Elliott, who is a PE teacher from Essex.
Joined by his son Zachary, 21, who is a student, Elliott joked he's a "dating disaster" and even took a woman on a date to a bathroom shop sale in the past.
While Zach admitted his dad is a massive "overthinker" and struggles with patience in dating, he is "caring, passionate, heartfelt, decent-looking and active".
Source: Read Full Article