MAFS' Shona: 'I'm not proud of myself after the show but footballers slid into my DMs!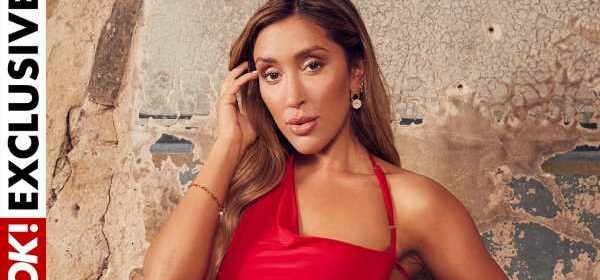 Married At First Sight UK star Shona Manderson has opened up about her experience on the show, as she admitted that she wasn't "proud" of herself.
The 31 year old starred on the 2023 series, where she was paired with spiritualist and model, Brad Skelly, who she met for the very first time at the altar when they got married.
Whilst it seemed like the perfect match, with the couple quickly telling each other they loved one another, their relationship began to raise eyebrows, with cracks starting to show and, in one particularly jarring scene, Brad told Shona to "shut up".
Brad was later axed from the E4 show after producers became concerned following his "controlling and coercive" behaviour toward Shona, which of course meant that she was also forced to leave the experiment.
Shona has moved on, however, having taken time after the show to focus on herself, and she's even found a new boyfriend, as she spoke to OK! about her life now.
She admits that watching the show back with the rest of its viewers was "emotional", "hard" and "heavy".
"But the support I received was amazing," she tells us. "I was kind of kicking myself feeling like I didn't handle it very well on the show. I wasn't really proud of myself and I didn't leave the experiment thinking that I' done the best that I could."
Shona continues: "I feel like I did the opposite. I lost my voice, so I was so nervous for people to see the show, and scared of what they would think of me."
"But the reaction was the complete opposite to what I thought. People had so much empathy and loads of people could relate – it made me feel empowered."
Following her exit from the show, Shona flew to Sri Lanka for five weeks and did her yoga teacher training, and it's there, she tells us that she "felt Brad leave my body" which gave her the power to move on.
"I believe I was meant to go on this journey for a reason," she ponders. "I learned so many lessons."
She reflects: "I'm wiser, I'm stronger. I'm putting myself first and honouring myself because in the relationship with Brad, I put him above me, whereas he put me below him.
"But now, I know I'm great. I have so much to offer and never, ever again will I let that treatment happen to me."
And what does Shona think to Brad now, months on from the breakdown of their marriage and exit from the show?
She tells us: "I believe in my heart that Bradley has demons, but I don't believe that, overall, he's a horrible, malicious, evil person.
"I just think he's got dark demons and he's got a journey that he needs to go on and recognise and hopefully he will," she continued. "I hope he doesn't just blame the edit [of the show] or just say that he was unhappy, because his behaviour was not okay.
"It's behaviour that can't continue."
Speaking about her lengthy and emotional Instagram post in October, in which she addressed her time and exit from the show, Shona explains: "The only reason I did the post was that, unfortunately, I turned out to be matched with a guy who was just there to promote himself.
"But, I was there for love, and when he publicly said after the show that he'd never loved me, even though he said I was the 'love of his life' during our experience, and he doesn't think it's a big deal – that fires me up."
Shona has moved on and found love again, and whilst she remains coy on the details, she says: "The one thing I'll say is that it's amazing how it happened.
"I went on my journey of self love and then came home and met this person at the perfect time."
Whilst she says she is in a "happy relationship" Shona confessed that her newfound fame from doing Married At First Sight means that she's had a number of famous footballers sliding into her DMs, as well as a Gogglebox star."
But Shona tells us excitedly: "I've got a boyfriend now, so he won that."
OK! has contacted Brad Skelly for comment.
Follow OK! on Threads here: https://www.threads.net/@ok_mag
Source: Read Full Article