US Open Fan Ejected After Allegedly Screaming 'Hitler Phrase' During Zverev Match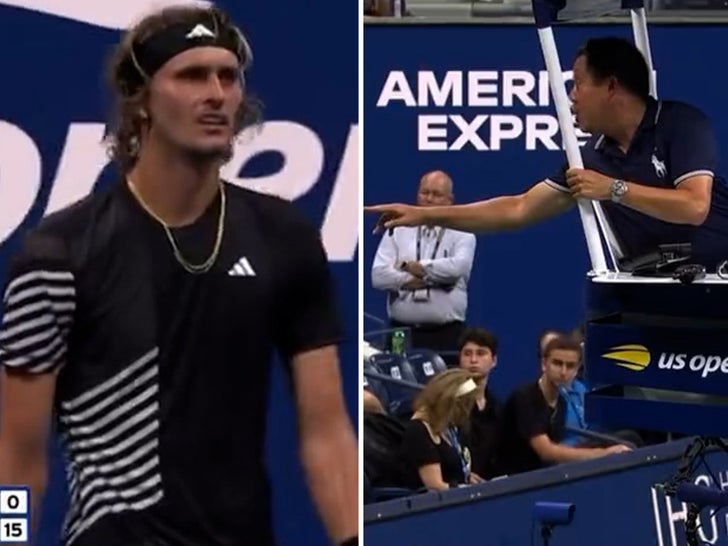 A US Open fan was booted from his seat early Tuesday morning … after tennis star Alexander Zverev insisted the guy screamed "the most famous Hitler phrase there is" right in the middle of a match.
The incident happened during Zverev's grueling clash with Jannik Sinner at Arthur Ashe Stadium in New York … when just before Zverev went to serve, a fan allegedly yelled out, "Deutschland über alles" — words associated with Hitler's Nazi regime.
Immediately after the patron had finished shouting, Zverev turned to the chair ump and told him the comment was "unacceptable."
"This is unbelievable," he added.
The US Open official then turned toward the crowd and demanded to know who yelled the remark. Several moments later, the alleged shouter was ID'ed and ejected from the venue.
"A disparaging remark was directed toward Alexander Zverev," a United States Tennis Association spokesman said in a statement following the incident. "The fan was identified and escorted from the stadium."
Zverev would go on to win the match despite the scene … and afterward, he expressed his disappointment over the whole interaction.
"I love when fans are loud," said the 26-year-old, who will face Carlos Alcaraz next in the US Open's quarterfinals. "I love when fans are emotional. But I think me being German and not really proud of that history, it's not really a great thing to do, and I think him sitting in one of the front rows, I think a lot of people heard it. So if I just don't react, I think it's bad from my side."
Source: Read Full Article