Oscars: Italy Submits 'Io Capitano' For Best International Film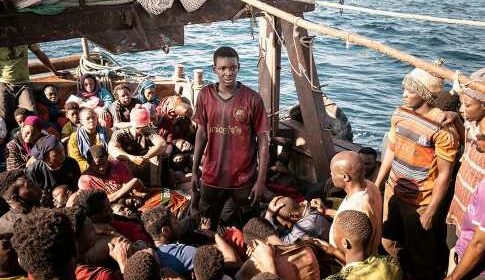 Italy has submitted Matteo Garrone's Io Capitano as its candidate for Best International Film at the 96th Academy Awards.
The timely drama follows the hardships of two Senegalese teenagers as they try to make it to Europe via the Sahara desert and the Mediterranean Sea.
Related Stories
Best International Feature Film Oscar Winners: Photo Gallery
'Io Capitano' Review: A Gritty, Heartbreaking Study Of Migrant Dreams From Italy's Matteo Garrone – Venice Film Festival
The film world premiered to critical acclaim in Competition in Venice winning Best Director for Garrone, Best Young Star for co-star Seydou Sarr and Best Production Director for Claudia Cravotta.
The Deadline review out of Venice describes the film as "a blisteringly topical drama" that could be Garrone's "best" film to date, in a filmography that also includes Gomorrah, Tale of Tales and Dogman.
The selection was made by a committee overseen by Italian cinema organisation Anica. Its members comprised Alessandro Araimo, Domizia De Rosa, Esmeralda Calabria, Daniela Ciancio, Francesca Lo Schiavo, Giorgio Moroder, Cristiana Paternò, Michele Placido, Paola Randi, Riccardo Tozzi and Gianpiero Tulelli.
The selection committee said in a joint statement that they had selected Io Capitano — which translates literally as "Me Captain" — for the way it "embodied with great power and cinematic mastery the universal desire to seek freedom and happiness."
01 Distribution launched the film theatrically in Italy on September 7 on 200 screens. Italian media reported on Wednesday that the release was being expanded to 350 screens this week on the back of its early success and a gross of just over $1.2 million to date.
The film has sold to multiple international territories and sales agent Pathe International is reported to be on the cusp of announcing a U.S. deal.
Deadline also reported last week that the Garrone and his young cast accompanied the film to the Vatican for a special screening for Pope Francis.
In a strong year for Italian cinema, 12 features were shortlisted for consideration with other hot favorites including Nanni Moretti's A Brighter Tomorrow, Alice Rohrwacher's La Chimera and Marco Bellocchio's Kidnapped.
Other titles in the running included Paola Cortellesi's C'è Ancora Domani, Riccardo Milani's Grazie Ragazzi, Gabriele Salvatores's The Return Of Casanova, Andrea Di Stefano's Last Night Of Amore, Marisa Vallone's La Terra Delle Donne, Sydney Sibilia's Mixed By Erry, Tiziano Russo's Noi Anni Luce and Giuseppe Fiorello's Stranizza d'Amuri.
Italy has won the Oscar 11 times, with its last victory being Paolo Sorrentino's The Great Beauty in 2013. Sorrentino was also behind the country's last nomination – for The Hand Of God – in 2022.
The deadline for submission for the Best International Film category is October 2.
Here's the list of this year's category submissions so far:
Must Read Stories
'Dancing With The Stars' Rehearsal Pickets Target Walsh, Hannigan & Sorvino
New Zealand Classic 'Once Were Warriors' Getting TV Update & Sequel Novel
J.A. Bayona's Netflix Pic To Rep Spain For International Feature; Iran Pick Criticized
Peacock's 'John Wick' Spinoff 'The Continental' Is A Gritty, Swagger-Filled Romp
Read More About:
Source: Read Full Article