Why 'Teen Mom' Fans Think Jenelle Evans' Husband, David Eason, Is Abusive
While Farrah Abraham may be the most notorious young woman to ever set foot on Teen Mom, Jenelle Evans has certainly made a name for herself on Teen Mom 2. We've seen her get into altercations with her mother and boyfriends over the years, all while taking care of her kids. Now, she and her husband, David Eason, seemed to be living a stable life with her three little ones. But after recent police activity (and, of course, David's firing from the show), everyone's concerned over Jenelle's safety.
David Eason's hateful tweets had him fired from Teen Mom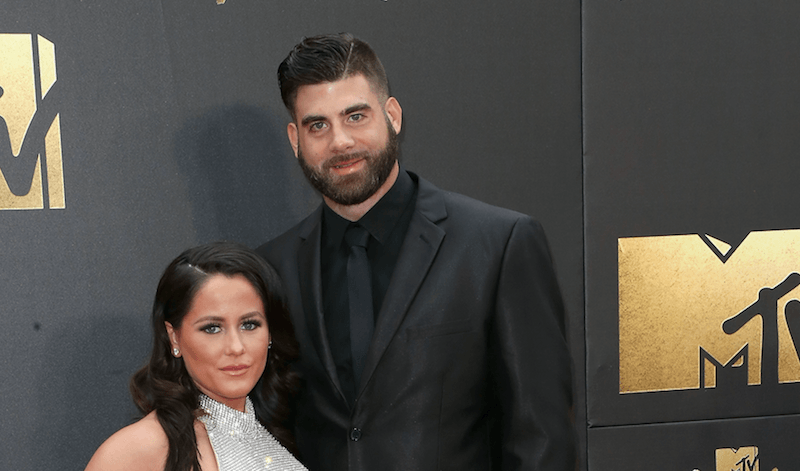 David Eason and Jenelle Evans | Frederick M. Brown/Getty Images
We remember when David was first seen on the show — and he seemed like a welcome change for Jenelle It wasn't long, however, before MTV had to let him go.
In Touch Weekly reports back in February 2018, David duked it on Twitter with another user. David is pro-guns, and the user suggested that parents should educate their children rather than support pro-gun laws. In response, David commented back, "And just what makes you think you have a right to tell me how to be a parent? … LMAO, why don't you go tell the homo and transgender parents to start teaching their kids better morals. Oh, I forgot, that's supposed to be normal."
MTV quickly took action after fans demanded his firing. And while Jenelle tried to defend her husband by saying he's not prejudiced, fans quickly started to worry that his internalized hate would also affect her in the long run.
Jenelle called the police after an alleged attack from David
Jenelle Evans and her family | Jenelle Eason via Instagram
Jenelle has spoken candidly about her past with abusive men before — so it worried many when police officers were reportedly sent to her home on October 13. E! News reports Jenelle tearfully called the cops and alleged that David had assaulted her at the time. In the recording, Jenelle said, "He's been drinking and I think that he got violent 'cause he was drinking. I'm recovering from a surgery I got on Monday." The report even says that Jenelle declined an ambulance and instead said she would head to the hospital on her own.
In hindsight, however, she called it a "drunk and dramatic misunderstanding." And though her rep tried to play the incident off as her falling into a bonfire on accident, a source close to Jenelle told E! News that that was not the case. Instead, the source said that Jenelle wished to keep the "misunderstanding" to herself, thus the bonfire story was told to the media to maintain privacy.
David has also threatened a Teen Mom co-star's father
Jenelle calls her police call a misunderstanding — but David still hasn't been able to stay out of the media since that run-in with the cops. Radar Online reports David ranted against Randy Houska on Instagram, the father of fellow Teen Mom 2 star Chelsea Houska. David accused Randy of talking badly about him — and he then threatened him with guns and violence.
Us Weekly reports in one such video, David said, "Hey, punk, huh? You need to get straightened up? I'll do it for ya, free of charge. Come on down to my dentist's office, bud. I can even pull teeth. I can realign your jaw." This, of course, concerned Jenelle's followers, too.
Jenelle took to social media to defend her and her husband
Jenelle Evans from Teen Mom 2 | Jenelle Eason via Instagram
After the dramatic incident with the police, Jenelle took to YouTube to tell everyone that both she and the kids are totally fine. People reports she also added, "I've been in so many domestic violence situations in the past that I would not put up with it now. So I don't know why you guys would think that I would continue to stay in this relationship if I was being abused." Jenelle then went on to say that she's always been truthful about her relationships — and this one with David is no different.
It seems fans don't totally believe Jenelle, however. Many are still concerned over David's repeatedly violent outbursts despite her assurances.
Check out The Cheat Sheet on Facebook! 
Source: Read Full Article