Where Candiace Dillard And Karen Huger's Friendship Stands Now
The physical fight between Monique Samuels and Candiace Dillard at the end of "Real Housewives of Potomac" Season 5 was unquestionably the biggest Housewives fight in the history of the franchise. Things get taken to a new level any time there's hair pulling involved. It also impacted more relationships than just the one between Candiace and Monique. Most of the other Potomac 'Wives stopped speaking to Monique after the throwdown, while Candiace's friendship with Karen Huger took a huge blow. Karen was one of the few women who took a neutral position on the Monique-Candiace altercation, which Candiace took as a betrayal. After all, it was Monique who actually grabbed Candiace by the hair and started hitting her over the head.
"You can say whatever it is you need to say to smooth it over, but I'm looking at your actions," Candiace told Page Six, "because as they say, actions speak louder than words. Karen's actions from the beginning of this toxic fight and afterwards has been very difficult to peg and trust. I don't see how we come back from that place."
So, is that still the case? Keep scrolling to see where the former friends stand in Season 6.
Karen and Candiace are cordial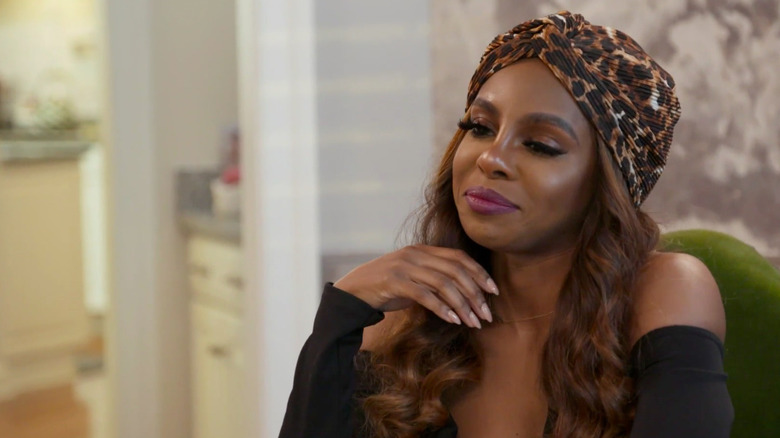 "You have to stay tuned for Candiace and my growth and how we work through that, because there's love between Candiace and I," Karen Huger told Entertainment Tonight about the duo's strained relationship. And in Episode 3 of "Real Housewives of Potomac" Season 6, the pair finally address their issues.
While Candiace Dillard may want Karen to apologize for remaining neutral, Karen is not ready to back down. "I know you were hurt and mad at the decision I made to be neutral — but I don't regret it, okay, Candiace?" She also said she felt that she didn't get support for her decision to stay in the middle and that she didn't know what that meant for their friendship moving forward. For her part, Candiace said, "I would be lying if I said that we will be as close as we were. I need to trust you, and right now I don't trust you," which Karen seemed to accept, saying they'd take it one step at a time. In her confessional, Candiace said, "I came into this opening up the walls of forgiveness ready to receive and you are not capable of being a friend. I don't trust you but I can still be cordial and kiki with you and that's what I will do with her — is keep it very cute."
To be honest, everyone seems to be reacting in a pretty healthy way here! So at least there's that.
Source: Read Full Article