What Does Katie Thurston Do For A Living?
As the seasons change, so do the bachelorettes. This summer, the woman to watch is Katie Thurston. Like her predecessors, Katie nabbed the role by losing her place on the previous season of "The Bachelor." She might not have been lucky in love, but Katie was lucky enough to become a fan favorite, propelling her forward to leading lady status.
One of the more remarkable things about the "Bachelor" franchise is that it catapults perfectly normal contestants to a level of fame that would be otherwise unimaginable for most people. One day you work in PR; the next, you are a bonafide influencer. (We all know the actual winner of "The Bachelor" isn't the woman holding the final rose; it's the women who garnered enough of a fanbase to quit their jobs and start relationship-oriented podcasts.)
But where were we? Oh yes, Katie. Since her debut on Season 25 of "The Bachelor," Katie has racked up more than 600,000 Instagram followers, putting her in the comfortable position of never needing to work an office job again. We might not be too far off to assume that Katie is about to make the classic Bachelor Nation career pivot from Average Jane with a tedious job, to a fast-fashion influencer and skinny tea connoisseur.
What did Katie do before she found fame, anyway? Let's find out.
Katie Thurston's job prepared her for 'The Bachelor'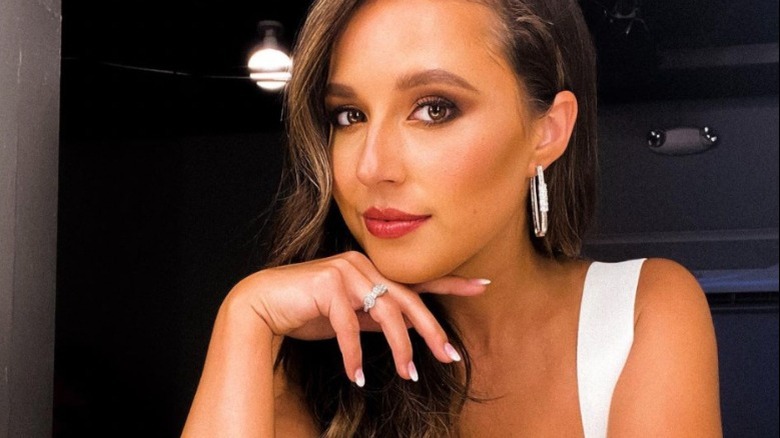 Ask anyone who's ever appeared on "The Bachelor," and they will tell you how intimidating the first night can be. On average, 30 women in various states of glam are thrown together and forced to make small talk about their competition until the early hours of the morning. Luckily for Katie Thurston, though, her finance job prepared her for just such an event.
"I come from a finance background where I have to know my customer's face and name," Katie said when speaking to Us Weekly in June. Thanks to all the networking practice, Katie was able to remember everyone's name after just a few hours. "I picked that up right away."
Before joining the ABC franchise, Katie worked as a bank marketing manager in Washington state. She explained the role to Ryan Seacrest as "just a little bit of everything," with a focus in marketing. Now that Katie is also working for ABC, does she still have her comfortable banking job? It doesn't look like it. When asked about her future career plans, Katie told Seacrest, "I think I have a lot to figure out. It's kind of a new chapter in my life right now."
Source: Read Full Article