'The View': Rosie O'Donnell Says Producer Bill Geddie Fed Elisabeth Hasselbeck Conservative Talking Points Backstage
Rosie O'Donnell recently discussed the tension she had backstage of The View with not only Elisabeth Hasselbeck but also producer Bill Geddie.
Viewers likely recall the iconic split-screen moment when Hasselbeck and O'Donnell got into an explosive fight on camera. But what they didn't know was Geddie was feeding Hasselbeck conservative talking points before each show. This often gave O'Donnell her own set of ammunition because she would then do her own digging prior to the episodes.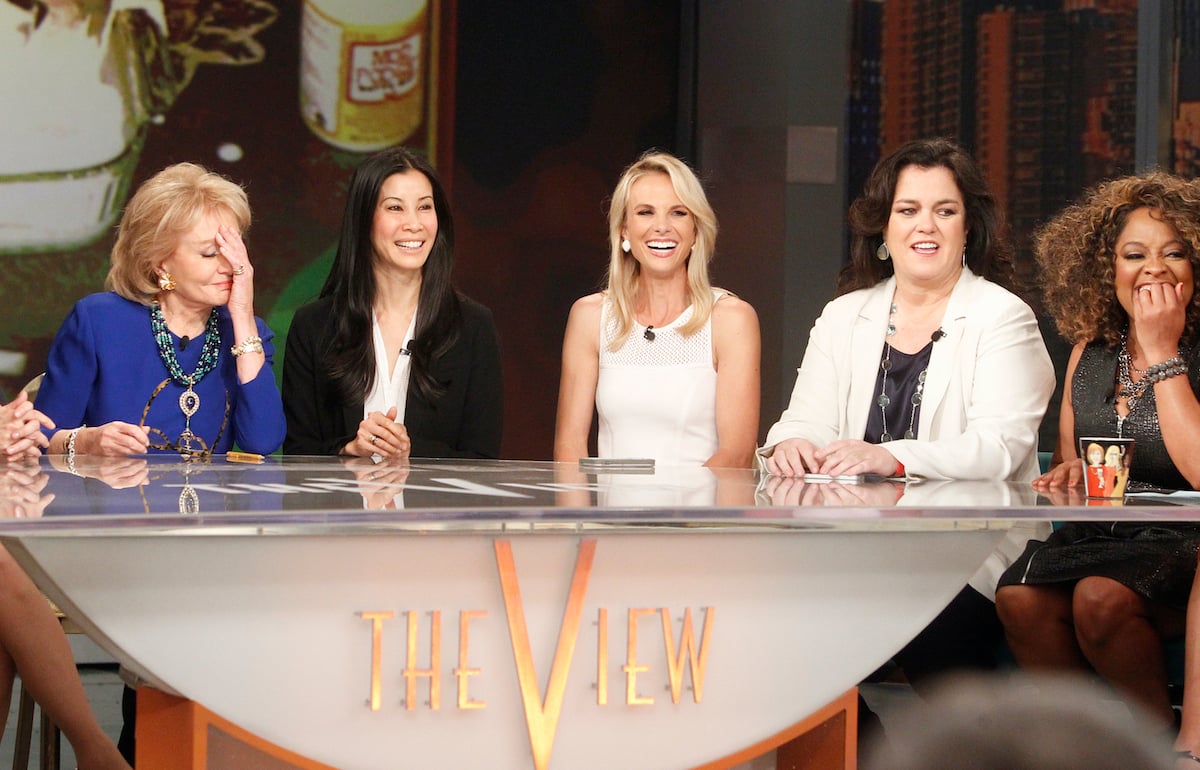 Rosie O'Donnell would get her own Republican talking points to counter Elisabeth Hasselbeck
"It was very much, you know, and she had Bill Geddie, who I don't think is very pro-feminist, pro-women, he is the opposite," O'Donnell said on the Hot Takes & Deep Dives podcast. "And he and I did not get along. And that was very obvious. He was afraid I was going to have him fired. I had no interest in taking that job. I just wanted it to be a better show."
That's when O'Donnell recalled how Geddie would feed Hasselbeck conservative talking points and counterpoints. "I know he did it every single day," O'Donnell said. "He would go into our dressing room and talk to her about what the Republican talking points were for that day. So how I came to do it was I would get the Republican talking points and I would look. So I would be prepared on what she was going to say, you know?"
"But you know she's an interesting person," O'Donnell observed. "I tried, no matter what, to love her. I took her kids to Sesame Street and I took her to her first Broadway show. And, you know, I don't really know what she's about."
Elisabeth Hasselbeck and Rosie O'Donnell never seemed to fully resolve their differences
"I said something that I had a crush on her, but it was not a sexualized crush. It was just like a girl crush like she was the MVP of a Division one softball team," O'Donnell asserted. "That was impressive to me. And it also let me know she'd been around a lot of lesbians before. Which is just statistical. Right. So I thought she had biceps said she was fit. She was attractive."
"She was a cute little girl, you know, but I was in no way predatory wanting her or sexualizing it," she recalled. "I was just showing myself, love can win."
O'Donnell said she truly tried to push past her differences with Hasselbeck. "Watch, I'm going to love this girl and it's going to we're going to get over our differences and we never did," she remarked. "And then when she took the quote about me having a crush on her saying it was like if a man had a crush on her, I'm like, oh, dear God. Like, women are predatory like that. Women are not. You know, that was not the intent nor the way she took it. And she knows it, which is the bottom line. She knows it."
Source: Read Full Article