The Truth About Kourtney Kardashian And Scott Disick's Children
Long before "Keeping Up with the Kardashians" officially ended, there was a time when Kris Jenner was worried that the show was getting boring. Yet, some big news came that quickly washed her worry away. During Season 4, Kourtney Kardashian and Scott Disick announced they were expecting their first baby. Now, the Kardashian kids are "always making more babies," their momager said on "Beyond Candid with Giuliana," and there's "always another story." Three kids later — and 20 seasons later — here they are.
Everybody knows the eldest Kardashian and her ex Disick as reality stars, but being the parents of their three children — Mason, Penelope, and Reign — is what they really want to be known for. "It's definitely my favorite role in life," the Kardashian told Parents. "It has changed me and made me realize there is nothing else I would rather do with my time."
We've gotten to know these three little ones over the course of their television career, but there's still a lot of information that fans may not know about them. This is the truth about Kourtney Kardashian and Scott Disick's children.
Mason Disick's birth originally wasn't supposed to be on TV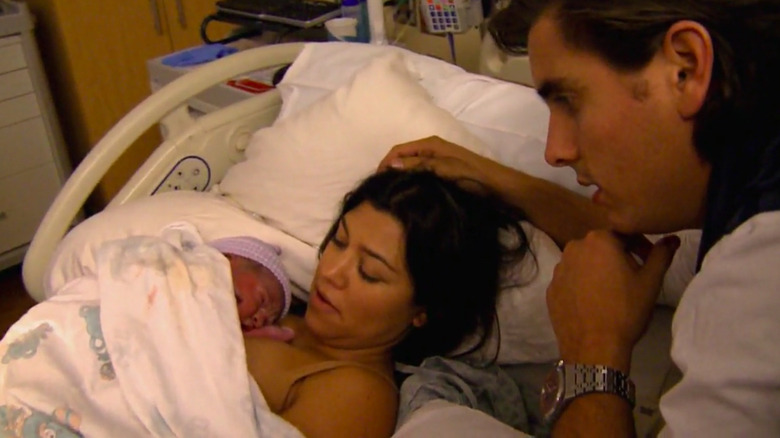 One of the most iconic moments on "Keeping Up with the Kardashians" is when Mason Dash Disick was born. After all, fans will never forget the scene when Kourtney Kardashian so famously pulls him out of her. Yet, this special moment was something that almost never even made it on air.
When it came time to deliver the eldest Disick child, Kardashian wasn't planning to have it be a part of her family's reality show. No camera crew was even allowed in the delivery room. Instead, "Scott was filming it for our own purposes, like for a home movie," she explained during an interview with "Today Extra" (via People).
After experiencing what childbirth was really like, the two eventually opted to share their son's birth with the world. "I remember being so terrified to give birth because you see in movies everyone is screaming and it was so crazy and my experience was amazing," the oldest Kardashian said. "I just felt something in me wanted to share that with people." Nearly three years later, she decided to debut her daughter's Penelope birth on television, too. However, their son Reign's birth story has always been kept off-screen.
Penelope Disick's nickname inspired the name of Kourtney Kardashian's business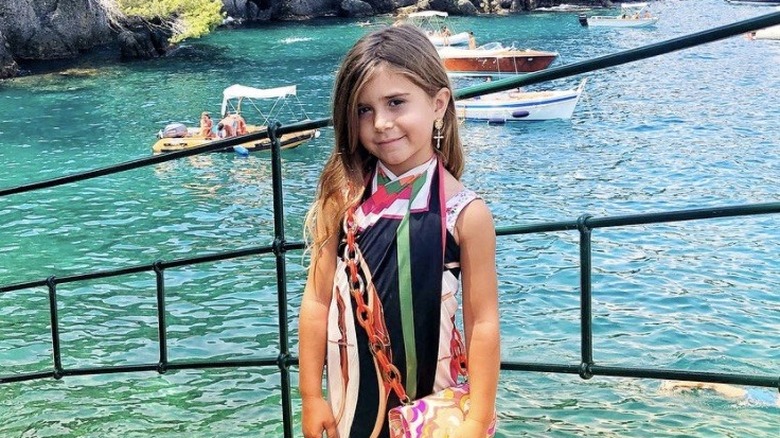 Shortly after launching her health and wellness website Poosh in 2019, Kourtney Kardashian posted an adorable photo of her daughter on Instagram. In it, she references Penelope as the "CEO of Poosh," yet that's actually not too far off from the truth. For years, Penelope's parents have nicknamed her Poosh, which ultimately influenced the name of the business.
While it's a pretty spectacular way to come up with a company name, the young girl had a much bigger impact on Poosh than just that. A press release from that same year described Penelope as "the epitome of the Poosh girl," according to Bustle. "She plays by her own rules, colors outside the lines, and celebrates life with an infectious confidence and ease," which is the entire philosophy behind the business named Poosh, too. The eldest Kardashian hopes her website will bring about discussions surrounding health and wellness without "preaching or judging." Instead, Poosh wants to celebrate successfully living a healthy and happy life, just like little Penelope — or, er, Poosh.
Mason and Reign Disick share a birthday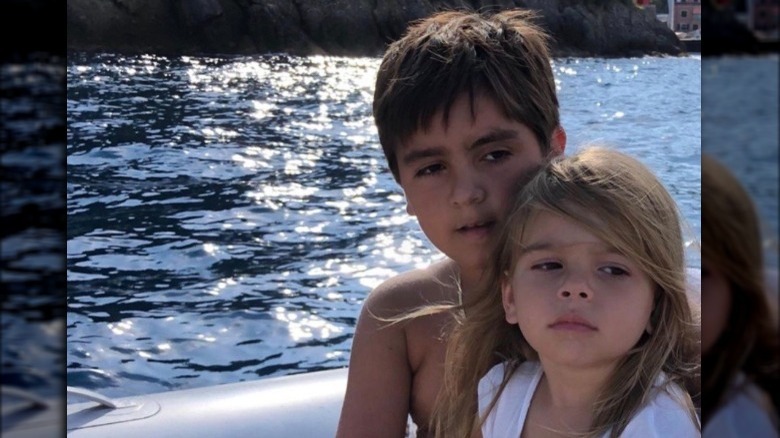 December 14 will always be a special day for Kourtney Kardashian and Scott Disick. It was the day their first baby boy, Mason, was born. Five years later, it was the day that their second son Reign was born, too. "I still can't believe they have the same birthday," the Kardashian wrote on Instagram, and we can't believe it either.
Funny enough, Mason's due date was actually Christmas Eve, according to E!. However, their first son was born 10 days early, and Reign's due date, unfortunately, ended up being around the same time, too.
When Kardashian and Disick originally found out they were expecting another baby in December, they were set on making sure she didn't give birth to him on Mason's birthday. "I really tried to not have it happen, so they could each have their day, but there was no way around it," she later admitted in a blog post (via Us Weekly). Yet, their youngest baby had a birth plan of his own. "It is truly so special and meant to be," she added.
Reign Disick was almost named Preston instead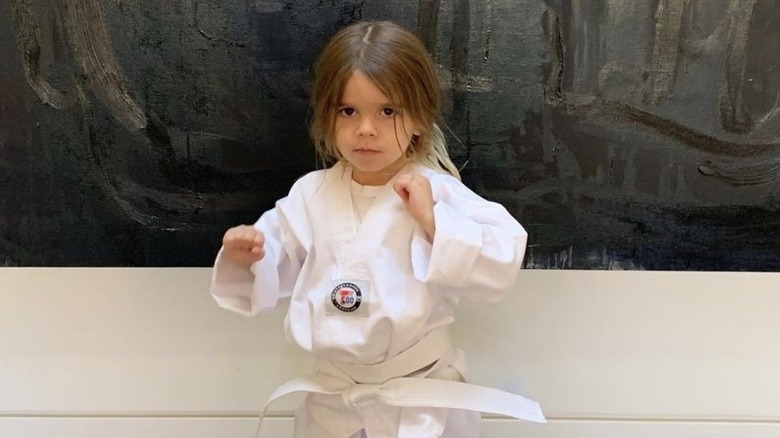 When you think about it, it only makes sense that Lord Disick would have a child named Reign. Yet, the youngest Disick's name was almost something else entirely — Preston.
After baby Reign was born in 2014, Kourtney Kardashian and Scott Disick wanted to make sure they had picked out the perfect name for him. For an entire week after his arrival, they called him all sorts of things to see what felt right. "I would try out a different name on different days, the whole day," she admitted on "Jimmy Kimmel Live." "One day, Reign, his name was Preston for one whole day." However, it was a name that the oldest Kardashian ended up hating.
Preston was the name that Disick had become particularly fond of. Yet, Kardashian had a completely different plan for "Preston" in the end. "I was like, 'I know in my soul his name is Reign,' and Scott didn't believe me," she said. Yet, by the time they went to bed, the baby's name had completely changed. Preston was officially a no-go. "It didn't work out," she laughed.
The Disick children have the most amazing playhouse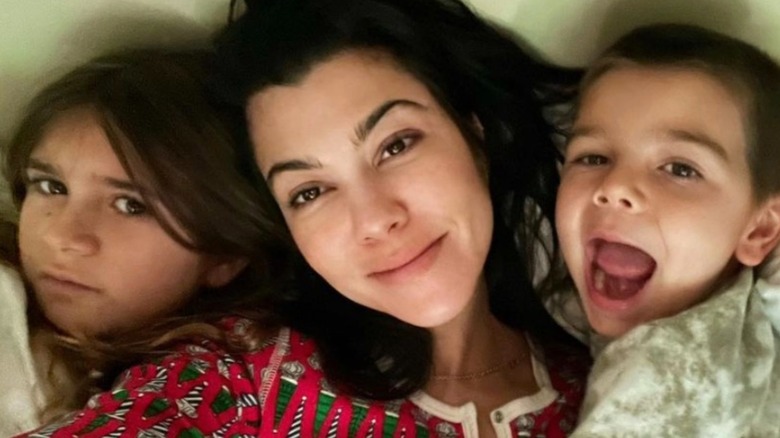 Is it really a surprise that the Disick kids have the most incredible playhouse? If your dad is the star of "Flip It Like Disick," then it only makes sense. When the reality series first aired in 2019, one of the first things Scott Disick did was build his kids the ultimate playhouse to escape to in Kourtney Kardashian's backyard. After a bit of convincing with his ex, he made it happen — for around $100,000.
The kid's playhouse is equipped with hardwood floors — that even match the inside of their mother's house — a private patio, French doors, and recess lighting. The only thing missing inside is any sign of technology. "There's no iPads, phones, computers, video games, TVs," the Kardashian told Architectural Digest. Instead, "it's great for playing games and really just being imaginative," she explained. It certainly makes it easy for all the Disick kids to imagine owning their very own home.
Kourtney Kardashian likes to look to her daughter Penelope Disick for style inspiration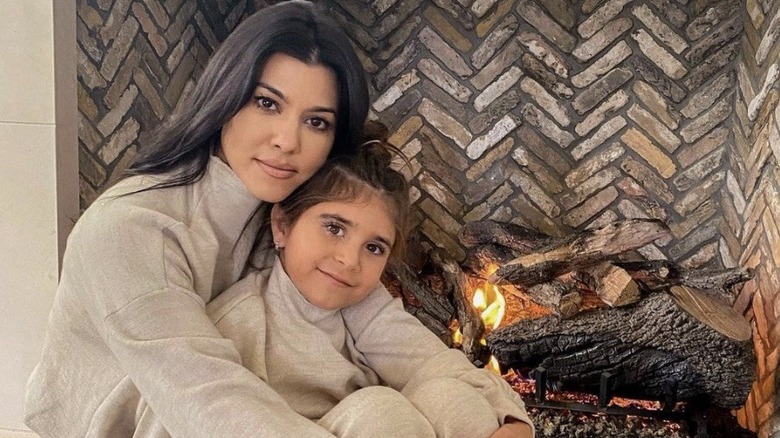 Kourtney Kardashian is a busy businesswoman. Having kids makes it even more chaotic. "Getting everyone out the door by myself, it takes a long time," she admitted to Harper's Bazaar. To save her time, her kids pick out their own outfits each morning. What helps out the eldest Kardashian mother even more is that she likes to match exactly what they're wearing — especially Penelope Disick. "The other day we were going to the movies and Penelope picked out a black-and-white striped dress, and it made it so much easier to pick a black-and-white striped T-shirt for Mason and a black-and-white T-shirt for me," she explained.
In many posts on Instagram, fans can see Penelope and her mother in matching mommy and me attire. Sometimes, it's not even the whole ensemble. Staying in the same color scheme is something the two of them like to do. "I think it's fun to match," the Kardashian said. "It doesn't need to be identical." So while we'll all continue to turn to the Kardashians for the latest looks, now we'll secretly know that the real style inspiration comes from the kids.
Reign Disick got his first haircut when he was five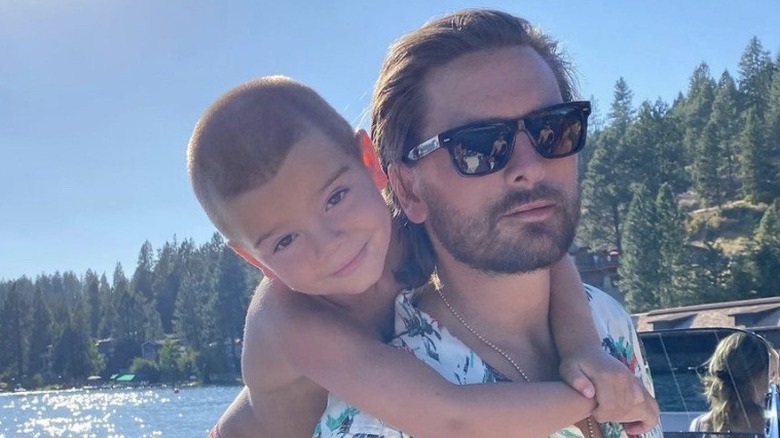 In 2020, while most of us were sitting at home wishing we could get a haircut, Reign Disick decided to get his very first one at the age of 5. "I am not okay," his mother admitted on Instagram alongside a photo of his buzzcut. According to Hello! Magazine, the new 'do was all his idea, too.
Prior to his iconic cut, the youngest Disick had always been known for his long locks. Unfortunately, his famous parents had always been criticized for not cutting it, too. After posting photos of him online over the years, many fans have been quick to comment on his hairdo, as reported by Allure. "She really need to cut his hair," one wrote back in October 2019. At that time, his mother was not having it. Her response: "She really need to not worry about kids that aren't her own. He is a happy boy" — with incredible hair!
The Disick children were all baptized in Armenia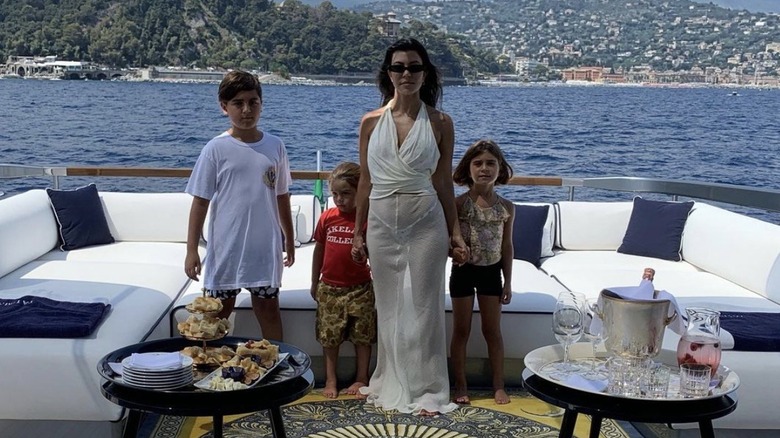 When it came to baptizing their kids, Kourtney Kardashian and Scott Disick went back to her roots and brought them all to Armenia. In 2019, the family hopped on a plane and headed to St. Hovhannes-Mkrtich Church of the Mother See of Holy Etchmiadzin for the extravagant occasion. The famous cathedral was built all the way back in early 300 A.D. "It's known as the oldest one in the world," Kardashian shared on "The Real."
While it was a family affair, surprisingly, it wasn't their daughter People Disick's first time visiting Armenia. In fact, she was baptized there a few years before her brothers, according to Hollywood Life.
Not only was it a big moment for the Disick kids, but Kim Kardashian's kids got baptized there as well. "And Kim and I also got baptized ourselves," the eldest sister said. Needless to say, it's a day this family will never forget. Bible.
The Disick children eat only dairy-free and gluten-free foods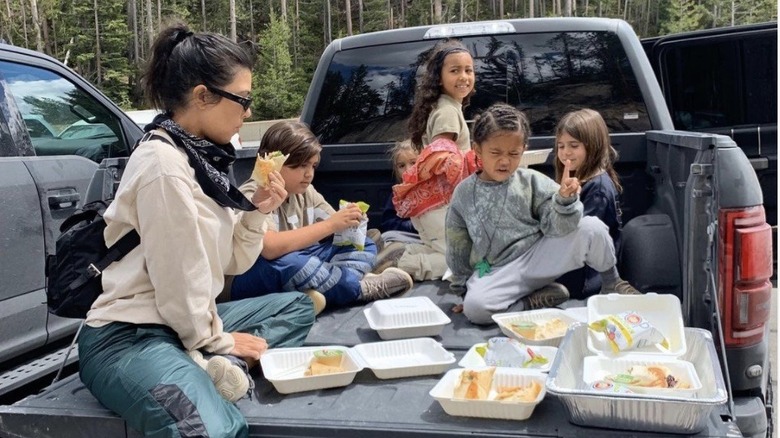 Any true fan of "Keeping Up with the Kardashians" knows that Kourtney hates feeding her kids candy. "I strongly believe in avoiding artificial dyes and food coloring for kids' diets," she explained in her app (via People), so it comes as no surprise that the Disick kids have extremely healthy diets. In fact, ever since 2020, their family only eats foods that are both dairy-free and gluten-free.
At first, it was difficult to get used to such a strict diet, but there's a reason their mother makes them eat these specific foods. "We had muscle testing done, which showed we all have sensitivities to corn, gluten and dairy," she explained. When they cut it out of their diets, the eldest Kardashian noticed that her kids were feeling a lot better. Yet, that isn't to say they give in every once and a while. "I do let the kids have popcorn at the movies and a churro at Disneyland," their mother admitted. After all, who could ever forget Penelope Disick's iconic Candyland birthday party?
Mason Dash Disick surprisingly isn't named after his mom's store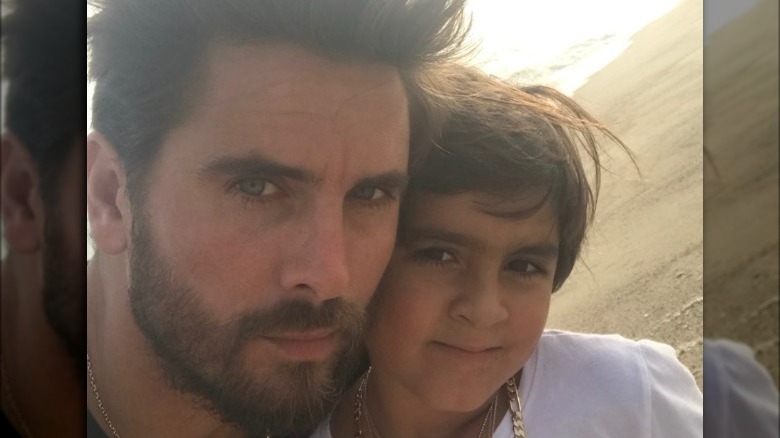 The Kardashians' iconic boutiques were something fans were quick to dash to as soon as they saw them on TV. In fact, according to Variety, "Keeping Up with the Kardashians" began as a way to try and draw attention to Dash. When it came time for Kourtney Kardashian and Scott Disick to name their first child Mason Dash Disick, it only seemed to make sense. However, his middle name actually wasn't inspired by the store. "That would be stupid," Kourtney told Life & Style. "Dash is short for Kardashian, and it was my father's nickname."
The name Mason is special to the Kardashian family as well. "Mason means the same thing in English that Kardashian means in Armenian — stone worker," the eldest sister explained. The sisters' great uncle also would always use the name Mason whenever he made reservations at a restaurant, claiming that their last name was already too long. Today, it's funny to think that Kardashian is now a name that everyone in the world recognizes.
The Disick children share clothes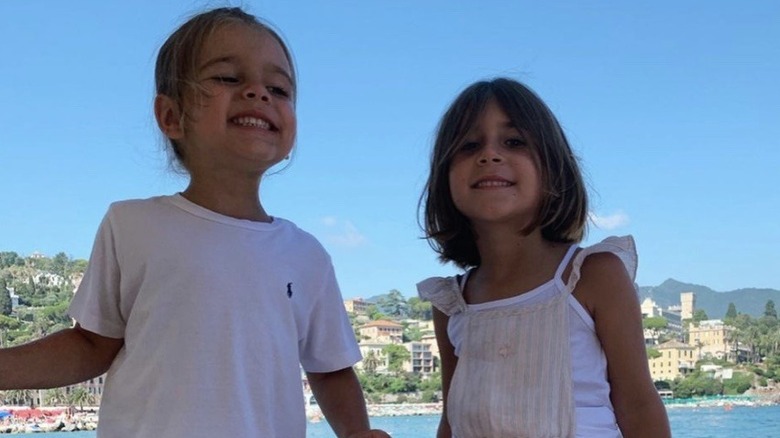 By this point, it's common knowledge that Kourtney Kardashian and Scott Disick are some of the wealthiest parents in the world. According to Celebrity Net Worth, the two have a combined net worth of nearly $110 million. Yet, even with that being the case, many fans would be surprised to know that their kids still wear a lot of hand-me-downs. "I kept a lot of Mason's clothes, like little blazers and loafers and I've used them on Penelope," their mother admitted while launching her children's wear line, nonetheless (via People).
Over the years, mixing and matching the little ones' clothing is something that the Disick family has done again and again. When Reign was born, he was spotted wearing hand-me-downs from his older siblings and even from Kim Kardashians' oldest daughter North. "He has an amazing wardrobe," his mother told People. Honestly, though, all of the Disick kids do!
The Disick children aren't allowed to watch Keeping Up with the Kardashians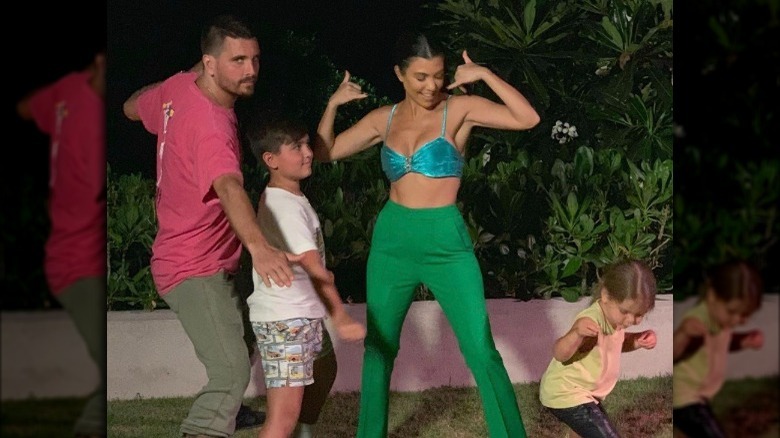 Fans have gotten to know Mason, Penelope, and Reign Disick over the years on "Keeping Up with the Kardashians." Yet, funny enough, none of them are allowed to watch the reality series themselves. "Some of the content is just not appropriate," Kourtney Kardashian told Cosmopolitan, and over the years, we as viewers have to agree. From the time Khloé Kardashian went to jail, to all their open discussions about private parts, to even those moments where the Disick kids could watch their parents' breakup unfold, there's a whole lot of family drama.
Over the course of 20 seasons, however, the Disick kids have caught a few glimpses of the Kardashians in all their glory. Once, "I was in the shower, [Mason] woke up, and it happened to be on," his mother shared. "He was like, 'Who is Blac Chyna?'" There was a lot of explaining that she had to do. "I was like, this is why they don't watch the show," the eldest Kardashian said.
Mason Disick aspires to be a social media star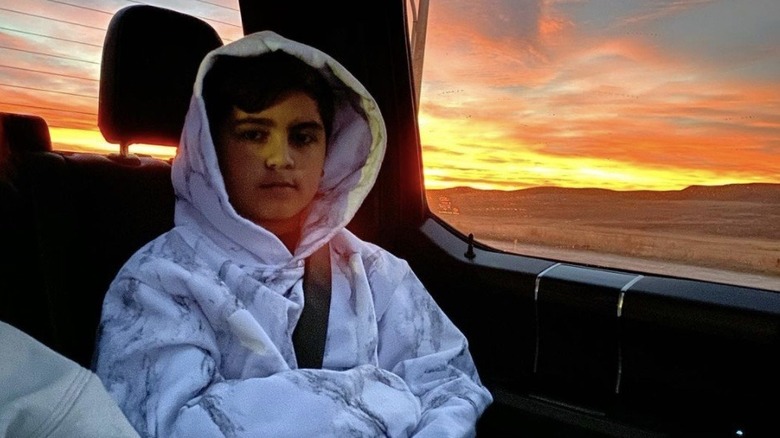 Mason Disick's parents have put him on television for literally his entire life. Yet, when the oldest Disick turned 10, he started making moves that seemed to follow in their footsteps. In 2020, he became a star online. He created his very own Instagram account — where he started dishing out all the dirt on his family. However, after talking to fans all about his aunt Kylie Jenner's relationship status online, his parents were quick to delete his account. Yet, his aspirations to be a social media star didn't stop there. After appearing on a number of famous TikTok accounts — including one of his mother's best friends Addision Rae — Mason quickly made himself one of his own. Yet, that also got deleted by his parents "because [he] was too young," he later admitted (via Cosmopolitan). Bummer.
Low and behold, within a number of days, Mason's third online account was up and running. As a new online presence, he spoke his mind on anything and everything. Yet, he seemed to gain the most attention after he made comments about other online influencers like Jeffree Star, which turned into quite possibly one of the most unexpected online feuds anyone has ever seen.
Though Mason is now offline, he has no doubts he would have made it big if it weren't for his parents. "I went viral," he said in one of his videos. "I would've had 2.7 mil by now if I kept it up."
The Disick children may get a fourth sibling one day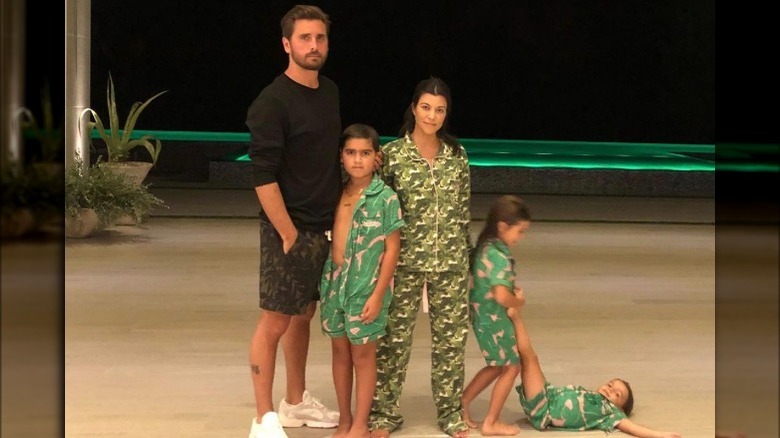 Though Kourtney Kardashian and Scott Disick aren't together today, they still may plan for another little one together in the future. Over the years, the two have admitted multiple times on "Keeping Up with the Kardashians" that they would love to have a fourth baby.
In March 2021, the eldest Kardashian even admitted that she had some of her eggs frozen. "Hopefully they're sitting there okay," she said on "Lady Parts." "Just for… you never know." That same year, fans were even speculating that she was pregnant after seeing some photos she posted on Instagram.
For now, there haven't been any official announcements on a fourth child. Yet, there's a lot of evidence suggesting that the Disick children may just get another sibling someday soon. "I could see myself with six kids," their mother admitted to Cosmopolitan. "I just don't know what's in God's plan."
Source: Read Full Article