The Newest Promo for 'WandaVision' Shows Monica Rambeau and S.W.O.R.D.'s Version of Events; Is The Show Leaving the Sitcom Style for Good?
So far, WandaVision has been unlike anything the Marvel Cinematic Universe had put out there. It's a funny, sitcom-like show with a dark tinge that's only growing as fans get more immersed in Wanda Maximoff and Vision's seemingly perfect life. And Episode 3 blew everything up even more. The promo for Episode 4 hints at an even different perspective; will the sitcom style of the show stick around? [Spoiler alert: Spoilers ahead for WandaVision Episodes 1 through 3].
A promo for Episode 4 of 'WandaVision' just dropped and it shows the 'outside' world
The WandaVision Twitter account shared a minute-long trailer for the fourth episode, and it's noticeably different from the rest of the episodes. Monica Rambeau (Teyonah Parris) is no longer a player in this TV world that Wanda and Vision are in. Instead, she's in a S.W.O.R.D. jacket with a clearance badge, and comes across an energy field in an area that looks somewhat like the place she got dropped off in at the end of the last episode.
Randall Park's character, Jimmy Woo, is walking behind her asking what she sees. As she sticks her hand in, it mimics colorful static that might happen if you stick your face too close to a TV screen (the non-plasma kind).
The narrator says that "nothing can prepare you for what is next," insinuating that nothing they showed in the trailer is predictable. Because, if it was, it would seem like S.W.O.R.D. and/or S.H.I.E.L.D. are going to take the forefront of this next episode. This probably happens before Geraldine/Monica comes into Wanda's world, hence why we can also see Jimmy's perspective of the radio part as well. However, does that mean the sitcom portion of the show is over?
Is the show leaving the sitcom-style already?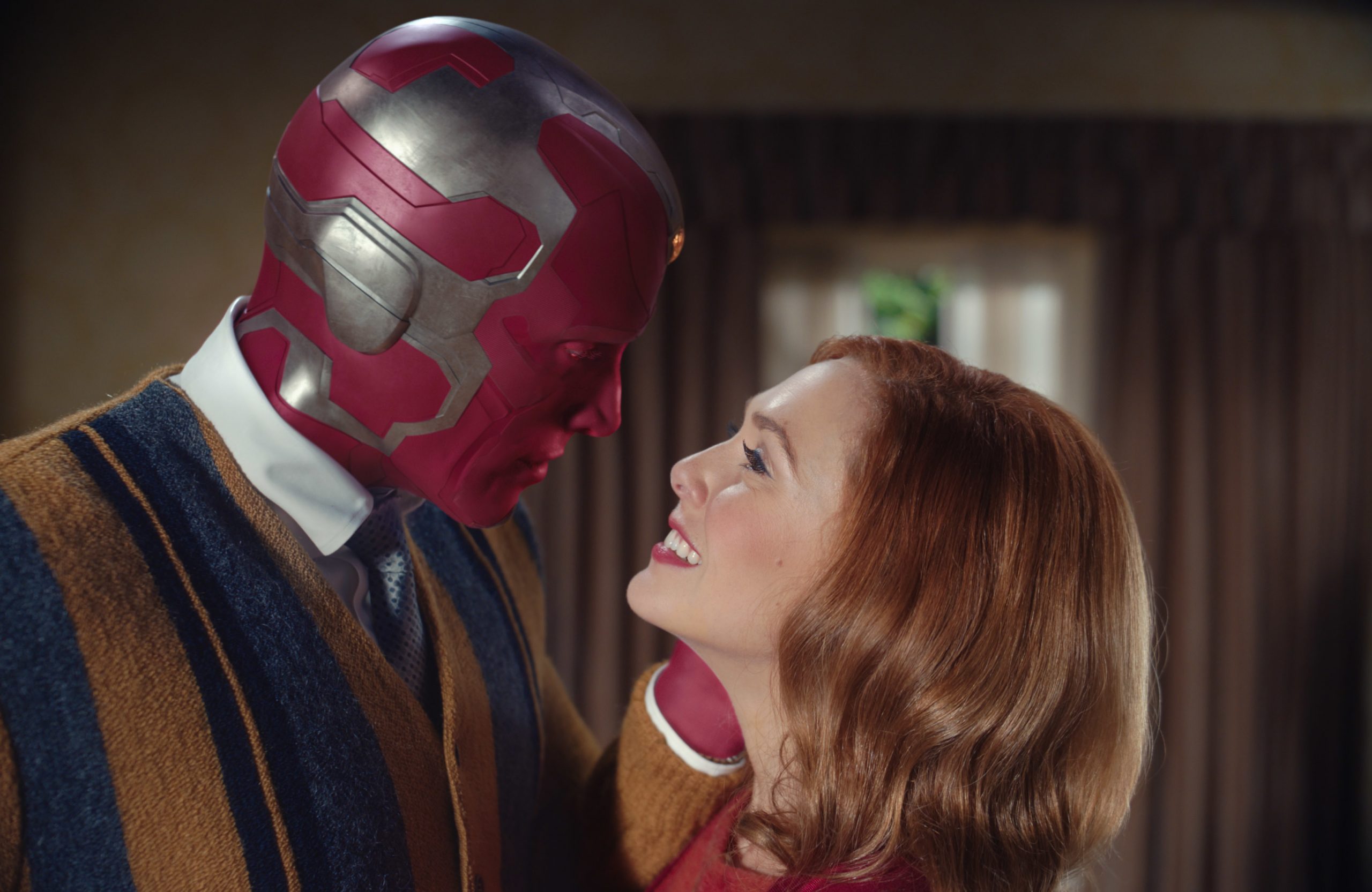 As for if the show is completely changing the format, it's hard to say. First off, the way this show has presented itself, and as the narrator said already, nothing about this show — and this upcoming episode in particular — are going to be predictable. So it most likely won't be that cut-and-dry.
Secondly, it's possible that the sitcom aspect could change or lessen, but there are a few hints that it's not leaving it behind completely. We're for sure getting another perspective with Captain Rambeau's side of the story, which presumably takes place in the "real" world. But other trailers and promo images have shown '80s and '90s themes to the show, kind of like how it's already whizzed through the '50s, '60s, and '70s. So odds are fans are still going to get Wanda and Vision's sitcom world.
But even if it's not a sitcom-laugh-track world like before, the show is definitely not leaving the decade, retro-style just yet.
It's unclear whether Wanda is controlling this world, or if someone else is
But judging from the trailer, S.W.O.R.D. and/or S.H.I.E.L.D. are trying to figure out what's going on with Wanda just like all of the viewers at home. Rambeau is with S.W.O.R.D. but Jimmy and Darcy (Kat Dennings), who also is in the trailer and has been announced for the show, have worked for/with S.H.I.E.L.D. in the past. So it's unclear where the combination or merging happened there.
Regardless, it looks like S.W.O.R.D. can see inside this world. Darcy is looking at a screen and there are pictures on the wall of Wanda and Vision in their 1950s (black and white) getup as if someone is trying to piece together what's going on. Viewers can also see the other side of when Jimmy Woo is trying to contact Wanda through the radio.
At first, it seemed like Wanda could have created this world to get over her grief of losing Vision in Avengers: Infinity War. In the comics, Wanda has the ability to warp reality in her grief, so this isn't out of the question. However, there are now pretty convincing theories that the villain Mephisto could be this series' Big Bad.
There are still so many questions the series needs to answer, and fans are ready to devour it all.
Source: Read Full Article