'Stargirl' Season 2 Casts New JSA Superheros
In Season 2 of The CW's Stargirl, Courtney Whitmore will find more allies in her fight against the Injustice Society. The series is introducing new DC superheroes from the Justice Society of America. And they might include some faces you'll recognize.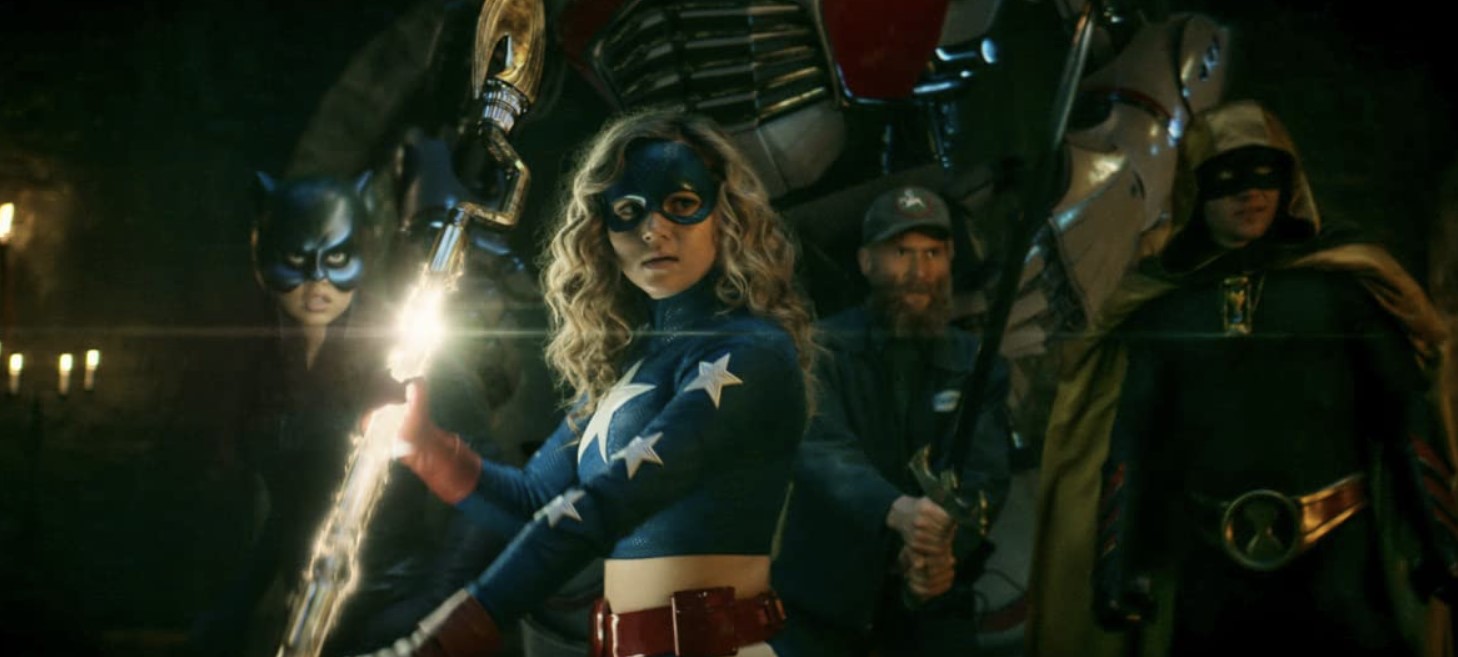 'Stargirl' Season 2 cast features Jim Gaffigan as Thunderbolt
Comedian Jim Gaffigan joins the cast of Stargirl season 2 as the JSA superhero, Thunderbolt. He will voice the CGI version of the magical genie, who has the ability to warp reality, fly, become invisible, and fire energy blasts.
"The wishes he grants often cause more trouble than the wish-asker would ever expect," the series character description reads. "But despite his somewhat constant supernatural disasters, the Thunderbolt's heart is always in the right place, even if it is wounded by the friends he has lost throughout his long existence."
In season 1, Courtney (Brec Bassinger) picks up a pink pen connected to Thunderbolt while at JSA headquarters. When the pen releases an electrical charge and high-pitched laugh, Pat (Luke Wilson) warns her that it's "the most dangerous thing" there.
Season 2 of 'Stargirl' will introduce Alkoya Brunson as Jakeem Thunder
Fans will see Alkoya Brunson take on the role of superhero Jakeem Williams in Stargirl season 2. The actor is known for his roles on The Originals, Atlanta, Me, Myself, and I, Hidden Figures, NCIS: New Orleans, and Malibu Rescue.
In the DC comic books, Thunderbolt is unleashed by Jakeem, aka Jakeem Thunder. And in the season 1 episode, "Wildcat," Pat's son, Mike (Trae Romano), casually mentions that he has a friend named Jakeem.
John Wesley Shipp returns as The Flash for 'Stargirl'
John Wesley Shipp portrayed Barry Allen on CBS' The Flash in the early '90s. He then donned the speedster suit as Jay Garrick in CW's reboot. And now, as reported by EW, the actor is set to return as the beloved DC superhero in season 2 of Stargirl.
With Shipp on board as The Flash, Stargirl will officially become part of the new multiverse created by Oliver Queen, aka Spectre during the "Crisis on Infinite Earths" crossover.
Joel McHale will likely return as Starman for 'Stargirl' season 2
Joel McHale made a few brief cameos as Starman in Season 1 of Stargirl. And for most of the season, Starman, aka Sylvester Penbrook was believed to be dead. But in a cliffhanger scene in the finale, he turned up very much alive and in search of his old friend Pat. The teaser set up a new storyline for Starman, and it suggests McHale will return as the superhero in season 2.  
The CW has yet to release an official premiere date for Stargirl's second season. But according to most reports, the show should return sometime in the Spring or Summer of 2021.
Source: Read Full Article