Married At First Sight: Inside Myrla And Gil's Marriage
We've got no shortage of dating shows to choose from. There's the Bachelor Nation franchise, and there's "90 Day Fiance" and the endless spinoffs that came from the TLC hit. Then there are the more outlandish ones like "Sexy Beasts," which disguises contestants in layers of prosthetics and makeup to make them look like animals and monsters. We can't forget about "Too Hot To Handle," which docks cash from the prize bag every time contestants get too physical. While all of these dating shows are high-stakes, none are quite so high as "Married at First Sight." If you thought ending "The Bachelor" or "The Bachelorette" in an engagement was fast, then "Married at First Sight" is the autobahn of love stories.
So how are the couples on the series really matched up? Individuals are carefully vetted by experts with backgrounds in "psychology, social and evolutionary anthropology and theology," according to The Mirror. Individuals are then matched with someone whom they must marry. Some couples surprisingly stay together while most (no surprise here) wind up getting a divorce. So what's the deal with "Married at First Sight's" Myrla and Gil? Here's the scoop on their marriage.
Do Myrla and Gil have what it takes?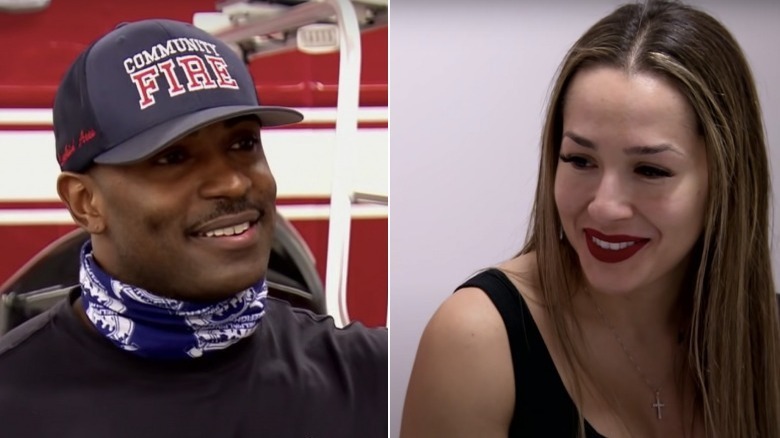 Season 13 of "Married at First Sight" introduced viewers to the couple Gil and Myrla. This particular season is based in Houston, Texas, according to E! News, so it's very fitting that Myrla comes from Southern Texas. She came from "humble roots," according to People. In terms of a career, Myrla is a leadership coach and was 34 years old at the time of her rather impromptu marriage on the reality show. However, she has total faith that the expert matchmakers on the reality show will help her find lasting love, according to E! News.
Meanwhile, Gil was "born and raised in Colombia," as People notes, and he's seeking the traditional American dream with nothing short of a family, a pet, and a white picket fence. Gil, who was 35 at the time of his marriage to Myrla, calls himself a "hopeless romantic." He's a firefighter (no complaints here!) and, according to Lifetime, the matchmaking experts felt that Gil's "down-to-earth lifestyle" will help "balance out Myrla's upscale tastes." What upscale tastes, you ask? Well, Myrla loves getting her lashes done and looking glam, even at the gym. Hey, we ain't going to fault a girl for self-care and we doubt Gil will either. Hopefully, all goes well for this daring, beautiful couple.
Source: Read Full Article