'Jersey Shore': Why Sammi 'Sweetheart' Giancola Forgave Nicole 'Snooki' Polizzi for the Note but Not Jenni 'Jwoww' Farley
Fans of Jersey Shore remember Ronnie Ortiz-Magro and Sammi "Sweetheart" Giancola's rollercoaster of a relationship. Perhaps even more memorable was the note Nicole "Snooki" Polizzi and Jenni "JWoww" Farley wrote exposing Ortiz-Magro's actions.
The roommates did eventually move on from the "Ram" drama. Still, fans didn't understand why Giancola chose to only forgive Polizzi and not Farley. Thanks to a former producer who worked on the show, we finally have the answer.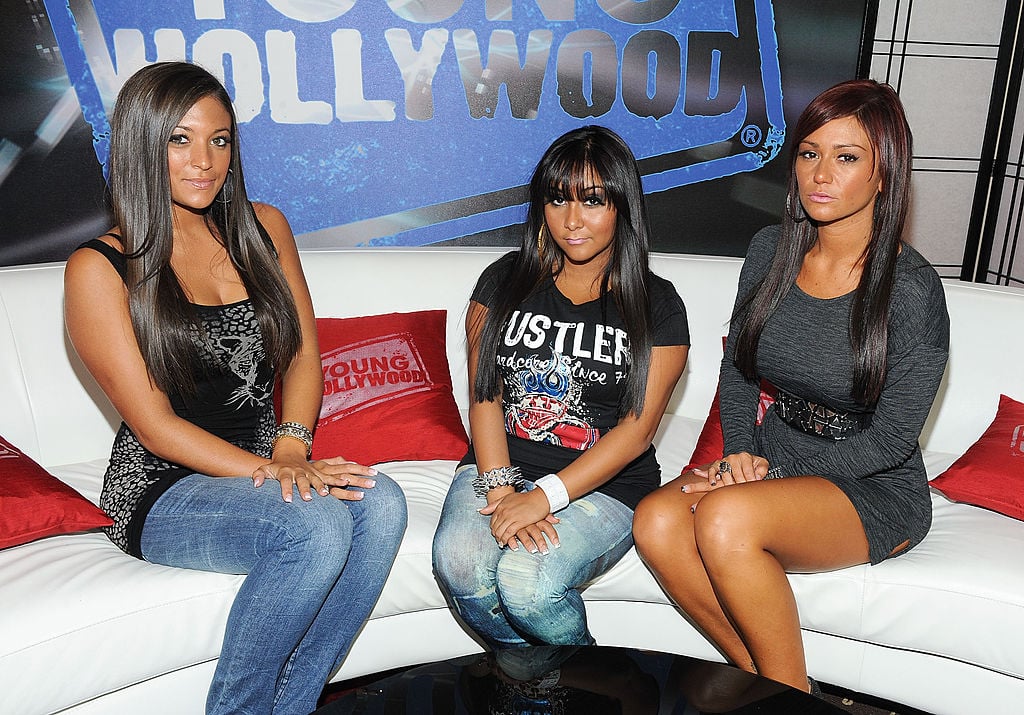 The note heard 'round Miami
During the Miami season of Jersey Shore, Ortiz-Magro and Giancola were not in a relationship at first. That didn't stop Giancola from getting upset with "single Ronnie's" actions. After a night out at the clubs, Ortiz-Magro would end the evening by crawling into bed with Giancola. Bothered by Ortiz-Magro's actions, Polizzi and Farley took it upon themselves to make Giancola aware of Ortiz-Magro's behavior.
RELATED: 'Jersey Shore': Here's Why the Girls Were Allowed to Write the Note to Sammi 'Sweetheart' Giancola
To make things right, Polizzi and Farley go to a cyber café to pen the now infamous note. "Sam, the first night at Bed when you left, Ron made out with two girls and put his head in between a cocktail waitresses breasts," they typed. "Multiple people in the house know; therefore, you should know the truth," they concluded. The two were confident Giancola wouldn't know they wrote the note, considering show's policy regarding communication.
In a blowout argument, Giancola gets upset with the entire house. She calls her roommates out for their inability to own up to who wrote the note. This creates tension throughout the remainder of the season.
Eventually, 'Snooki' and Sammi make up
After emotions reached a boiling point, Polizzi takes Giancola aside to explain her position regarding the note. "Obviously, it ruined our friendship," she says to Giancola. "You know I was just trying to be a good friend to you and it's sad that we don't have that anymore." Giancola understood and agreed, adding: "I'd rather talk just us, because I have my own issues with her," referencing Farley.
RELATED: 'Jersey Shore' Producer Shares Which Cast Member Was the Most Difficult to Work With
A former producer for the series explained on Reddit why Giancola forgave Polizzi. "We ended up letting them watch Miami while in the house but that decision only came to be like a couple days before Miami aired," they explained. "[Sammi] was quick to forgive Nicole because she saw on the episodes that Nicole had defended her several times. [That] kind of showed Sam that she was being genuine. That's why you see Sam apologize to Nicole in season 3. [That's] after she saw what was happening on the Miami season."
Sammi 'Sweetheart' never forgives 'JWoww' for the note
Despite acting alongside Polizzi in drafting the note, Giancola is unwilling to forgive Farley for her part in the drama. "I will not talk to Jenni, I will not look at her in the face," Giancola says to cameras after talking to Polizzi. "I want nothing to do with that girl." The former producer says Giancola didn't forgive Farley because she "didn't like that she got physical with her."
RELATED: 'Jersey Shore': Here's Why The Roommates Party So Much On the Show
After seeing the Miami episodes, "she felt Jenni wasn't sincere in trying to warn her," the former producer said. "[It seemed like Jenni] just wanted to stir the pot and break her and Ron up for selfish reasons."
Regardless of Polizzi and Farley's true motives, eventually Giancola and Ortiz-Magro ended things. Though Giancola did not return to film Jersey Shore: Family Vacation, she seems to have a civil relationship with her ex-roommates.
Source: Read Full Article