Indisputable Proof That the Mallard on 'Masked Singer' Is Chris Pratt's BFF [SPOILER]
Things I never thought I'd have to endure in my lifetime: watching a giant duck with a human trapped inside it wear a top hat and sing "Save a Horse, Ride a Cowboy." Yet here we are. In a sign that the apocalypse is surely impending, something called the Mallard has taken up residence on The Masked Singer season 6, and it basically looks like Timothée Chalamet in the new Willy Wonka origin story, only a duck.
The Mallard performs on Wednesday October 13's episode of The Masked Singer for what I can only pray will be the last time. But if this quacking gentleman bird should return for another episode, it's only right that we spend a minute figuring out what celebrity is lurking underneath his feathers. And his bedazzled double breasted blazer, because this Mallard is nothing if not stylish.
The Clues
Thus far The Masked Singer has only inflicted one single Mallard clue package upon us, which is probably for the best. You can watch it below, but if that's simply too much to ask (understandable), here's what we learned:
Honestly, this might be the most confusing Masked Singer clue package yet, so let's turn our attention to the Mallard's singing voice. I'm so sorry to do this to you, but here's the aforementioned video of the Mallard singing "Save a Horse, Ride a Cowboy."
The Theory
Willie Robertson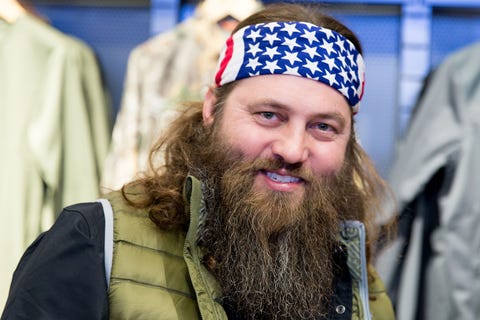 Pretty much the entire Masked Singer fan base is in agreement that the Mallard is Willie Robertson from Duck Dynasty. I mean, it's right there in the name. Though please note that a LOT of fans are very upset due to the fact that the Mallard is clearly a "wood duck" and not a "mallard," but I digress.
Anyway, a bunch of the clues fit—including the "BFF Chris Pratt" mention, because yep, Chris and Willie are friends. In fact, Chris once told Nola.com that "I had never been to New Orleans before. But I spent some time with my friend Willie up in Monroe—Willie Robertson (of Duck Dynasty) and all of his buddies are up there. We went up there and did some frog hunting and going around on the bayou. So I got to experience the country, got to do a bunch of red-fishing. It's just awesome, man."
On top of that, Willie has multiple books out about, like, hunting and whatnot, and yes, he even has a Christmas album. AND AND AND: his first job was at a worm farm. Oh, and if that's not enough for you, Willie has also told that "human jute box" story before, so there is literally no way the Mallard isn't him. It's just a fact!!!!
Source: Read Full Article