How Meghan Markle and Prince Harry Told The Royal Family Their Royal Baby Was On the Way
Meghan Markle and Prince Harry are expecting their first child together, and the news has sent the world into a literal frenzy. There has been some speculation for some time that the Duchess of Sussex was expecting. After all, she canceled her planned stop in Fiji with her husband on their royal tour, and many people thought it was to avoid the outbreak of the Zika virus, which affects pregnant women. Also, when she attended Princess Eugenie and Jack Brooksbank's royal wedding on Oct.12, 2018, the duchess wore a navy A-line Givenchy coat which she did not remove for the duration of the ceremony.
Now Kensington Palace has officially announced that the royal couple is expecting and apparently, the royal family found out at a pretty awkward time.
A very regal announcement
In the early morning hours of Monday, Oct. 15, 2018, Kensington Palace took to Twitter to announce that Prince George, Princess Charlotte, and Prince Louis would be getting a cousin in the Spring of 2019. The palace tweeted, "Their Royal Highnesses The Duke and Duchess of Sussex are very pleased to announce that The Duchess of Sussex is expecting a baby in the Spring of 2019. Their Royal Highnesses have appreciated all of the support they have received from people around the world since their wedding in May and are delighted to be able to share this happy news with the public."
According to Kensington Palace, Markle is about 12-weeks along, so she is entering her second trimester which is why the couple decided it was time to spill the beans. Also, the duchess and Prince Harry have just embarked on their first royal tour together, which will lead them to Australia and New Zealand for the next 16-days. We're sure that Markle didn't want to be buried under coats or forced to carry large bags everywhere she goes in an attempt to hide her growing belly.
The couple was initially also scheduled to make stops in Fiji and the Kingdom of Tonga, but we don't believe the duchess will be attending that section of the tour anymore due to Zika. However, with nearly 70 events to get through, we hope that she's taking care of herself.  A source told People that the duchess is "feeling well" after a successful 12-week scan, so hopefully, she will have no issues while on the tour.
Telling the family
It looks like Prince Harry and Meghan Markle have kept the news of their forthcoming baby to themselves for the last three months, and they only told the royal family about their news at Princess Eugenie and Jack Brooksbank's wedding. Though we're sure they are super excited about their new addition, we don't think the Yorks were all that pleased about them stealing the spotlight — AGAIN.
In fact, while Queen Elizabeth II, Markle's mother, Doria Ragland, Prince Charles, Duchess Camilla Parker Bowles,  Prince William, and Duchess Kate Middleton have all congratulated the Duke and Duchess of Sussex and are reportedly "delighted" by the news,  the York family has stayed quiet.
Oct. 15, 2018, is actually Sarah, Duchess of York's 59th birthday, so she spent the morning tweeting out a thank you to the designer of her dress worn on her daughter's big day. Some might call this a coincidence, but knowing Fergie and the York family, we doubt it.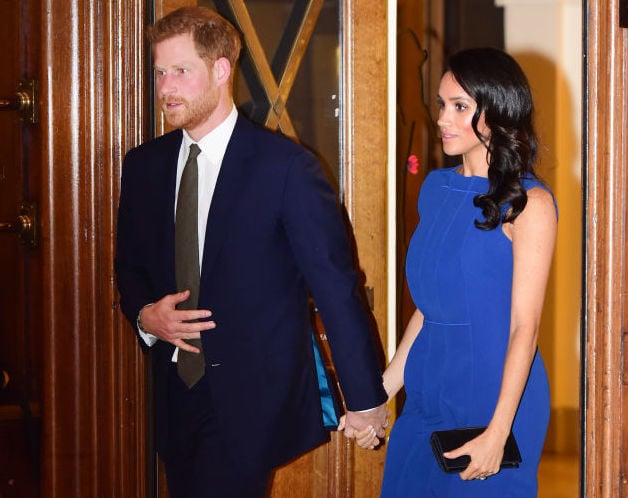 Meghan Markle and Prince Harry | Geoff Pugh – WPA Pool/Getty Images
Seventh in line for the throne
Unfortunately, mini- Meghan Markle and Prince Harry won't be an official prince or princess. However, they will fall seventh in line for the throne after Prince Charles, Prince William, Prince George, Princess Charlotte, Prince Louis, and their dad, Prince Harry.
ABC News contributor Victoria Murphy explained, "This baby will actually not be a prince or a princess or an HRH – His or Her Royal Highness – unless the queen steps in and decides to offer those titles, at which point it will be up to Harry and Meghan to decide if that's what they want for their children."
For now, we just hope Markle has a healthy and happy pregnancy and delivery.
Read more: Will Meghan Markle and Prince Harry's Baby Alter the Line of Succession?
Check out The Cheat Sheet on Facebook! 
Source: Read Full Article