'Business Proposal': How Seol In-ah Broke the Ice Before Her First Kiss With Kim Min-kyu
The Netflix K-drama Business Proposal has not been shy with developing the romance of the second-lead couple. In Business Proposal, main cast members Seol In-ah and Kim Min-kyu play the roles of Jin Young-seo and Cha Sung-hoon. Their fateful meeting led to love at first sight but with some complexities. The two characters shared their first kiss in episode six. Seol had a few comedic tricks up her sleeve to break the tension.
Young-seo shares a drunken kiss with Sung-hoon in 'Business Proposal' Episode 6
Fans have become obsessed with the development of the second-lead couple in Business Proposal. Second-lead couples are romances that develop outside of the main couple. In this case, the fated romance between Young-seo and Sung-hoon was only natural. Young-seo is the chaebol heiress and employee of Marine Beauty, the initial person meant to date Tae-mu.
She meets Sung-hoon, Tae-mu's secretary and closest friend, in a chance encounter. As the K-drama progressed, they learned the truth about each other and developed feelings. Seeing as Young-seo was meant to be involved with Tae-mu, Sung-hoon tries to keep his distance. In Business Proposal Episode 6, the tide turned for the couple.
After an unfortunate bathroom incident, Young-seo is mortified to face Sung-hoon but keeps running into him. At their favorite neighborhood restaurant, Young-seo has many bottles of soju. After Sung-hoon runs after her in the street, she reveals she fell in love at first sight, but their complications had her push him away.
With liquid courage, Young-seo says she will count to three before crossing the line with Sung-hoon. After one, she leans in and kisses him. She wakes up from her daze and leans back until Sung-hoon grabs her by the waist, pulls her in, and kisses her with fervor.
Seol In-ah skipped and danced to make the kiss scene in 'Business Proposal' less scary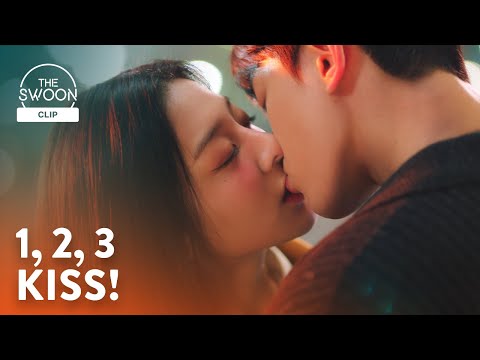 A first kiss scene can be difficult, even for seasoned K-drama actors. During a Business Proposal Netflix press video, Seol and the cast spill first impressions about each other. Kim says he looked up his co-star before filming and felt she had a "cold charm, and I thought her voice was attractive." After filming the webtoon K-drama, his perception of her changed thanks to her cute and prankster persona during their first kiss scene.
"We had to film a kissing scene, and she suddenly started to jump and dance in circles around me, singing at the same time," said Kim. He was even surprised by the weirdness of the song Seol sang. Thankfully, fans can see exactly what Kim was talking about in an SBS behind-the-scenes video.
Before filming the kiss scene in Business Proposal, Seol can be seen gyrating and wiggling around her body in front of Kim. It effectively made him laugh. Seol starts to jump and circle Kim in another cut while cutely singing a song. Kim starts to laugh and wonder what she is doing. Seol's song is from a popular children's character named Shin Chan.
Watch more of Seol In-ah in 'Business Proposal every Monday and Tuesday
Seol plays one of the main characters Young-seo. The character is a chaebol heiress, and her family owns Marine Beauty. In the K-drama, she asks her friend Ha-ri to pose as her for a blind date. Young-seo is tired of being set up for marriage and uses her friend to ward off suitors.
Her plan leads Ha-ri into trouble when the date is with GO Foods CEO Kang Tae-mu. In Young-seo's storyline, she beings to grow feelings for Sung-hoon but keeps it at bay due to his relation to Tae-mu. As the office romance K-drama has progressed, the two characters embark on a worthwhile romance.
Fans can keep up with Seol and her character in new Business Proposal episodes that premiere on Monday and Tuesday at 11 a.m. ET on Netflix.
Source: Read Full Article