Ahh, [SPOILER] Won 'Making the Cut' and the $1 Million Prize!
On the last episode of Making the Cut, we were left with a cliffhanger: Which designer will be eliminated after the pop-up shop challenge? The judges (Naomi Campbell, Nicole Richie, Joseph Altuzarra, Chiara Ferragni, and Heidi Klum) have their concerns with each pop-up, but decide to send home wunderkind Sander Bos, who has been creating amazing and imaginative looks from the beginning of the competition. And TBH, it's tough to see him go.
Now Esther and Jonny are going head to head in the remaining parts of the final challenge— which includes a fashion show (complete with 12-14 looks) and a business pitch to the president of Amazon Fashion, Christine Beauchamp. And while both designers are pretty confident about their brands, the same can't be said about their business plans—Jonny even admits that the pitch is "the scariest part" of the entire competition.
Tim Gunn, being the angel mentor that he is, accompanies the designers to their pitch meetings. First up is Esther, who comes prepared with a slide show that includes graphs, numbers, and a bunch of business jargon. And while she looks confident giving her presentation, Christine has some reservations about Esther's color-phobia, and asks, "If I told you that customers around the world do really love color and print, how would you think about expanding while still being true to yourself?" Esther responds by saying she'd begin to expand with grays (lol).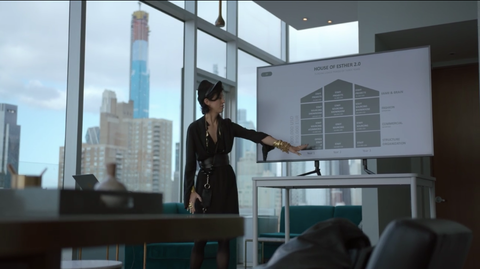 Jonny goes into his meeting feeling more confident than Esther, but starts out stumbling over his words and forgetting what he wants to say—it's hard not to feel bad for the guy! Thankfully, he gets back into his groove as the presentation continues, and he emphasizes his vision for sustainable growth.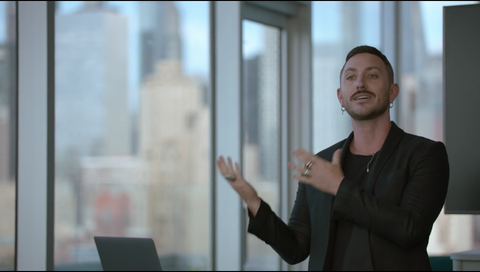 After that's over, it's time to focus on the design side of things again and prepare for the fashion show. Even though Esther isn't using color in her 14 looks, she does include a black and white fabric, which I'm counting as progress! She says, "With this final runway show, I want to show people that I have all the capacities to build a big brand and explore this Esther universe even more." Speaking about her competition, she adds, "Jonny is very strong in styling and matching things together, but for me, my strength is I have a very strong and distinct designer language, which is very recognizable."
Speaking of Jonny, he decides to include a bunch of color and even uses bright yellow accessories to tie together his looks. "I'm doing a fall collection. I love fall, I love outerwear, so my inspiration is high desert wilderness," he explains. As for his thoughts on Esther, Jonny says, "This whole time Esther has been the greatest competition. It feels so awesome to be in such great company. It's going to force me to bring my A+ game."
The final fashion show, which takes place on a rooftop in Manhattan, is different from the other MTC shows. Not only does each designer have *way* more looks, but they also come out on the catwalk before the shows. Jonny goes first, and explains that his collection is about "rediscovering tenderness and celebrating strength and resilience." It's a very accessible collection with lots of coats, edgy silver jewelry, and, um, latex gloves: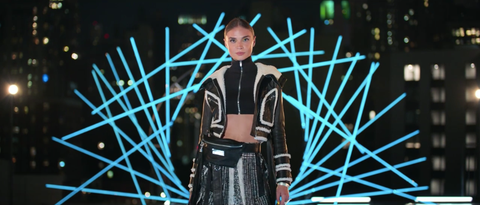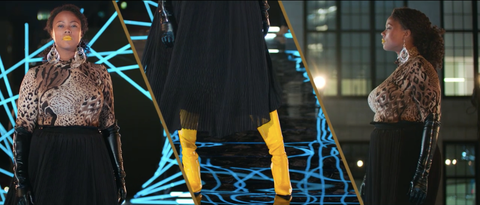 Esther starts her fashion show with similarly touching sentiments, saying, "Let me invite you to discover my mainly black universe, but let me promise you one thing: no matter how dark my designs are, they possess a light and shine that will never be dimmed." Her pieces are all black, yes, but they're also all really thoughtful, expertly tailored, and very original: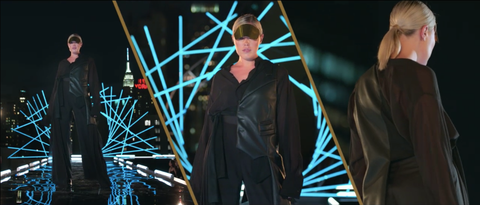 But sadly, both designers can't win, so after the show the judges meet up to discuss the looks. Christine joins them to report back on Esther and Jonny's presentations. She shares that Esther "had a very detailed, strong, solid plan…she had real clarity of vision in terms of how she was going to build her business." Christine was less impressed with Jonny's preparedness, and shares, "Jonny was not as strong or detailed on how he was going to use the capital, how he was going to spend the million dollars."
So with that in mind, the judges have a tough conversation: Who should win? Joseph suggests, "At the end of the day, I think it's: if you were investing your money in a business, would you rather invest in Esther's or Jonny's?" But Heidi think that they can both create a successful brand and asserts that "it's all a matter of taste." Naomi disagrees, though—"It's not a matter of taste, it's a matter of looking at the customers—will they relate to Esther, or will they relate to Jonny?"
And it's a nail-biter, because the judges are split until the very end. Esther and Jonny join them, and the judges go one-by-one voting for the designer they think should win. Heidi and Naomi both say Esther, while Joseph and Chiara want Jonny to win. It all comes down to Nicole—who, after a dramatic pause—announces that she's voting for Jonny, which makes him the winner! To celebrate, here are some Jonny GIFs:
Even though Esther isn't walking away with $1 million, something tells me that after all of the amazing work that she did on the show, she'll be justttt fine. So, all in all, a happy ending!
Source: Read Full Article