The Untold Truth Of Mickey Guyton
Mickey Guyton is undoubtedly one of the most exciting country music artists to emerge on the scene in a long time. The musician has spent years honing her craft and putting in a serious amount of work to get her music heard, and she's made no secret of the part her race has played in a world typically dominated by white artists. 
"It has been such a struggle to get people to listen to me. I have been like, 'I'm your huckleberry,' for so many years," she told Entertainment Weekly in September 2020. Guyton had to fight tooth and nail to put herself in the spotlight, battling with music executives all the way. She recalled being told by those in charge, "'Oh, don't speak your mind because if you speak your mind, then country radio won't play you.' 'Oh, make sure you're really country because you're Black. And if you seem like you're insincere, then they won't play you.'"
But now, Guyton is a legitimate country music star in her own right and has recorded her debut album "Remember Her Name," following on from the success of hits including "Black Like Me," "Boys" alongside Dean Brody, and "Better Than You Left Me." The star has also made her mark at award shows, being nominated for two Academy of Country Music Awards and, the big one, a Grammy! So, what's the untold truth of this shining star who's finally getting her time in the spotlight?
Mickey Guyton put her husband 'through hell'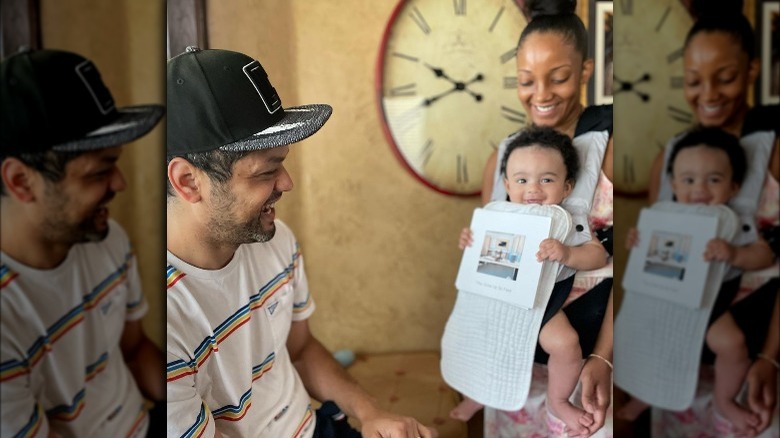 Mickey Guyton and her husband, Grant Savoy, tied the knot in 2017 (via CTD). It appeared on the surface that the two had a smooth ride to marriage after meeting a few years earlier, but behind the scenes, it was a different story. Guyton has confessed that she didn't make things the easiest for her man when they first got together, making a pretty candid admission about the start of their relationship in May 2019 while acknowledging an anniversary on Instagram.
Guyton confessed that she was "broken" when she first met Savoy, so much so she "put him through hell." She also opened up about the tougher times in their marriage, admitting, "We love. We fight. When it's tough we cry. We slam doors. There are times when we think we can't do this anymore. But we choose. We choose to love each other through it all each and everyday." The singer continued by acknowledging that "marriage isn't easy and it sure as hell ain't pretty," but sweetly noted, "finding someone to love you through all the bull s**t is one of the most beautiful things you can ever experience."
In another Instagram anniversary post in June 2020, Guyton shared a gorgeous shot from their big day in Hawaii and confessed that they've been through "some real tough times together" but "have come out on the other side stronger than [she] could have ever imagined." #CoupleGoals, right?
Mickey Guyton was 'disinvited' from a video shoot by The Highwomen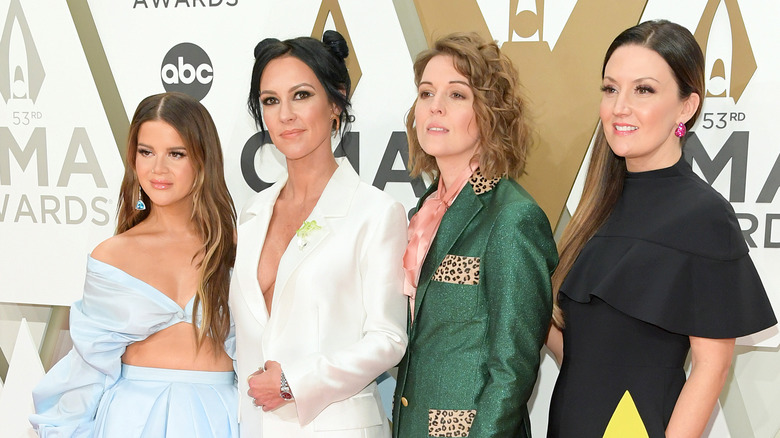 Mickey Guyton got candid during a Billboard interview in September 2020 about a June incident from that same year involving the country music group The Highwomen — made up of Brandi Carlile, Natalie Hemby, Maren Morris, and Amanda Shires — that saw her dramatically cut from a video shoot.
Guyton was asked to be a part of a "female empowerment" project the foursome was working on and headed to the airport to fly out and take part, even leaving her husband at home in California after he was diagnosed with Sepsis. Only, Guyton found out she'd been dropped at the very last minute after she double-checked her diary to find that the entry had been deleted. "The song was about supporting women in country, yet they disinvited the only charting African American woman in country music. Do they know? Don't they see that I support them? Do they care? Do they want to see me? The answer is no," she said. Guyton didn't name names, though Saving Country Music confirmed who she was speaking about.
Morris responded on Twitter shortly after it happened. "We were notified of this yesterday + were completely mortified that such a giant miscommunication occurred under our watch at the shoot that day," she wrote. The "My Church" singer also claimed she and her bandmates "reached out to Mickey privately with the utmost respect & apologies. It shouldn't have happened & isn't what we stand for."
Real life is Mickey Guyton's biggest inspiration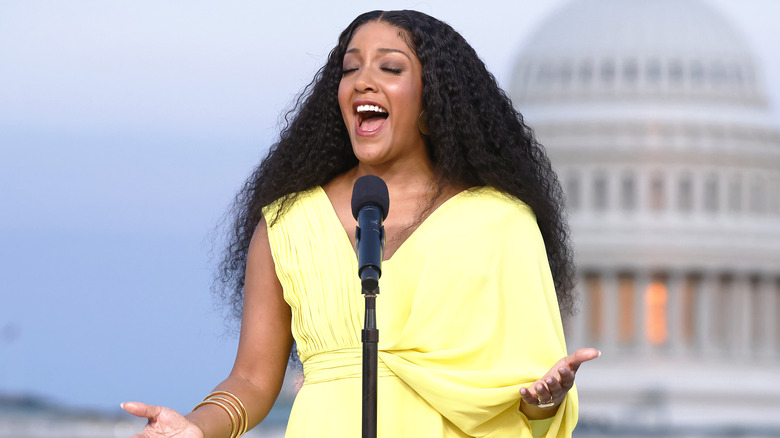 For Mickey Guyton, music is all about real life. The star's been open about how personal her music is, admitting she uses a lot of her own life as inspiration. "A lot of the songs come from me, and I think that with experience in life, it helps you get your mind set into a song," she explained to Billboard in 2015. "Most songs that I've cut or written are my personal experiences."
Guyton has also shared that therapy helped her to better put her feelings — particularly her "hurt" — into music. "I started writing about that and the marginalization, discrimination and sexual harassment women experience in country music, which nobody writes about," Guyton told The San Diego Union-Tribune in March 2021. "But, not being an activist, I was writing it as an emotional outlet, because I'd held on to those feelings for so long."
It's not just in her songwriting where this star takes a look back at some of her most personal experiences, even if it's the bad breakup that inspired "Better Than You Left Me." She told Billboard she tries "to reflect that" in how she sings parts of a song. "Whether it's a soft song or a certain crack in my voice, I just try to put myself into it and sing it. I don't try to do too much flashy stuff vocally. I just try to do what's in my heart," she said.
Mickey Guyton was forced to hit back after a troll called her son 'ugly'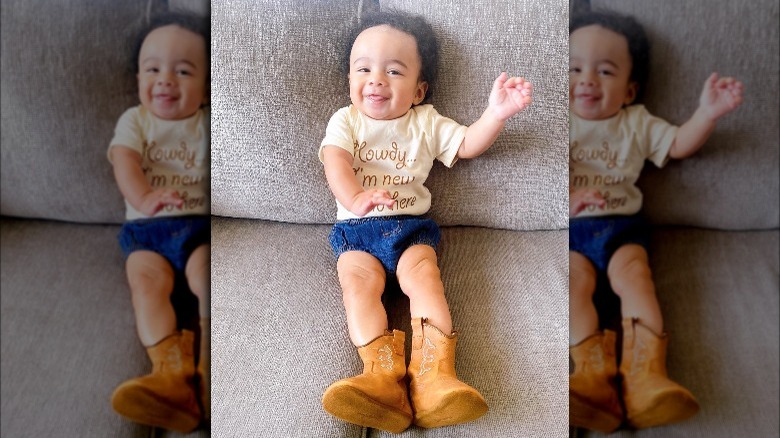 Sadly, the internet is rife with mean comments from trolls — and few people know that better than Mickey Guyton. The country music star was forced to hit back in July 2021 after a troll hit way below the belt in a vicious Instagram direct message about her son, Grayson, who was only 4-months-old at the time. The nasty message saw the hater not only reference a racial slur made against Guyton, but also refer to her little boy as "the ugliest child [they] have ever seen." Guyton took the horrific message public, sharing it on Instagram with the caption, "This deserves front and center attention. crystal502021 came for my child. Shame on you."
Guyton then came for the troll again when she shared a People article on the matter on Twitter. "Enough is enough," she wrote. "Say what you want about me but don't come for my 4 month old innocent child. I am beyond tired. #bebest."
Sadly, that was far from the first time Guyton has had to deal with nasty messages. In August 2021, she quoted a video showing Lizzo getting emotional due to her experiences with trolls and shared she was "on antidepressants because of the hate spewed [her] way for standing in [her] truth." Guyton also told ET she went "into early labor" with her son following the wave of racist backlash she received after Morgan Wallen's racial slur controversy.
Mickey Guyton is one of Dolly Parton's biggest fans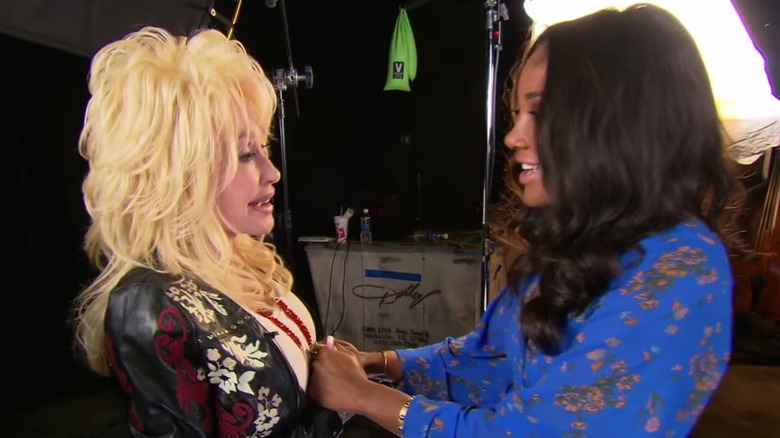 In a case of queens stanning queens we love to see, Mickey Guyton has made no secret of her love for Dolly Parton. Guyton has repeatedly gushed over the country music legend, even calling her a "national" and "international treasure" during an April 2021 interview with NBC News. "She's been preaching love and acceptance way before it was the thing to do. She loved her big boobs, and as much as people talk about that, she was like, 'I am who I am and you're going to take it or leave it,' and she is that person to this day," she explained of why the "9 To 5" singer is one of her biggest inspirations. "She really does stand by her truth, and she thinks that Black lives matter, and she is all things great and I just love her."
Guyton previously told A Plus in 2017 she first started admiring Parton because her grandma was a big fan, praising her "amazing songs," "amazing mind" and her "bold look."
So it's no surprise then that Guyton screamed when she met the star in 2016. In one of the sweetest videos on the internet, Gayle King set up a surprise during a "CBS This Morning" interview that saw Parton walk into their interview. Guyton cried as she spoke to her idol, telling her, "I've loved you since I was a little girl." We're not crying, you are! (Okay, we are too).
Performing at the Grand Ole Opry left Mickey Guyton weeping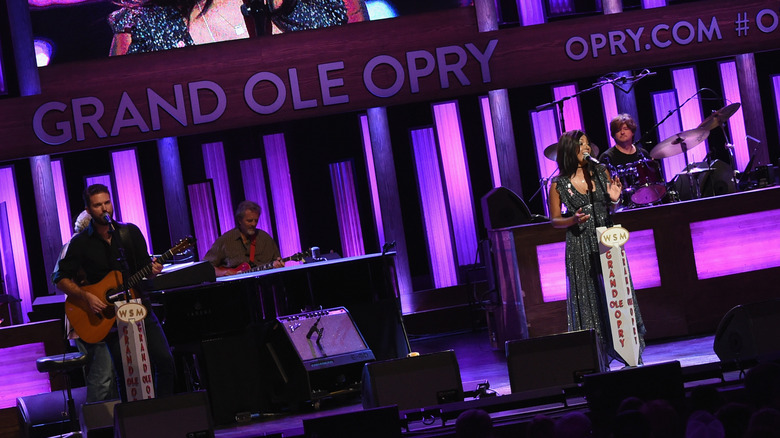 Being invited to perform at the Grand Ole Opry is a hugely prestigious offer for any country star, but it seems like the honor hit Mickey Guyton a little deeper. Guyton opened up about how her first time standing in the infamous circle at The Ryman Auditorium — often referred to as the Church of Country Music — in Nashville, Tennessee, had her in tears more than once. "I feel like being asked to sing at the Grand Ole Opry is like being invited to sing at the Grammy Awards. It's like winning one to me. The Ryman alone, to me, is such a holy room. You can feel the presence of people in there like Patsy Cline," she told Billboard in January 2015.
Guyton made her debut on the Opry stage earlier that month and just couldn't hold it together that morning. "When I woke up … and hit the shower, I started thinking about this. I broke down in the shower," she recalled. And that wasn't the only time the tears flowed. "Then I could barely get through the song when I was on stage. It was such an emotional moment," she shared.
Guyton has returned to the Opry stage multiple times since then, including in 2020 when the then-pregnant star performed "What Are You Gonna Tell Her?" as part of the 2020 Academy of Country Music Awards, which took place across multiple venues in Music City.
Mickey Guyton is a serious country music history maker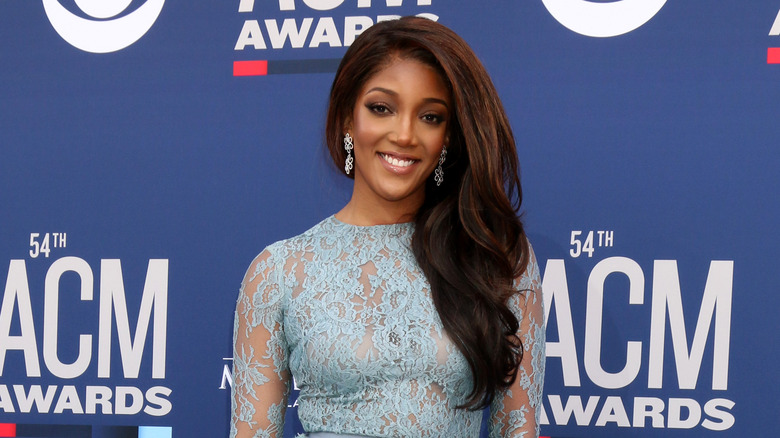 There's no denying Mickey Guyton is one of country music's biggest — and most important — history makers. The talented star has broken down multiple barriers and marked multiple firsts in her career, particularly as one of only a handful of prominent Black artists within the genre.
Among the star's most notable firsts include her being the first Black solo female artist to earn a Grammy nomination in a country music category in 2021. She's also achieved a number of amazing feats with the Academy of Country Music Awards. In April 2021, Guyton became the first Black woman to host the award show (she helmed the show alongside Keith Urban), while the year prior saw her crowned the first Black woman to perform her own music during the award show's broadcast. But we're not done yet. The inspiring country star was also the first Black woman to be nominated for the ACM's New Female Vocalist of the Year award back in 2016.
Speaking about her ACM Awards hosting gig in an interview with NBC News, Guyton explained that she took her position seriously and hoped that she could "bring positive light and love and acceptance to this job." Now that's history we love to see being made!
Mickey Guyton almost quit music right before releasing her biggest hit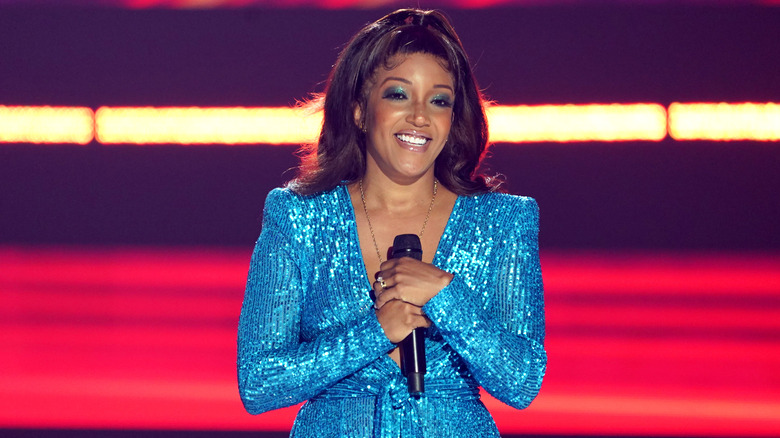 Mickey Guyton really is a lesson in never giving up. The talented musician has been very open about her struggle to get her music heard and has admitted it took her years of perseverance to get where she is now. Things once got so tough though that she was ready to give up on her music career completely — right before she dropped her biggest single yet.
"I had been trying to pursue a country music career for, at the time, like, eight years and constantly we were told — not only as a Black woman but as a woman … why we will fail in this industry. I was just ready to give it up," she admitted during an appearance on "The Ellen DeGeneres Show" in April 2021. Guyton recalled how a conversation with her husband, Grant Savoy, made her realize she needed to embrace what makes her different from her country music peers, which is when she wrote the sobering "Black Like Me."
"Black Like Me" — which details Guyton's experiences with racism — garnered widespread attention when she released it in June 2020, following the hugely controversial death of George Floyd and ensuing Black Lives Matter protests across the world. The song made it into the top five on Billboard's U.S. Country Digital Song Sales chart, hit number 27 on its U.S. Adult Contemporary chart, and 32 on the company's U.S. Digital Song Sales chart.
Carrie Underwood gifted Mickey Guyton's son the sweetest musical gift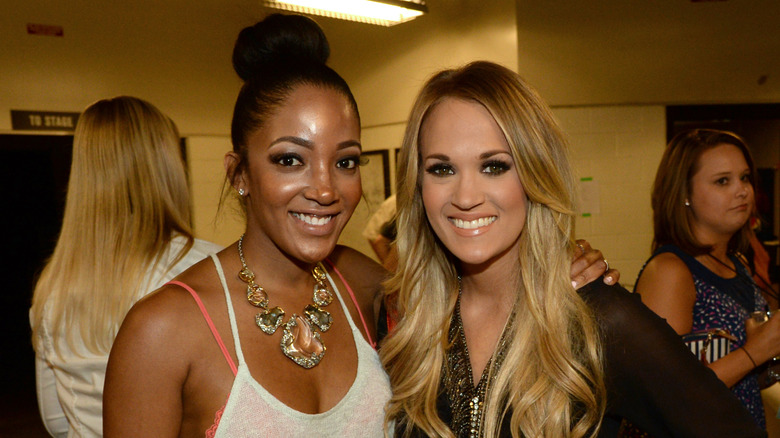 Carrie Underwood gave Mickey Guyton the gift she never even realized she needed. Guyton took to Twitter in July 2021 to tell fans about the adorable gift her fellow country music star bought for her son, Grayson, which could see the youngest following in both of their footsteps before we know it. The impossibly sweet video showed Grayson sitting on a little black stool as he plonked around on a miniature black piano. The youngster looked very excited as he tickled the ivories while Guyton held him upright as her husband, Grant Savoy, recorded the scene while their dogs looked on.
"I was having a rough day when this showed up in my mailbox. Then I opened it up to see that @carrieunderwood got my baby a piano!" Guyton wrote alongside the clip. "Thank you from the bottom of my heart. To watch him light up as he plays is the heart explosion I didn't know I needed," she added, alongside an emoji with its eyes welling up.
Underwood responded to Guyton's thanks by tweeting, "Oh, I'm so glad he likes it! Figured it was a good bet that he's musical!!!" She added three red heart emojis to her response and called little Grayson "a cutie!" Grayson didn't appear to have the notes to "Before He Cheats" or "What Are You Gonna Tell Her?" down just yet, but we'll give him a little more time on that one.
American Idol missed out on the chance to make Mickey Guyton a star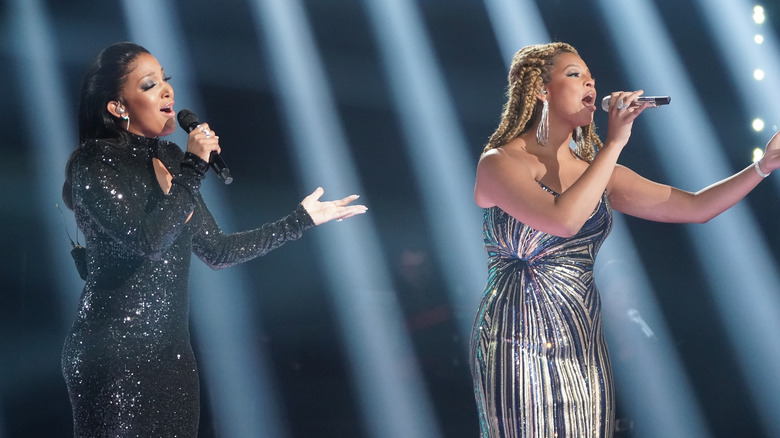 Though she may be rubbing shoulders with Carrie Underwood now, it turns out Mickey Guyton once almost followed very much in her footsteps. Underwood, of course, won Season 4 of "American Idol" all the way back in 2005, and it turns out Guyton actually tried her hand in front of the singing competition's infamous judges four years later during Season 8.
Yep, the country hopeful stood in front of Simon Cowell, Paula Abdul, Randy Jackson, and Kara DioGuardi way back when, but didn't quite see the same competition show success as her peer. Guyton made it to the top 50 in 2007 but was cut from the show with barely any of her performances making it onto TV (via The New Yorker).
Guyton got the last laugh here, though. In a twist of fate worthy of a modern-day music fairytale, the "Heaven Down Here" singer proved to the show exactly what they missed out on in May 2021 when she hit the "Idol" stage on Season 29 to perform her powerful song, "Black Like Me," as a duet with contestant Alyssa Wray. Now that's the kind of "I told you so" we've come to expect from this country star!
Mickey Guyton thought becoming a mom would 'ruin [her] career'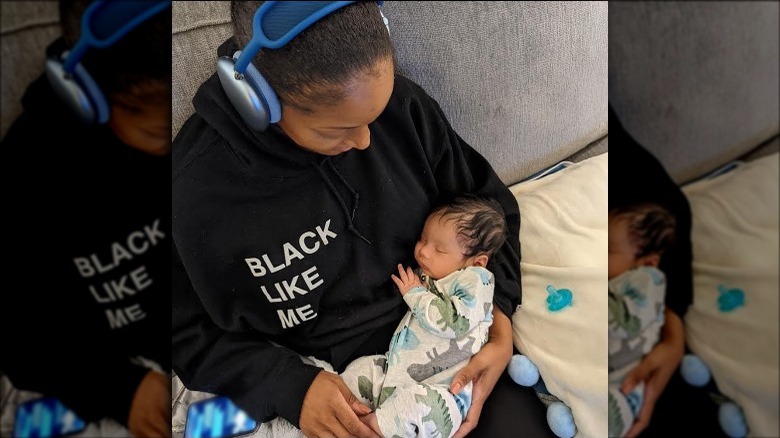 Mickey Guyton hasn't exactly shied away from a candid comment or two throughout her career, and she made a very bold confession when it came to finding out she was pregnant with her first child.
The star told The New Yorker in July 2021 that when she discovered she and her husband, Grant Savoy, were about to become parents she thought to herself, "This is going to ruin my career." But the headstrong star was "determined to show working mothers that they can do this" and she continued on with her rise to stardom, balancing her music ambitions with her career. "Yes, it's hard. But I always try to normalize it: I'm in this interview, I'm holding my baby. I have writing sessions where I say, 'Sorry, guys, my baby's gonna be here, and you're gonna have to deal with it,'" she said.
Guyton shared a similar sentiment to Holler, confessing that she "was terrified of how this baby was going to affect my career" and shared she even experienced feeling "bad for being pregnant." She clarified, "I know that sounds horrible, but I have to forgive myself for feeling like that and be like, 'Wait a second. This is a miracle. I can be a mother and a wife and I can work, too.' That needs to be celebrated and accepted." Since then, Guyton really has proved that she can have it all with her career going from strength to strength.
California wasn't initially kind to Mickey Guyton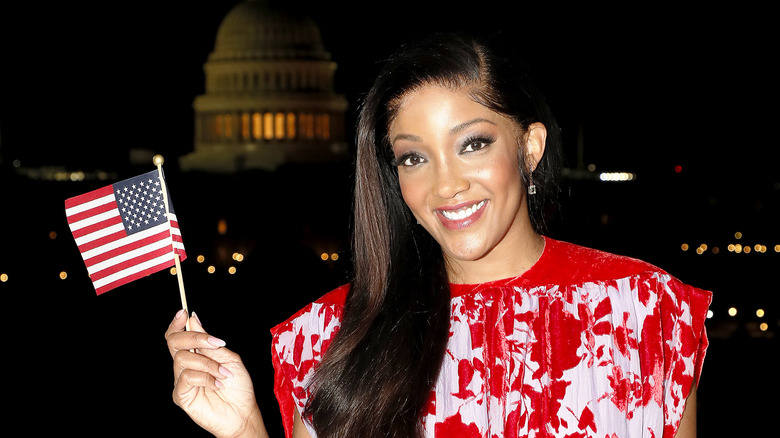 Though Mickey Guyton now lives happily in Los Angeles, California, with her husband and son, it turns out The Golden State wasn't initially so kind to the star when she first moved out there as a teenager. The Texas native decided to leave the Lone Star State to carve out a life for herself attending Santa Monica College to study business management while also contemplating a career as a vocal coach, but quickly found life on the west coast wasn't all it was cracked up to be.
She found herself "going to school, working, sharing a one bedroom [apartment] with another girl," opening up about her experience to Holler. With one credit left until she graduated, she suffered a devastating breakup (the one that inspired "Better Than You Left Me") and shared that she was left feeling "so lonely" and realized "nothing was happening for [her]" out there, so she made the choice to head back to Texas.
But in one of the most incredible twists of perfect timing, she ran into a DJ that she knew on the same day she was going to finish up her college credit before packing her bags. He was looking for a Black, female country singer — and the rest, as they say, was history! "It goes to show you that sometimes God has a plan for you," Guyton, who eventually headed to Nashville in 2011 to work on her country music dream, said.
Mickey Guyton's struggle to have her music heard led her to have 'a drinking problem'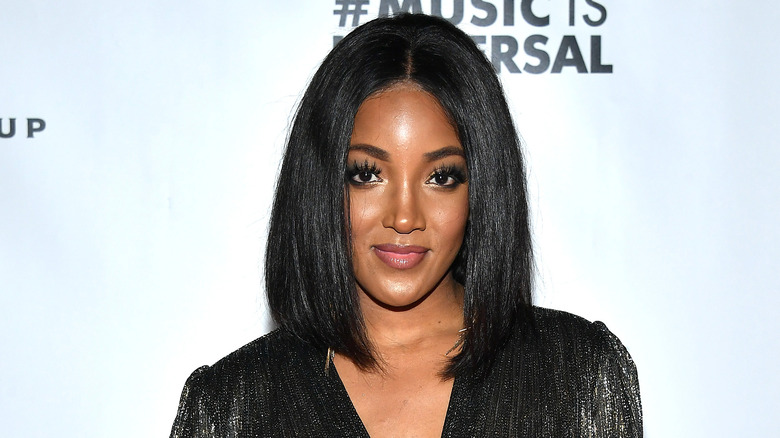 Mickey Guyton's tireless battle to get music executives to hear her songs had such a detrimental effect on Mickey Guyton that she's confessed she turned to alcohol to cope when her singing career just wasn't taking off. She told Entertainment Weekly in September 2020 that she found herself "having a drinking problem and not being able to sleep because [she] was trying to hide, in plain sight, who [she is]." Guyton explained that she'd tried for so long to change herself to please music executives and appease country radio that she was losing herself in the process. That's when a conversation with her husband, Grant Savoy, changed everything.
The "Hold On" hitmaker recalled asking Savoy, "'Why do you think that country music isn't working for me?'" and he had the most enlightening of responses. "He said, 'Because you're running away from everything that makes you different,'" something Guyton really took to heart. "It was such a simple phrase, but it hurt to hear him say that. But it was so true. I was trying to make everybody feel comfortable with me being Black, that I was hiding my Blackness. So much so that I went through my Instagram and scrapped anything that I felt was being untrue to me. And I was the one suffering for it."
If you or anyone you know is struggling with addiction issues, help is available. Visit the Substance Abuse and Mental Health Services Administration website or contact SAMHSA's National Helpline at 1-800-662-HELP (4357).
Mickey Guyton has a seven-figure net worth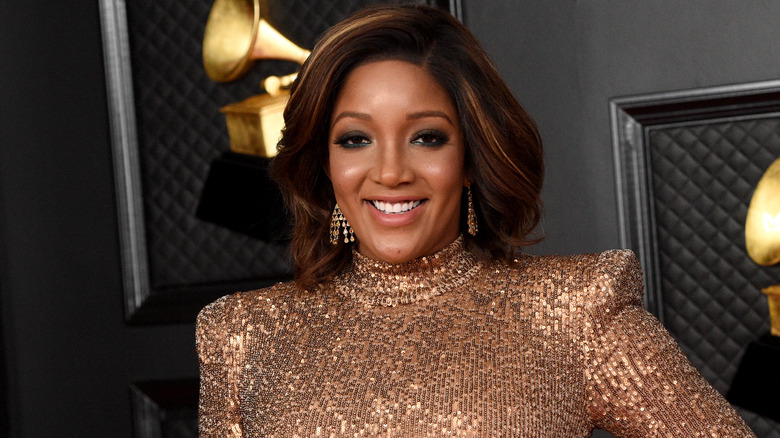 There's no doubt that Mickey Guyton has a pretty impressive net worth. According to Gossip Gist, the talented songbird is thought to be worth around $1 million — not bad at all! The star has certainly come a long way, but she'll be the first to admit that she's worked hard for every penny she's made. Guyton admitted that those who think stars get an instant huge payout when they sign a professional record contract couldn't be more wrong, as she was still facing money woes and working a "regular" job three years after she put her name on the dotted line.
"It felt like I wouldn't have to worry about money, and I was just going to focus on my album, and it's just not the case. Your bills still have to be paid. You still have things happen where you have to fork out a whole bunch of money," Guyton confessed (via The Music Universe). "Once I moved to Nashville, got my record deal and was focusing on my music, and then I realized my money was running out… So, I drove my little self over to Nordstrom and got a job in the lingerie department." The singer worked in retail three days a week and would write music the other four.
With honesty, class, and a bucket load of talent on her side, we've got no doubt Guyton's net worth will keep on skyrocketing for years to come.
Source: Read Full Article