The Truth About 50 Cent's Relationship With Jamira 'Cuban Link' Haines
Since August 2019, 50 Cent has been hot and heavy with a woman named Jamira "Cuban Link" Haines — well, at least that's when the world found out about their relationship. As People noted, most fans probably first learned about the music superstar's girlfriend when they made their red carpet debut at the Season 6 premiere of Starz's TV show "Power," which Fifty executive produces.
So, who is Haines? According to her Instagram, she graduated from Rutgers University, aspires to be a lawyer, and is currently a fitness trainer. Per the Rap-Up, she used to date rapper Omelly, who grew to fame by being a close friend and supporter of Philadelphia artist Meek Mill. And while her "Cuban Link" nickname may lead one to assume otherwise, the New Jersey native is not of Cuban descent, per Showbiz CheatSheet.
As for 50 Cent, he shot to fame after his debut album "Get Rich or Die Tryin'" was released in 2003, which went No. 1 on Billboard.  He then pivoted to television, having success with "Power," which launched his executive producing career. Given Fifty's level of celebrity, there was plenty of talk after he and Haines announced they were a couple. But what's the real truth behind their love story? Furthermore, how close are they really, and how true were the breakup rumors they've been plagued by? We've answered those questions and a lot more, so let's dig deep into 50 Cent and Cuban Link's relationship. Sound good?
50 Cent and Jamira were born in different decades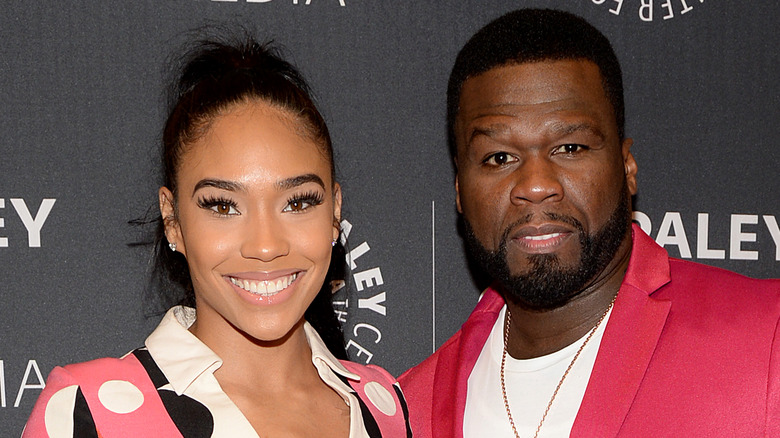 "Age is just a number," the saying goes. Or as author Timothy Ferriss once quipped, "Age doesn't matter, an open mind does." Then you have Mark Twain who was quoted as saying, "Age is an issue of mind over matter. If you don't mind, it doesn't matter." The way it appears, 50 Cent and Jamira "Cuban Link" Haines probably relate to those idioms to some degree: Fifty was born in 1975 and Haines came to the world in 1994, according to SOHH. 
So that means when Haines was entering her teens and dealing with things like acne, Fifty was in his early 30s and waist-deep into adulthood. Still, May-December romances are pretty common in everyday life and even more so in entertainment realms. For example, Jay-Z was born in 1969 and his wife Beyoncé in 1981. Catherine Zeta-Jones and Michael Douglas are 25 years apart in age. Rolling Stone guitarist Ronnie Wood's wife Sally Humphreys is 31 years younger than the rocker. George and Amal Clooney have nearly two decades between them. Clearly, being from the same generation isn't necessarily a requirement for a solid relationship.
Jamira Haines forced 50 Cent to take things slowly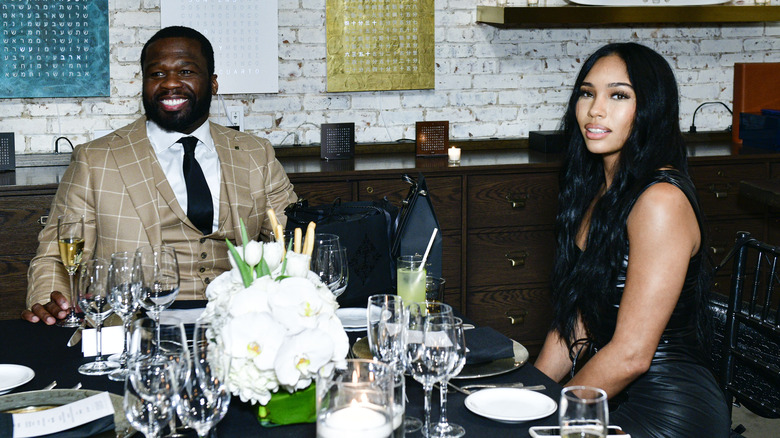 So envision this: You're a famous rapper with millions of dollars and plenty of women are more than willing to cozy up and help you spend some of that money. Meanwhile, there's one particular lady you're interested in, and based on your level of celebrity, you assume she's eager to move quickly and won't give any resistance. But you later find out that your fame and money don't buy you an express trip to her heart and instead, she vets you as she would any other dude.
That scenario closely mirrors what happened to 50 Cent after he met Jamira "Cuban Link" Haines, something they talked about on Instagram Live once, which eventually landed on YouTube. As they recounted in the video, she told him to come to a location that he assumed was her house, but that was not the case. "The first time I went to meet her, she gave me an address and it was the restaurant," he recalled. Evidently, Haines didn't suspend her usual reasoning just because she was dealing with a big-time celebrity, which she went into. "I had to make sure you were like, real. You wasn't coming to my house," she told Fifty in the clip. Haines' parents are probably pleased as punch with their daughter's restaurant decision, huh? Perhaps Fifty not so much.
Jamira Haines' Instagram gets a lot of attention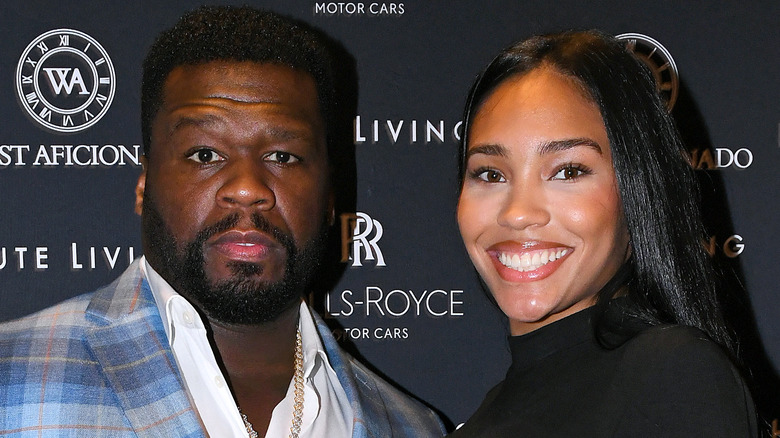 If you head to Jamira Haines' Instagram page, you'll see she has over 1 million followers. And a good handful of those followers are ready and raring to shower Cuban Link with compliments in the comment section. If you glance at the messages that have been left under her photos, you'll see words like "beautiful" and "stunning" written, along with a bunch of fire emojis. You get the picture. 
But on at least one occasion, it seemed like 50 Cent didn't want his girlfriend to post photos that may get a lot of attention, based on what he told her on social media in 2020. It was right after she shared a post-workout video, which showed her in a pair of shorts and a midriff-baring shirt. "I just landed, now why you gotta be doing sh*t like this," wrote Fifty about the clip (via Capital Xtra). "You send this sh** to my phone, not to Instagram, what the f**k?" Now, it seems very possible Fifty was just joking with Haines since they often relay sarcastic messages to each other (and yes, their fans seem to enjoy and eat those sarcastic messages up like gumdrops). Plus, Fifty has been called one of the biggest Internet trolls that rap has ever encountered.
50 Cent and Jamira use vision boards for their relationship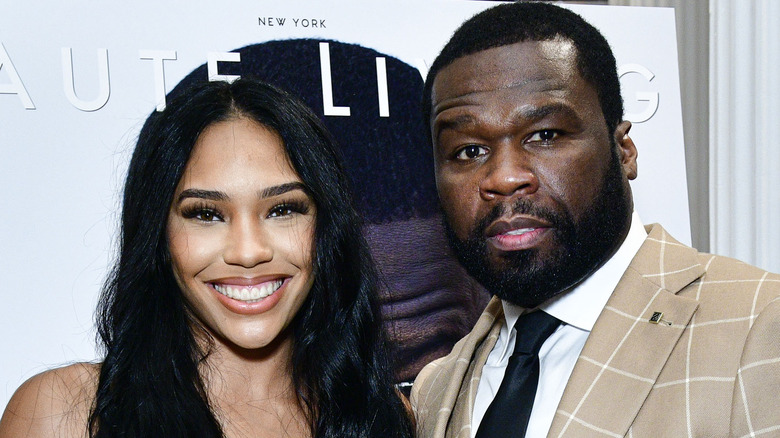 This probably isn't a shocker: There are a lot of people out in the world who don't like to have difficult relationship talks with their partner. One those people happens to be Dave Chappelle, who spoke about this subject in his "Killin' Them Softly" comedy special. When his wife says "we need to talk," his mind goes right to expletives. "I know every time we need to talk, we need to talk about some sh*t I got to do," the venerated comic said. "We don't ever have to talk about anything she needs to do."
It's possible that wanting to get hard conversations out of the way could be why 50 Cent wanted to create vision boards with Jamira Haines. "For 30 days, I [told her], 'Send me a picture of something you want,'" he shared with People in 2020. "Then after the 30 days, I did the same. At the end of it, we put the two vision boards together and talked about the things that don't match up." The rapper turned TV producer said the vision boards "sparked conversations" that they probably wouldn't have had otherwise while saying it made approaching topics about their relationship much "easier." Maybe Chappelle could try something like that.
Working out works for Jamira Haines and 50 Cent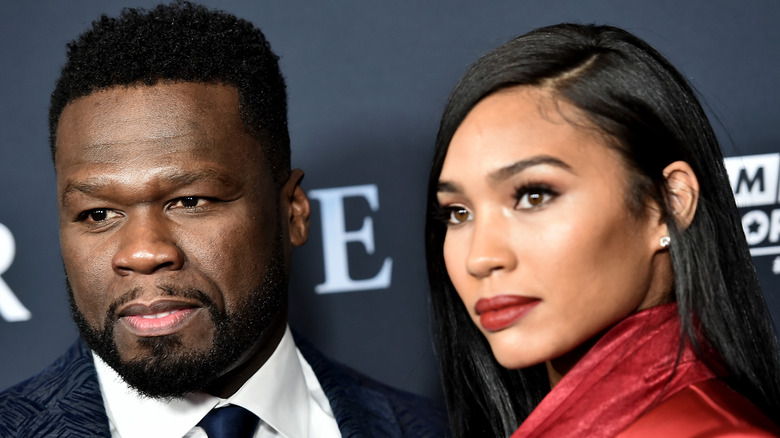 Sure, two people having natural chemistry is a wonderful start to any relationship, but according to Psychology Today, a couple will have a stronger union if they have at least one shared hobby. "The truth here is evident: When two partners have the same or similar interests, life is easier for the couple. Better yet, if they share a passion for the same interests, it can bond them for years," the site reads. Assuming that is indeed the case, then 50 Cent and Jamira "Cuban Link" Haines may be together forever because they both have an intense passion for hitting the gym.
Haines often posts workout photos on her personal Instagram account as well as the page for CubanFit, her company that sells exercise apparel and provides personal fitness training. And Fifty also shares a lot of exercise photos, usually of himself lifting weights, a regimen that he started after getting shot nine times in 2000 in Queens, N.Y. He talked about that time of his life in an interview with Muscle & Fitness. "It became a big part of my day. I trained, and I wrote music. That was my focus," said Fifty. Maybe the rapper and his girlfriend will put out a joint workout video one day, but who can say?
50 Cent and Jamira Haines often troll each other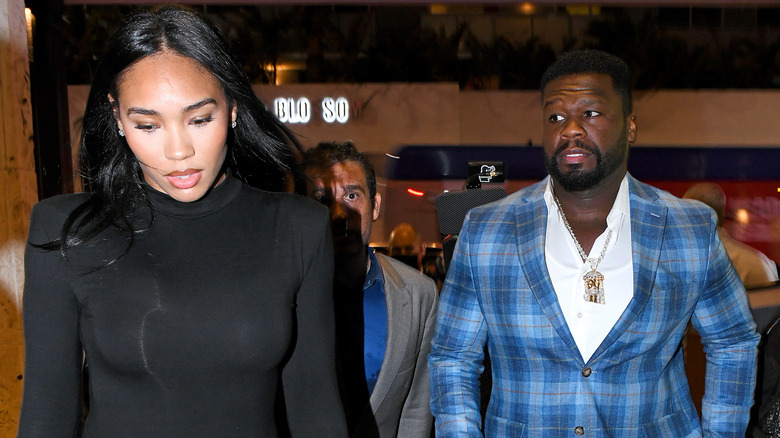 When couples think of how to improve their relationship, they probably come up with things like trying to establish better communication or maybe finding some new activities to do together. But based on a study from Martin Luther University of Halle-Wittenberg (via Science Daily), couples should poke fun at each other to improve their union. "If partners handle laughter or being laughed at in a similar way, they tend to be quite content with their relationship," the study noted. "People who are afraid of being laughed at, on the other hand, are often less happy in their relationship." In addition to being the best medicine, laughter may very well be the best love potion. 
50 Cent and Jamira "Cuban Link" Haines would probably agree with those findings, seeing they often engage in playful banter and troll each other. There was one time when Haines roasted 50 in a video inspired by the "This is your man?" TikTok trend (via Instagram). With a photo of Fifty after he dropped a lot of weight for 2011's "All Things Fall Apart" as the backdrop, she "says" she will "stick beside him." And before that, there was a clip of Fifty presenting Cuban Link with an Hermès orange gift box at her birthday party that appeared to contain a new Birkin. Alas, it was not a designer handbag, but a purse from Marshalls. "The money didn't really matter," Fifty joked after showing everyone the pocketbook.
50 Cent keeps being told to marry Jamira Haines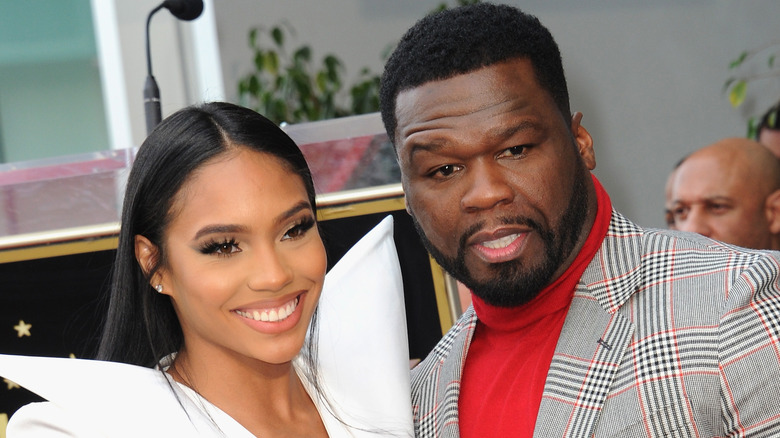 50 Cent has gone public with his relationships in the past, but not in the way that he's done with Jamira "Cuban Link" Haines. Some of the women he's been linked to include Shaniqua Thompson, who's the mother of his eldest son, Marquise Jackson. Fifty has also dated Meagan Good, Vivica A. Fox, and Chelsea Handler, but one could say that he hasn't gushed about those women in the way he does about Haines.
50 Cent also seems to be doing things with Cuban Link that he hasn't done with the others, like post couple photos. So does that mean Haines brought out a softer side of the gangsta rapper? That could be debated but either way, many of his fans say that she's the one he should marry, compared to his past flames. "Y'all get married already!! ❤️ @50cent @_cuban_link beautiful couple," wrote one of Cuban Link's Instagram followers after she shared a photo of herself and the "In Da Club" rapper. "I wanna see y'all get married and have babies," another comment read. Who knows? Maybe it'll happen one day.
Wait, is that a tattoo of Jamira Haines?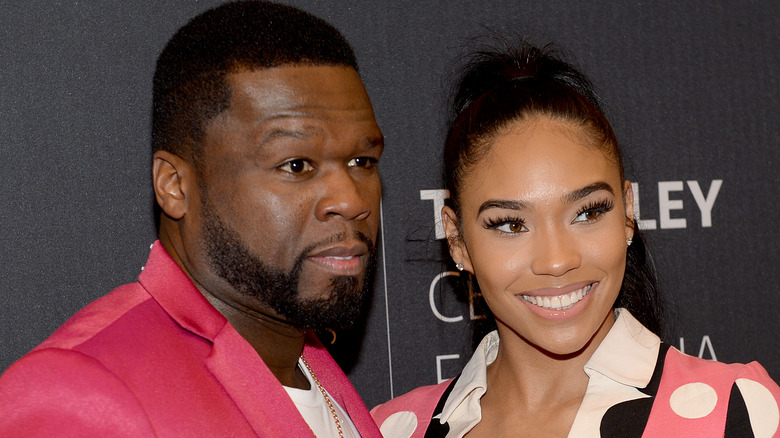 If anyone happened to wonder just how close 50 Cent and Jamira "Cuban Link" Haines are, they probably wouldn't have to look any further than a certain photo that Haines posted in January of 2021. In the pic, a shirtless Fifty shows off some of his many tattoos, including a piece on his arm that may or may not be a nod to Haines (via HotNewHipHop). Now, he did not say she was the inspiration for the image, but that hasn't stopped the speculation. As VladTV wrote, the woman in the illustration bears "a striking resemblance to Cuban Link"; HotNewHipHop remarked that it "looks as though he took a major chance with the ink acquisition" and might have "proved his loyalty in the most extreme fashion."
The tattoo, which is of a woman wearing a headscarf and low-cut dress, takes up much of the "Candy Shop" rapper's upper arm. Of course, the tat could be of someone else, but 50 Cent had to know it would spark a lot of chatter. And hey, he certainly would not be the first public figure to ask a tattoo artist to add a drawing of their significant other to their epidermis. 
50 Cent and Jamira Haines were plagued by breakup rumors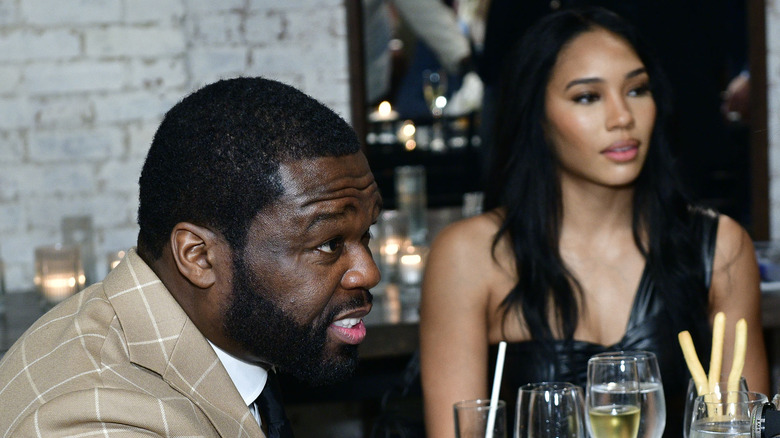 It's a common story: Someone shoots to popularity, people enthusiastically root for that person, then in the next breath they celebrate their demise. It happens in Hollywood to famous individuals all the time, and also to celebrity couples like 50 Cent and Jamira "Cuban Link" Haines. For instance, as Urban Islandz reported in June 2020, there was a rumor that not only did the rapper and fitness trainer supposedly called it quits, but Fifty supposedly booted her from of his mansion. The two never addressed the story, which of course only made the talk grow louder. Then Haines shared a photo of herself which really got the breakup chatter going.
"Haven't been in my apartment in forever," she wrote on Instagram next to a bathroom selfie — a solo selfie, that is. Plus, as outlets like Urban Islandz and Aceshowbiz pointed out, Haines removed most of the photos of herself and Fifty around that time, which in the digital age is a telltale sign that a couple has seen better days. But the rumors died down a bit when Fifty and Haines once again popped up on social media together, like in a pic of the two hanging out on the beach looking completely in love that went up in Haines' Instagram Stories in January 2021 (via HotNewHipHop). 
50 Cent and Jamira Haines are best buds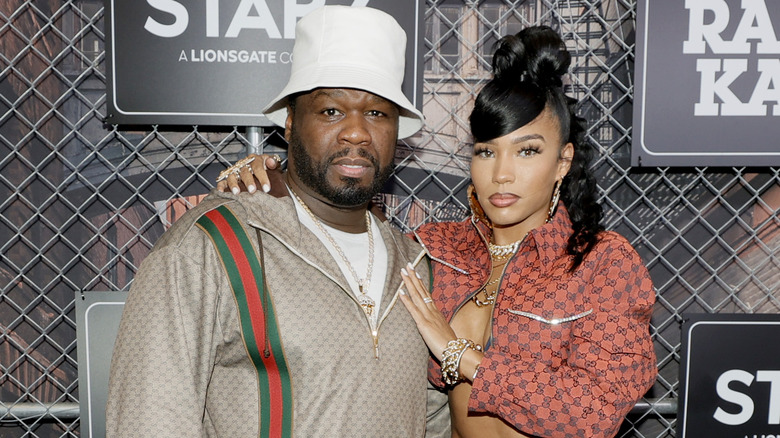 Sometimes, a rumor will die a quick death after the person who's being gossiped about addresses it flat out. Other times, however, a subject can tackle the piece of tittle-tattle a little more subtly, just like Jamira Haines did when she posted the aforementioned cute beach throwback on Instagram Stories in January 2021 (via HotNewHipHop). Even though some of the breakup talk surrounding Haines and 50 Cent died down after Haines shared that old photo of herself and the hip-hopper, it did not burn out entirely.  
So that could be why she shared another pic on July 17 of that year and let fans know just how close she and Fifty are. "Y'all see him? and y'all see me? When you see him you see me when you see me you see him. Period! Dont play w. my bessstfriennn ! 👿😅," wrote Haines. The snap was taken on the same day Fifty and Haines attended the premiere of "Power Book III: Raising Kanan" in New York City, a show that Fifty executive produces. 
There were other signs the couple were still going strong long before that post went up on social media. In July 2020, they were seen celebrating 50 Cent's 45th birthday in the Bronx, New York, according to the Daily Mail.
Jamira Haines got into it with Vivica A. Fox over 50 Cent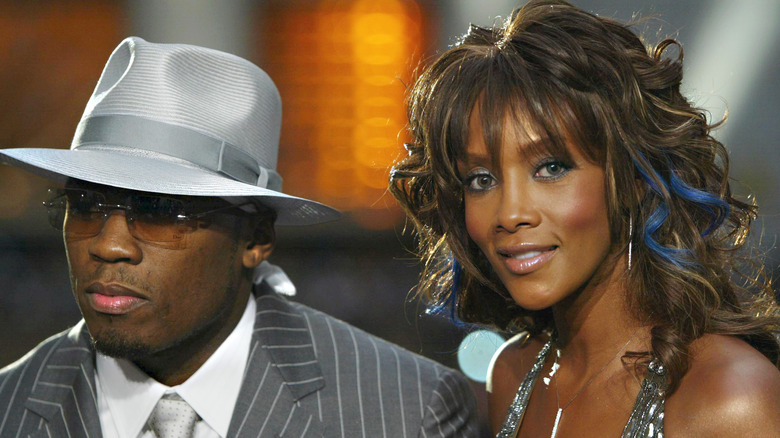 50 Cent and actor Vivica A. Fox were an item in 2003. Nearly two decades later, Fox would say something about their relationship that would spark a back and forth between herself and Jamira "Cuban Link" Haines. "He was the love of my life. I would admit that without any reservations," Fox shared with VladTV in 2021. "He will always have a very special place in my heart." It shouldn't be a surprise that Cuban Link wasn't the biggest fan of that interview and she threw Fox a minor diss after The Shade Room posted the clip. "Awww," wrote Haines in the comments, per Capital Xtra. She also added a violin emoji for good measure.
Then on Twitter, Haines posted, "It's giving me menopause. My momma always told me to stay outta grown folk business," evidently taking a shot at their difference in age. The beef between both women was officially on at that point, but Haines later seemed to feel bad and recanted her words on Instagram, saying her message was "bad timing" (via Atlanta Black Star). But Fox still responded to her initial diss. "Well! This is getting good cause I tried to post 3 times on @ShadeRoom," wrote Fox (via Capital Xtra). "What that clip didn't show was that I said he now has a hawt gurlfiend & Im happy 4 him! So stay in ya bag boo dont get nervous! Im good!" From there, the spat was no more.
50 Cent buys Jamira Haines some pretty pricey gifts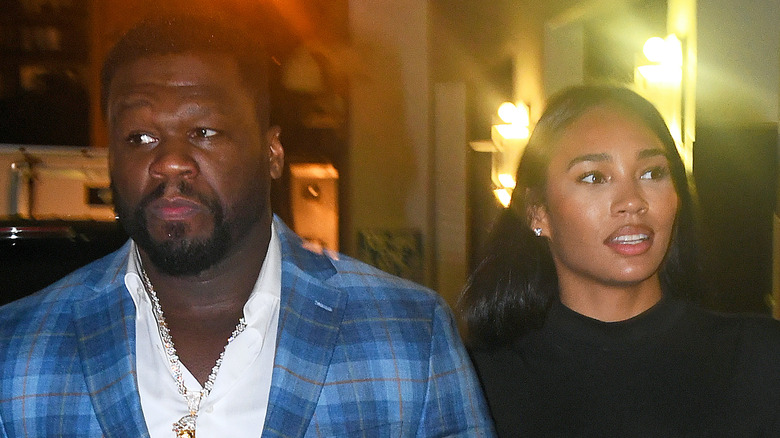 Being a New Jersey native, Jamira "Cuban Link" Haines probably spent many a day on New Jersey Transit, the state's public transportation service. But she eventually got herself a vehicle, which is probably now rusting somewhere. Either that or she might've sold the car or given it away. Why? Because 50 Cent bought her a Mercedes-Benz truck for Christmas in 2020. She shared news of the gift on Instagram and explained how Fifty chose to surprise her. "He said 'come look at what somebody did to ya car.' I went running outside…to this," wrote Haines in a now-deleted message, captured by HotNewHipHop.
There's also a video that shows Haines walking up to a makeshift box being held by a group of men right before they launch confetti into the air and reveal the truck — which is a black, sleek looking vehicle that had a giant red ribbon on the hood. And that wasn't the first lavish gift the "Get Rich or Die Tryin'" lyricist sprung on his woman, because he bought her a huge diamond link chain for Valentine's Day earlier that year — a gift that seemed to baffle her a bit. "idk why he got me this, now i look like i got an album coming out #baguettes," wrote Haines on Instagram (via SOHH)." Wow, diamonds and a new truck in one year? And the two are still just dating? Imagine what 50 Cent will buy Haines if they ever decide to tie the knot. 
Source: Read Full Article