The True Meaning Behind 'My Boy' By Elvie Shane
Elvie Shane is making a name for himself in country music these days thanks to his tear-jerking debut song "My Boy." The country singer credits his new success to always staying true to himself. He revealed to Taste of Country, "All of my music comes from an honest place and is all based very strongly on true things that have happened in my life, whether it was how I grew up, where I grew up, love found, love lost." 
Luckily for Shane, before "My Boy" even dropped on the radio, the song went viral on social media because of a touching 2020 video from a family who resonated with the song's lyrics. Shane explained, "It was just an image of love at its finest." He added, "And there was so much racial tension going on — I'm getting choked up thinking about it — it was just such a beautiful thing for that particular video to be the one that started this TikTok blow-up."
Since then, Shane still receives comments and stories from fans about how much the emotional the song means to them. He gushed, "For the all the negativity out there in the world on social media, the way that people have responded and used this song has proved that it can be used for a very good thing as well." So what is it about "My Boy" that so many people are connecting to? Let's take a look at the song's true meaning.
It's about a stepfather's love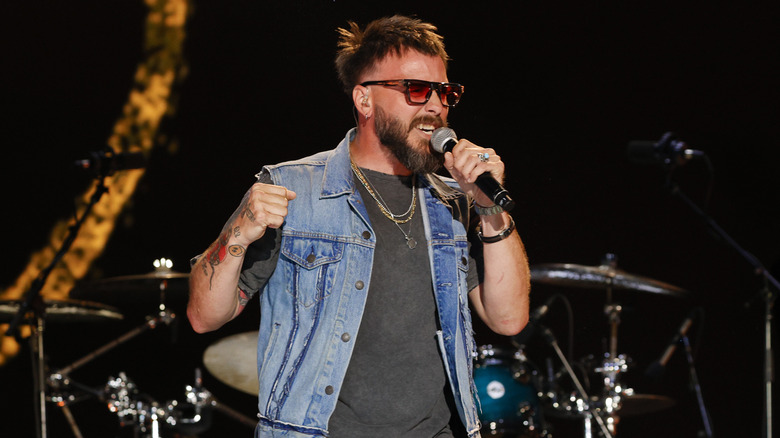 Elvie Shane's song "My Boy" is a hit with fans thanks to its lyrics about a stepfather's love for his stepson. In the chorus, Shane sings, "He ain't my blood, ain't got my name. But if he did, I'd feel the same. I wasn't there for his first steps but I ain't missed a ball game yet … I could never walk away. Yeah, he's my son and that's my choice. He ain't my blood but he's my, he's my boy."
Shane told Country Evolution that he was inspired to write the song by a Facebook post that read, "I don't have a stepson, I have a son that was born before I met him." He explained, "That resonated with me. I was sitting on the back porch with a few boys and started writing stuff that I liked. We set out to write about something that mattered that night, and I told them about the post." He added, "It turned into four grown men hugging and crying … We knew that …we had something special."
Of course, Shane was also inspired by his own stepson. "When I met my wife, and she told me she had a 5-year-old little boy. I needed a lot more purpose in my life, and her and him became that purpose." Just like his lyrics, it appears that Shane's stepson not only made him a better man, but now even a country star.
Source: Read Full Article