Remember When Heidi Klum SANG at the Victoria's Secret Fashion Show?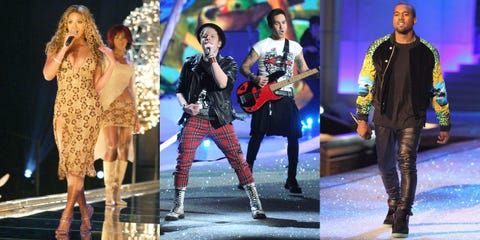 The Victoria's Secret Fashion Show is about more than the models and the lingerie—it's about the music, too. This year, Bebe Rexha, The Chainsmokers, Halsey, Kelsea Ballerini, Rita Ora, Shawn Mendes, and The Struts will join the models on the catwalk in New York. However, plenty of artists have taken the runway before them.
Taylor Swift, The Weeknd, Rihanna, Ariana Grande, and Justin Timberlake are just a few memorable acts, but others might come as more of a surprise. Since last two few are still fairly fresh in memory, we won't need to remind you that Ellie Goulding filled in for Rihanna in 2015, or that now-exes Selena Gomez and The Weeknd performed in the same year; but sets from 2014 and prior are all fair game.
Scroll down and see if you remembered any of these performances.
1) Hozier, 2014
"Take Me to Church" isn't exactly a go-to song for strutting in your heels and lingerie, but they did it on national television anyway. The Irish indie rocker provided a brooding soundtrack to the enchanting "Fairy Tale" segment of the show. Make of that what you will.
2) Fall Out Boy, 2013
Like Hozier, Fall Out Boy was an unexpected addition to the VS lineup. The punk group performed their angsty comeback single "My Songs Know What You Did in the Dark" at the show in London, joined by Taylor Swift, who wore every iteration of the British flag possible.
3) Kanye West and Jay Z, 2011
Too-cool-for-you duo Kanye and Jay Z once graced the VS runway for a performance of "Ni**as in Paris" after the release of their joint album Watch the Throne. Now, it's hard to imagine either of them returning to the show, especially together.
4) Akon, 2010
Who's to say where he is now, but back in November 2010, Akon was dressed in a tuxedo and serenading Victoria's Secret models on a glittery catwalk with a very fitting song titled "Angel." Katy Perry might've overshadowed him that night, but if he had gone on to perform "Smack That" and/or "Lonely," that might not have been the case.
5) The Black Eyed Peas, 2009
It's hard to forget a set with a light show, lazers and glow-in-the-dark backup dancers, but in case you did, here's a reminder. This set was so long and intense there was even time for the quartet to do an outfit change.
6) Spice Girls, 2007
The chances of another reunion from this bunch are slim, so consider this performance a true gem. They took on their '90s hit "Stop," complete with satin '40s Army girl outfits and male backup dancers, and literally made the runway their stage—no models walked during their set.
7) Mary J. Blige and Eve, 2003
MJB first took on the VS show in 2001, and made a soulful return two years later to perform her Eve collab, "Not Today," with the rapper. (See if you can spot Pharrell and Diddy in the front row.)
8) Sting, 2003
After a set of "Englishman in New York" and "Send Your Love," Sting later went on to perform a duet of "Whenever I Say Your Name" with Blige. This was a year of surprising musical collaborations.
9) Destiny's Child, 2002
Fourteen years ago, in the glory days when Destiny's Child was still together, they brought holiday cheer to the VS catwalk with a rendition of "8 Days of Christmas" dressed in matching gold outfits. Bey has been really into surprise performances lately, could you imagine if she showed up this year?
10) Phil Collins, 2002
In a more modest set compared to those of Destiny's Child and Marc Anthony that evening, Phil Collins, in a laid-back henley and jeans, sang "Can't Stop Loving You." The only thing more unexpected than his performance was the fact that Sugar Ray's Mark McGrath co-hosted.
11) Andrea Bocelli, 2001
Perhaps the most magical Victoria's Secret performance of all was one that took place the first time it was ever televised. There was a light-up forest, there was a string orchestra and, most of all, there was Andrea Bocelli singing Mascagni from a balcony as the models strutted below.
12) A Great Big World, 2013
Accompanying Taylor Swift and Ed Sheeran on the lineup this year was New York-based duo, A Great Big World. Singer Ian Axel performed their hit, somber breakup ballad "Say Something," for the "Shipwrecked" portion of the event.
13) Will.I.Am, 2007
Kanye West was originally scheduled to perform at the 2007 show, but he had to cancel after his mom passed away, and Will.I.Am filled in and performed "I Got It From My Mama." He returned to the VSFS runway two years later with the rest of the Black Eyed Peas.
14) Chis Botti, 2005
The Grammy-winning jazz trumpeter kicked off the show with "Embraceable You," a soft and sultry composition fit for a Victoria's Secret production. He played live as the models were introduced during the broadcast, including Tyra Banks, Gisele Bundchen, and Karolina Kurkova.
15) Seal and Heidi Klum, 2007
For the 2007 Victoria's Secret Fashion Show, Klum was a host, model, and guest performer. She sang a duet of "Wedding Day" with her then-husband Seal, who dressed in a sparkly silver suit—a fitting ensemble for the VS runway.
16) Ricky Martin, 2005
Martin broke a sweat performing "Drop It On Me" on the VSFS catwalk in 2005. His set included sirens, a slew of lingerie-clad backup dancers, and his signature infectious energy.
17) Jorge Moreno, 2008
When the fashion show was located in Miami, Victoria's Secret tapped Cuban American singer Moreno for the "Dangerous" portion of the production. As he sang "Babalu," models were easily dancing down the runway in their black feathered and lace-up lingerie.
18) Usher, 2008
The R&B singer opened the Miami show with back-to-back performances of "What's Your Name?" and, of course, "Yeah." Angels including Adriana Lima and Alessandra Ambrosio opened the show while Usher serenaded them and the crowd.
Source: Read Full Article