Madonna Makes Her Feelings About Britney Spears' Conservatorship Crystal Clear
Britney Spears' 13-year-long conservatorship battle continues after a Los Angeles court denied a request to remove her from her father Jamie Spears conservatorship. Following the court's ruling, the #FreeBritney movement rages on. Numerous fans and celebrities continue to be vocal on social media about her legal battle, which was prompted by her highly publicized personal struggles in 2007.
Spears has recently become vocal about how she feels about her conservatorship and her father's role in her finances for a significant part of her career. Per The Cut, the star told the Los Angeles probate court that she feels "done" with the "abusive" arrangement that let her father and attorneys gain control over her career and her finances since 2008. For Spears, the structure is absurd. "I just want my life back," Spears told California Superior Court Judge Brenda Penny. "All I want is to own my money, for this to end, and my boyfriend to drive me in his f***ing car."
The court ruling stirred things up in the long conservatorship battle, and several stars have spoken out in support. Now, Madonna has added her voice to the growing calls to free Britney. Here's what she had to say about Spears' conservatorship.
Madonna feels strongly for Britney Spears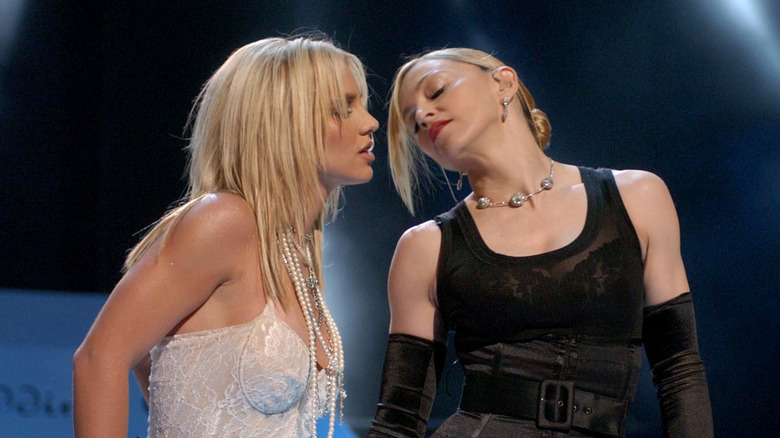 The Queen of Pop has shared her thoughts on Britney Spears' conservatorship battle. Posting a throwback picture on her Instagram story of herself in a white shirt saying "Britney Spears," Madonna did not mince words. "Give this woman her life back. Slavery was abolished so long ago! Death to the greedy patriarchy that has been doing this to women for centuries," the pop star wrote. "This is a violation of human rights! Britney we coming to get you out of jail!" Like several other celebs and numerous fans, Madonna clearly feels that Spears conservatorship might be far too dragged out and that it's time for courts to reconsider the arrangement.
Madonna and the "Toxic" singer have famously collaborated in the past. The two worked together on the 2003 song "Me Against The Music" and performed together at the MTV VMAs that same year, performing Madonna's hit "Like A Virgin" with Christina Aguilera. The performance made global headlines after the two singers shared an on-stage kiss. Almost two decades later, Madonna is still in Spears' corner.
Source: Read Full Article