Inside Camila Cabello's History With One Direction
By an early age, Camila Cabello made herself a household name. After departing Fifth Harmony, one of the hottest girl groups, at the end of 2016, the singer has established herself as more than just a one-hit-wonder. She's released multiple successful singles, including the duet "Senorita," she recorded with her boyfriend Shawn Mendes and the Latin-inspired hit "Havana." So, it's no surprise the singer is a constant presence on the radio. And not only does she have a flourishing music career — she dropping her latest single, "Don't Go Yet," this month — but Cabello has made the transition to acting as well. The singer will star in Sony's remake of "Cinderella" as the titular character, which will drop on Amazon Prime on Sept. 3. 
Due to her increasing popularity and fame, it's only natural that Cabello's life has been under a microscope for the last several years. And Although the singer may seem like an open book, thanks to her PDA Packed videos with Mendes, there's one thing most fans might not know about the star — her history with One Direction. 
Camila Cabello stannedOne Direction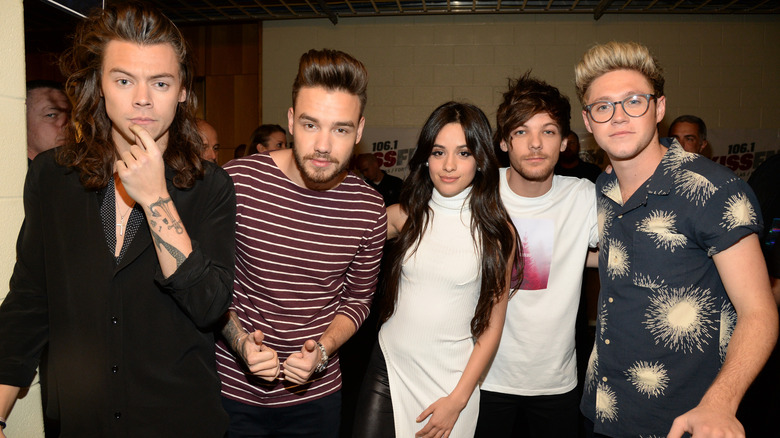 A music lover herself, it should come as no surprise that Cabello, like pretty much the rest of the planet, enjoyed One Direction's music. But what is surprising is just how dedicated of a fan she really was. In fact, Cabello's love for the boy group ended up playing a pivotal role in her career. In an interview with Beat 1's Zane Lowe (via Access Online) in late 2017, the singer talked about her days as a One Direction superfan. "I was like a huge One Direction fan. They were like the reason why I tried out for 'X Factor," Cabello said. "And obviously, like I literally – you don't understand. I had a twitter account for One Direction. Like I was one of those fan girls at one point."
But despite stanning the boy group, Cabello's obsession with One Direction seemingly wasn't always so positive. Some fans have found old screenshots, supposedly from Cabello's stan Twitter account, where the artist allegedly made rude comments about both Zayn Malik and his girlfriend at the time, singer Perrie Edwards. Cabello has never confirmed or denied whether she was actually behind the tweets, but the singer did apologize for other insensitive tweets she's written in the past.
The singer did say she cried after Zayn left the band back in 2015, implying she has nothing but love for the former 1D star. See? Celebs, they're just like us!
Source: Read Full Article