Doja Cat Is 'Not Bailing' on Existing Commitments, But Still Plans to Quit Music
The 'Say So' songstress reiterates her plans to retire from music after performing at The Weeknd's upcoming tour despite having called a truce with her fans following a back-and-forth online.
AceShowbiz –Doja Cat is sticking to her decision to quit music, but only after she fulfills her prior commitments. The 26-year-old singer/rapper has reiterated her plans to retire from the business after performing at The Weeknd's upcoming tour.
On Thursday, March 31, Doja made it clear that she's "not bailing" on The Weeknd's "After Hours til Dawn Stadium Tour" which will kick off in July, but it doesn't mean that she cancels her plans on quitting music. "For those who are seeing me at the after hours tour, i'm not bailing," she wrote on Twitter.
She then added, "But me not bailing doesn't mean my a** isn't gonna disappear right after. i still got s**t i gotta do. and a lot of y'all think cuz i post a f**kin picture it means i'm not out. Pic doesn't = music GOOFY."
In a separate tweet, the 26-year-old hinted at more projects from her before she "disappears." She penned, "So yes, that still means i got videos to film i got performances to do and I got content to drop so i'm pooping it out and dippin. i ain't gone yet."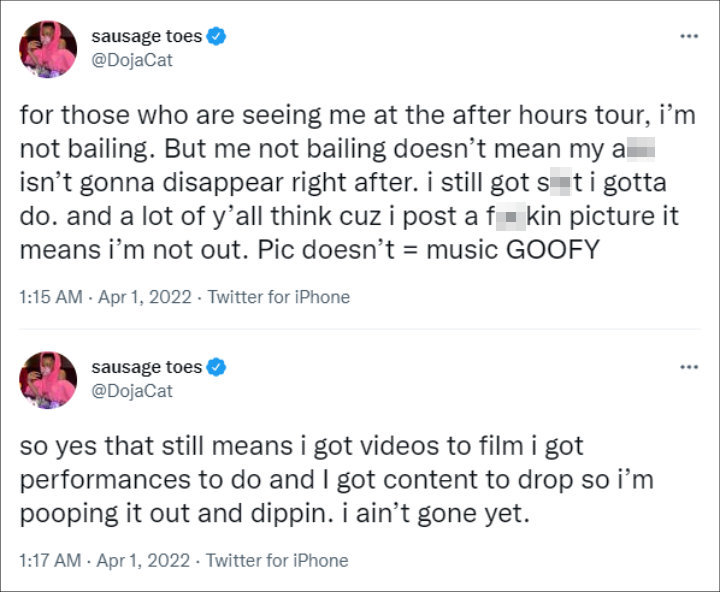 Doja Cat reiterated her plans to quit music.
Two days before, Doja insisted that she's still retiring from music after calling a truce with her fans. When Florida radio station MIX 105.1 tweeted, "Ok so maybe @DojaCat isn't retiring," alongside an article about her plans to quit music, she replied, "Yes the f**k I am."
Doja made the shocking decision in the wake of a wave of criticism from her Paraguayan fans following her canceled show in the country. "It's gone and i don't give a f**k anymore i f**kin quit i can't wait to f**king disappear and i don't need you to believe in me anymore," she wrote in a now-deleted tweet.
"Everything is dead to me, music is dead, and i'm a f**king fool for ever thinking i was made for this this is a f**king nightmare unfollow me," she ranted earlier this month, "This s**t ain't for me so I'm out. Y'all take care," before changing her Twitter name to "I Quit."
Over the weekend, however, she expressed her remorse for lashing out at her fans as she tweeted, "I can travel, I can eat good food, I can see new people, I can smile, I can make memories that I dreamed of having, I can laugh, I can support my family and my friends, I can learn about the world, and I can give back to everyone because of you." She admitted, "I do owe people s**t. I owe a lot," she wrote.
When one of her Paraguayan fans apologized to her "for the things they said and how they treated you," the "Need to Know" hitmaker humbly said, "I wasn't any better."
Source: Read Full Article