Azealia Banks Calls Beyonce 'Lame' and 'Sneaky' Over New Song 'Break My Soul'
The 'Black Madonna' songstress accuses the wife of Jay-Z of trying to erase her contributions to house music after it's said that Queen Bey used Azealia's early records to 'brainstorm' for upcoming records.
AceShowbiz – While Beyhive feel blessed with the release of "Break My Soul", at least one person was upset by Beyonce Knowles' new music. Azealia Banks has ranted against the former Destiny's Child member for allegedly using her music to "brainstorm" for upcoming records.
On Friday, June 24, Azealia took to her Instagram Story to share a quote from an anonymous source in a Metro U.K. article that read, "She loves the fact that so many Black writers and DJs are thriving in the dance scene over there and was paying attention to songs by people like MistaJam, David Asante, MNEK, Kamille and early Azealia Banks when brainstorming."
Over it, Azealia wrote, "You're 'brainstorming' with six people to my early records." She added, "Which are miles beyond whatever flaccid and insecure attempt you just made to try for an attention grab during pride month? When you don't give a damn about the gays any other time of the year?"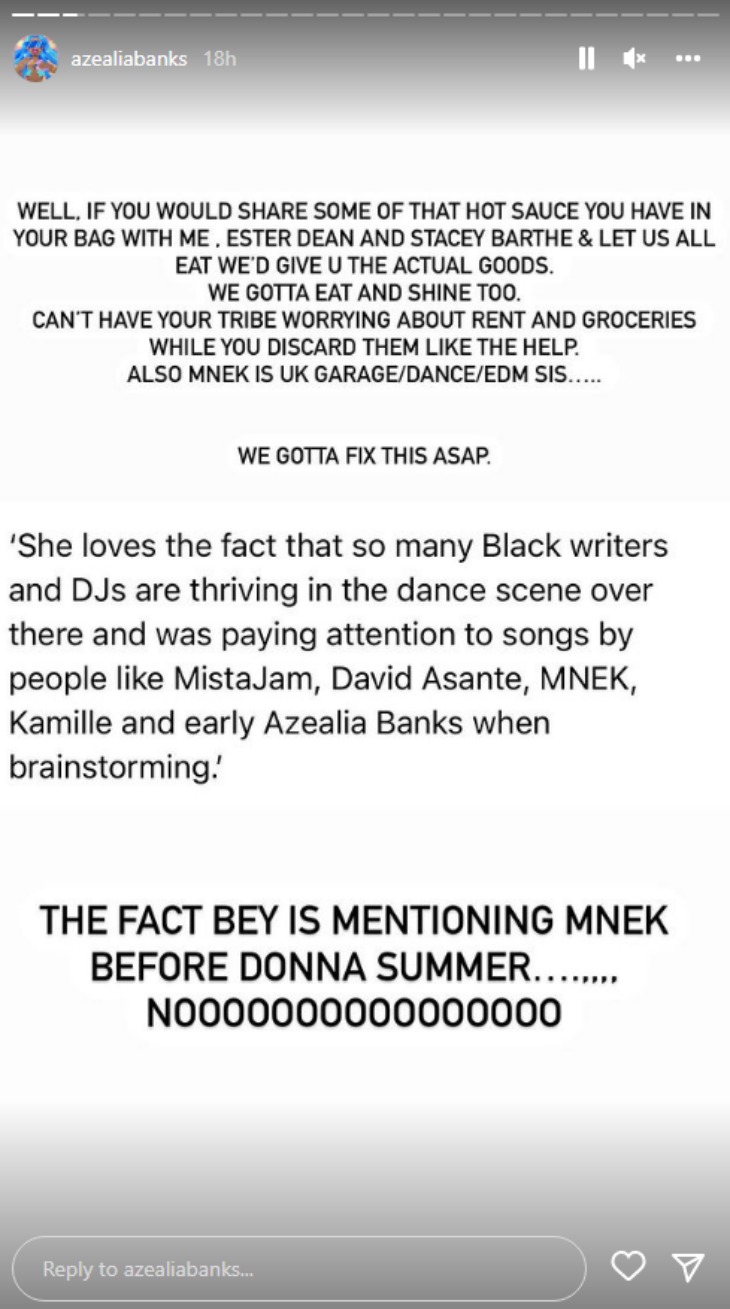 Azealia Banks slammed Beyonce over her new song 'Break My Soul'.
The "Anna Wintour" hitmaker didn't stop there as she accused Beyonce of trying to erase her contribution to house music in audio shared on her Story. "Beyonce has been trying to write me out of my own narrative for like years, at this point. It's so f**king weird," she said.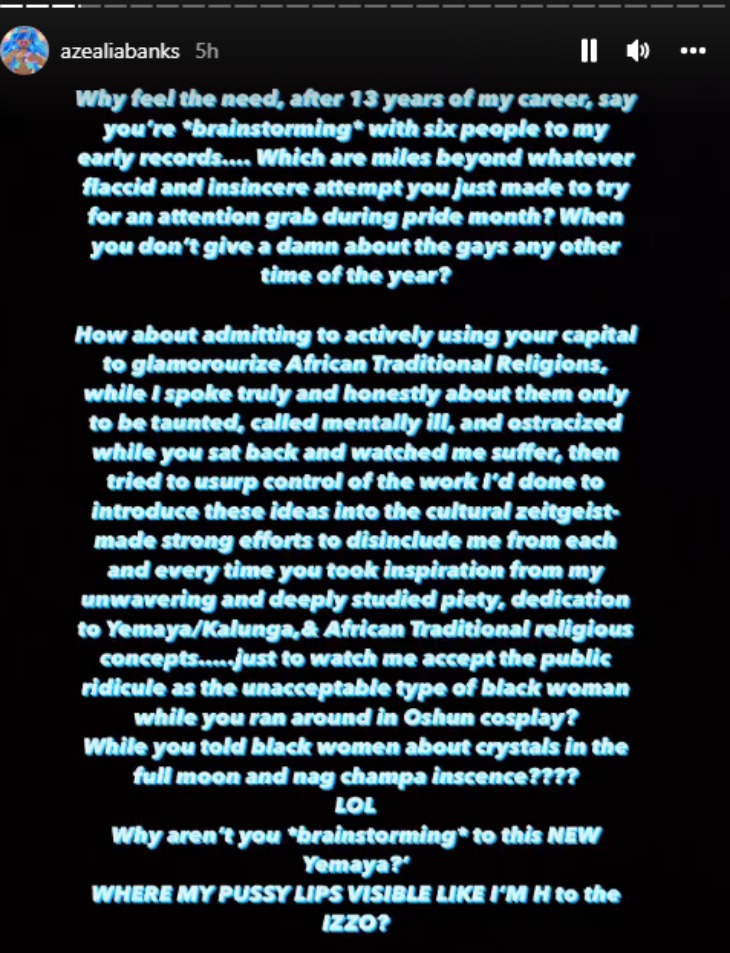 The rapper ranted against the R&B diva.
She continued, "So, early Azealia Banks records – so what are you trying to do? Like encapsulate my music in time and say like it's vintage, as if my last three releases have not whooped you're a**? Are you kidding? As if I'm not showing major versatility and all of that?"
Azealia went on alleging that Beyonce tried to copy her sister Solange Knowles as well as young star Chloe Bailey, whom Bey takes under her wing. "You wanted to be Solange. You wanted to be like Chloe Bailey, and do a 'Little Mermaid' movie, and you don't include Azealia Banks," she continued.
Calling Beyonce "sneaky" and "lame," the 31-year-old further lashed out, "Like, oh my f**king God. You're a joke. You're so sneaky. You're trying to erase my contribution-God knows f**king who. Just encapsulate me in time. You're a f**king creep Beyonce and watch everything I do."
"Just the levels of thirst," she claimed. "Yeah, you wanna write me out of my own narrative and then like, try and own that narrative and be that revolutionary Black feminist rebel who's into ATRs and Dance music, and all this other stuff. You are so f**king lame."
The New York City native further declared, "You're never going to write me out of anything that I create for myself. I don't care how many f**king budgets this n***a gives you. Mood board s**t from Instagram and make some hodge podge ode to Orisha."
Beyonce released her new song "Break My Soul" on June 20. It serves as the first single off her upcoming album "Renaissance".
Source: Read Full Article