You Never Realized These Celebrities Also Had Famous Parents
While many of us couldn't be more different from our parents, in Hollywood, sometimes the apple doesn't fall far from the tree. Since many of the famous folks on this list are huge A-listers in their own right, we bet you never knew that they also had parents who were once (or still are) the creme-de-la-creme in Hollywood.
These 15 celebrities practically stole the spotlight from their parents and shined it on themselves. One male model is the son of an A-list actor and fashion designer (page 10). 
1. Jennifer Aniston
Jennifer Aniston | Rich Fury/Getty Images
Parents: Jon Aniston and Nancy Dow
Hollywood's sweetheart Jennifer Aniston burst on to the scene as Rachel Green in the critically acclaimed '90s sitcom, Friends. The role catapulted Aniston to fame and helped her garner dozens of film roles and ad campaigns. However, you probably didn't realize that Aniston had familial roots in Hollywood.
Aniston is the daughter of Greek actor Jon Aniston and Hollywood actress Nancy Dow. Though she was forbidden to watch TV as a child, her father is best known for his role as Victor Kiriakis on the NBC daytime drama Days of Our Lives, which he originated in 1985. Her mother appeared in two 1960s TV series, The Wild Wild West and The Beverly Hillbillies.
Though Dow passed away in 2016, Aniston had a very complicated relationship with her mother. She told The Hollywood Reporter, "She was critical. She was very critical of me. Because she was a model, she was gorgeous, stunning. I wasn't. I never was. I honestly still don't think of myself in that sort of light, which is fine. She was also very unforgiving. She would hold grudges that I just found so petty." In contrast, the Horrible Bosses alum has always been close to her father.
2. Matthew Broderick
Matthew Broderick | Rich Polk/Getty Images for Center Theatre Group
Parents: James and Patricia Broderick
Actor Matthew Broderick began his career in 1983's War Games and then catapulted to fame in 1986's acclaimed teen flick Ferris Bueller's Day Off. However, it was his parents who laid the foundation for his entry into Hollywood.
Broderick's father, James Broderick starred as Doug Lawrence in the television series Family, which ran from 1976 to 1980. He also starred in Alice's Resturant, Dog Day Afternoon, and Paul Newman's The Shadow Box before he died from cancer in 1982. Matthew Broderick was just 20 years old when his father passed. The actor's mother, Patricia Broderick was also an artist in her own right. She was a playwright and painter in New York City.
3. Gwyneth Paltrow
Gwyneth Paltrow | Vivien Killilea/Getty Images
Parents: Bruce Paltrow and Blythe Danner
You probably know Gwyneth Paltrow for her roles in Shakespeare in Love and in a slew of Marvel flicks. However, the Goop founder's entry into Hollywood was laid out for years before she starred in the 1989 TV film, High. Paltrow is the daughter of late producer-director Bruce Paltrow who produced the TV series, The White Shadow and St. Elsewhere. He also directed his daughter in High.
Paltrow's mother is actress Blythe Danner who is known for 1776, Meet the Parents, and its sequels and of course her role as Will's mom Marilyn on the NBC smash sitcom, Will & Grace.
4. Alexander Skarsgård
Alexander Skarsgård| alexander_skarsgard via Instagram
Parents: 

 

Stellan and My Skarsgård
We all pretty much fell in lust with Alexander Skarsgård when he starred on HBO's True Blood as the wickedly sexy, Vampire Eric.  Since then he's gone on to dazzle our world in The Legend of Tarzan, Big Little Lies, and more recently the haunting Netflix film, Hold the Dark.
However, we bet you didn't realize that Skarsgård's father is the legendary actor, Stellan Skarsgård who has been in everything from Good Will Hunting to a slew of Marvel films. The Big Little Lies actor told the Inquirer, "He was a great dad when I was growing up, but it was tough because I didn't get to see him much. He worked 16-hour days, six-to-seven days a week. I would go to the theater and hang out backstage to see dad, basically."
Skarsgård's younger brother Bill Skarsgård played the terrifying Pennywise in 2017's It.
5. Allison Williams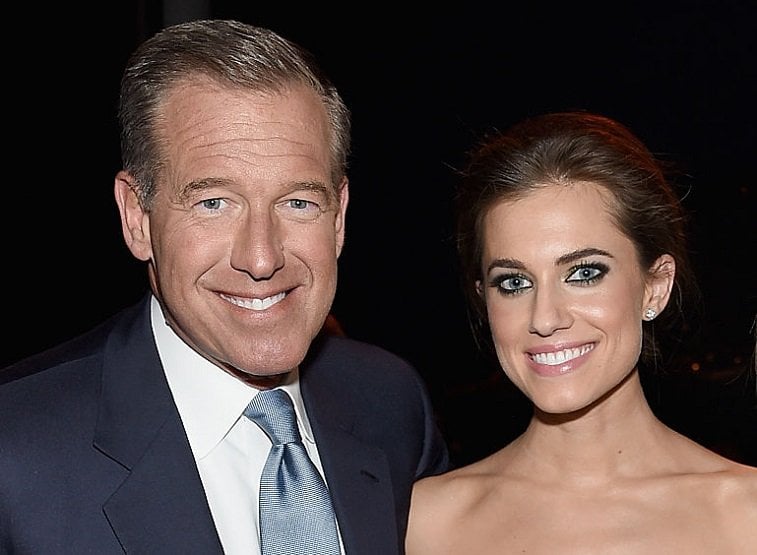 Brian Williams and Allison Williams | Jamie McCarthy/Getty Images
Parents: 

Brian Williams and Jane Stoddard Williams
Allison Williams shot to the top of the A-list on the HBO mega-hit Girls as Marnie, the neurotic best friend to Lena Dunham's Hannah. However, Williams really began to pick up steam in the Academy Award-winning horror satire Get Out as Rose, a woman whose family auctions off and then steals Black people's bodies.
Before she was able to stand alone, Williams stood in the shadow of her very famous father, journalist and news anchor Brian Williams. The actress told the LA Times, "It took years, and a lot of diligence on my part [to get out of his shadow]. But I've formed my own thing, and now I get people who are surprised to find out he's my dad. I dreamed that would happen, and it has: I'm no longer introduced to people as Brian Williams' daughter."
6. Ben Stiller
Ben and Jerry Stiller | Michael Loccisano/Getty Images
Parents: Jerry Stiller and Anne Meara
We all know Ben Stiller for his epic performances in films like Zoolander and Meet the Parents, but the funnyman didn't just miraculously find his way into comedy on his own. His parents are veteran comedians and actors, Jerry Stiller and Anne Meara. The pair was known as the comedy duo, Jerry and Meara. Jerry Stiller was also well known for his roles on Seinfeld and The King of Queens.
Meara for her part had a slew of roles in various films and TV shows including Archie Bunker's Place, Alf and recurring roles on Sex and the City and King of Queens. Stiller gives all credit to his parents for his wildly successful career. He said, "If my parents were, like, plumbers, who knows what I would be doing."
7. Angelina Jolie
Angelina Jolie and Jon Voigt| Kevin Winter/Getty Images
Parents: Jon Voight and Marcheline Bertrand
Actress, filmmaker, and humanitarian Angelina Jolie rose to fame in the '90s for her critically acclaimed roles in the films Gia and  Girl, Interrupted. She made a name for herself in films like Tomb Raider and Original Sin and for her humanitarian work and directorial work in First They Killed My Father and Unbroken.
The once "wild child" actress' famous parents are actors Jon Voight and Marcheline Bertrand. Voight is known for his work in Runaway Train, The Rainmaker and Varsity Blues. The late Bertrand who passed away in 2007 from breast cancer has smaller roles in Hollywood but mostly focused on humanitarian work, a passion she passed on to her daughter.
Though Jolie was extremely close to her mother, she and her father have had a contentious relationship. Though they have reconciled in recent years, there was a point where she and Voight did not speak. She once said, "My father and I don't speak. I don't believe that somebody's family becomes their blood. Because my son's adopted, and families are earned."
8. John David Washington
John David Washington | Valery Hache /AFP/Getty Images)
Parents: Denzel and

 

Pauletta Washington
You have to be pretty legendary in your own right to be able to stand on your own in Hollywood when your father is Denzel Washington. With his roles in BlackKklansman, Monsters and Men, and HBO's Ballers, former football star, John David Washington has been able to do just that.
Watching his father in films like Malcolm X and Training Day made the younger actor yearn to be on the stage. However, he did not like the fame aspect of being a celebrity. Washington explained to Men's Journal, "I've had the acting bug since I was, like, five. But growing up I saw how people treated me differently when they knew who my father was, even the stuff I did on the field. Sometimes I'd rush for 100 yards and the headline would be, 'Denzel's son runs for 100 yards.' That's where the suppression of that bug came from." Luckily, the actor whose mother, Pauletta Washington is also an acclaimed actress and musician has decided not to let the fame bother him.
9. Dakota Johnson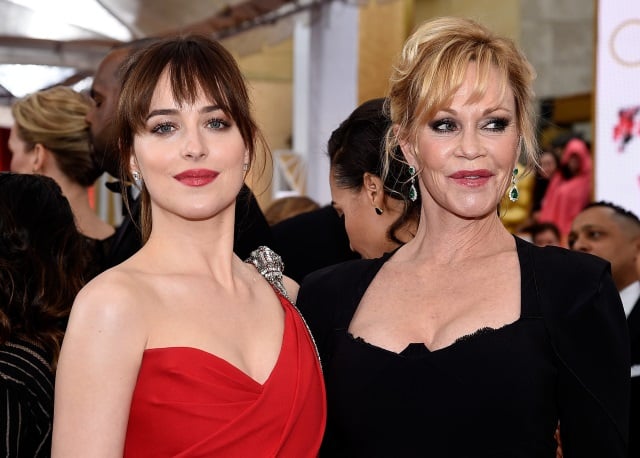 Dakota Johnson and Melanie Griffith posing at an event | Kevork Djansezian/Getty Images
Parents: Don Johnson and Melanie Griffith
With Don Johnson and Melanie Griffith as parents, it's no wonder that Dakota Johnson wanted to act from a young age. However, both of her parents who've been in everything from Working Girl to Miami Vice discouraged her from acting until after she finished high school.
Johnson first stepped into Hollywood as a model for IMG Models, but her breakout acting role came in 21 Jump Street and then the Fifty Shades of Grey trilogy. Growing up with parents as actors was very strange for Johnson, she once joked, "She grew up watching her parents "have sex with other people on screen. I lost my mind! I couldn't deal with that at all."
10. Rafferty Law
Rafferty Law | Alberto Pizzoli/AFP/Getty Images
Parents: Jude Law and Sadie Frost
Rafferty Law is the spitting image of father, Jude Law. His mother, Sadie Frost, is a fashion designer. The young model has nearly 50,000 Instagram followers; he produces his own music and founded a creative collective. Some of his biggest campaigns have been with Dolce & Gabbana and Tommy Hilfiger.
11. Maya Rudolph
Maya Rudolph attends the 70th Emmy Awards at Microsoft Theater on September 17, 2018 in Los Angeles, California | Matt Winkelmeyer/Getty Images
Parents: Minnie Riperton and Richard Rudolph
Funny woman, Maya Rudolph is best known for her roles on Saturday Night Live, Bridesmaids, The Good Place, and countless others. We bet you didn't know the actress' famous mother was the legendary soulstress, Minnie Riperton. The "Lovin' You" singer died when Rudolph was just 7 from breast cancer, so Rudolph's father, composer Richard Rudolph raised the actress.
Rudolph told Interview Magazine about some of her earliest memories of her mother. She said, "When I was a little girl, I would stand on the side of the stage and watch my mom singing out there in beautiful gowns. She was a diva in the most exquisite sense. Those are very vivid memories for me. I always had the idea of wanting to be on a stage, in these beautiful gowns, with a microphone in my hand, and that comes from my mom."
12. Lenny Kravitz
Lenny Kravitz | Dimitrios Kambouris/Getty Images for CB2
Parents: Roxie Roker and Sy Kravitz
We all know rocker Lenny Kravitz for his iconic music, his inability to age, his famous ex-wife, Lisa Bonet and actress daughter, Zoe Kravitz. However, the songwriter and actor has a famous lineage all on his own.
The New York-born celebrity is the son of actress Roxie Roker and NBC television news producer, Sy Kravitz. Roker who was Al Roker's cousin portrayed Helen Willis on the CBS sitcom The Jeffersons. Her character was half of the first interracial couple to be shown on prime time television.
Though his parents divorced when he was a kid, Kravitz told The Huffington Post, "My mother was extremely warm, a really incredibly loving woman, really was extraordinary in the sense that she put others first. My father had a lot of love and sensitivity in him, but he was really hardcore. Super-heavy disciplinarian. He wasn't the kind of man to talk a lot … I was afraid of him as a child."
13. Drew Barrymore
Left: Drew Barrymore | Dimitrios Kambouris/Getty Images for Glamour, Right: Jaid Barrymore | Evan Agostini/Getty Images
Parents: John Drew and Jaid Barrymore
Drew Barrymore's roots in Hollywood go back hundreds of years. She comes from The Barrymore acting family. Her father, John Barrymore appeared in a slew of low budget films and classic TV westerns. However, he was plagued by drug, alcohol, and spousal abuse.
Drew Barrymore rose to fame for herself in Steven Spielberg's  E.T. the Extra-Terrestrial. Unfortunately, her childhood was riddled with drug and alcohol abuse. Luckily, after a successful juvenile court petition for emancipation, Barrymore was able to get clean, and she began a stunning acting career which included Scream, Poison Ivy, Charlie's Angels, and her own her production company Flower Films.
She told Today about her troubled childhood, "Having a very public experience when I was young taught me a lot about responsibility in a weird way. It definitely gave me a wake-up call of, like, OK, if everyone's gonna know your business, maybe you'd like your business to be really classy. And that's a hard lesson, but it was a very good lesson for me."
14. Rashida Jones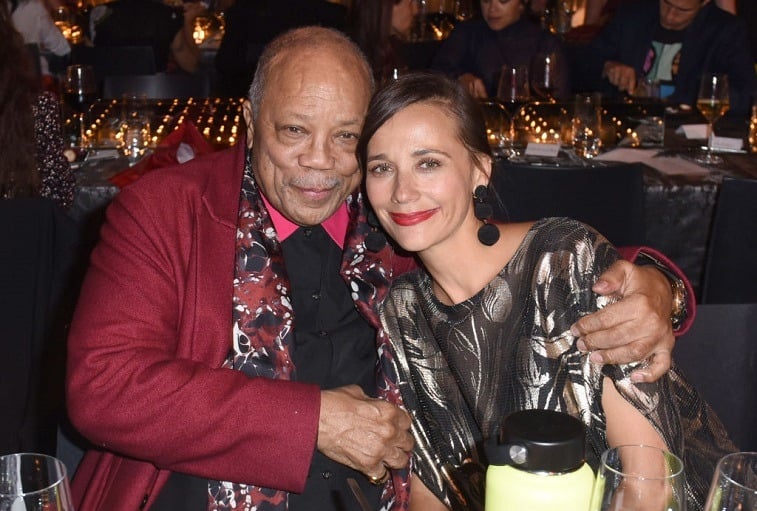 Quincy Jones and Rashida Jones | Vivien Killilea/Getty Images for L.A. Dance Project
Parents: Quincy Jones and Peggy Lipton
Rashida Jones is known for her breakout role was on the ABC drama, Boston Public and she would go on to star in The Office and Parks and Recreation. However, she has known the ends and outs of Hollywood for much longer. Jones' father is musician/record producer, Quincy Jones who has worked with everyone from Frank Sinatra to Michael Jackson.
Jones once revealed to The Huffington Post, "Once, my sister, Michael [Jackson], ­Emmanuel Lewis and I got in a car with Super Soakers and went by a movie theater and supersoaked the hell out of people waiting in line. They had no idea they'd just been supersoaked by the King of Pop."
You can learn more about music legend Quincy Jones' iconic story in the Netflix documentary Quincy, which Rashida Jones co-directed.
15. Stella McCartney
Stella McCartney poses arriving for her menswear launch and women's Spring 2017 | Ben Stanstall/AFP/Getty Images
Parents: Paul and Linda McCartney
Acclaimed fashion designer Stella McCartney is known for her modern women's style, her commitment to animal rights, and her use of vegetarian and animal-free alternatives in her work in an industry where that is still very rare.
However, it probably didn't click for you that McCartney is the daughter of former Beatles member Paul McCartney and American musician, photographer, and animal rights activist Linda McCartney. McCartney said to CNN about her famous father, "It certainly opened a lot of doors and certainly closed some minds. So I think there was a balance."
Follow Aramide on Twitter @midnightrami.
Check out Entertainment Cheat Sheet on Facebook!
Source: Read Full Article