Why Robert Downey Jr. Wasn't In Black Widow
Scarlett Johansson is riding the wave of positive reviews for her summer 2021 movie, "Black Widow." The superhero was finally awarded her own movie in the Marvel franchise, giving fans a chance to see on screen the backstory of Natasha Romanoff, a.k.a. Black Widow.
Before the film took over the box office, Marvel fanatics were anxious to see if any of their favorite Avengers would hit the screen in the new film, particularly Robert Downey Jr.'s character, Iron Man. Unfortunately, Tony Stark did not make a cameo in the film, and neither did any of the other Avengers, according to Entertainment Weekly.
The absence of Iron Man comes after the billionaire superhero (spoiler alert!) died in the last Marvel film, "Avengers: Endgame." The heartbreaking death left fans wondering if Iron Man would ever return to the Marvel Cinematic Universe, and come back to life as he did in the comics. Downey Jr. addressed whether or not he would return to the Marvel Cinematic Universe on "TODAY," admitting, "Now that I'm middle-aged, to be honest, you start looking at the back nine and you go, 'Oh, this is part of the journey as you… that things end.' You know, everyone is going somewhere." The actor, however, didn't leave out the possibility of a return.
So why didn't Iron Man make it into "Black Widow"? Film writer Eric Pearson revealed the actor was supposed to make an appearance — but it was cut in the end. Find out why.
Iron Man was originally going to appear in 'Black Widow,' but the idea was ditched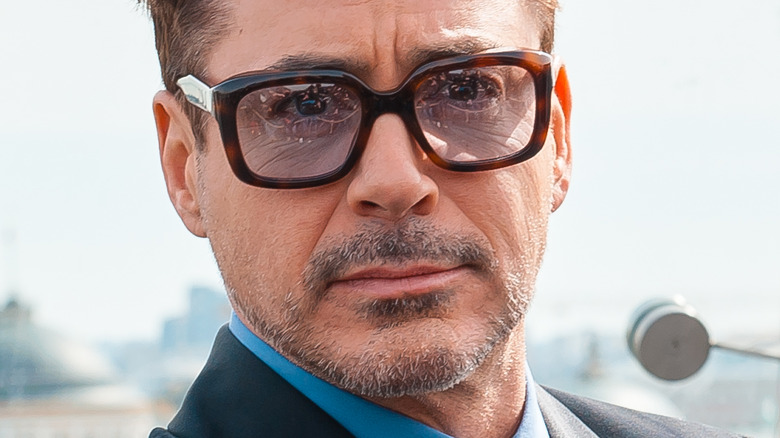 The "Black Widow" debut takes place at the end of "Captain America: Civil War" in the timeline of the Marvel Cinematic Universe, sparking rumors the final scene of "Civil War" would be the opening scene of "Black Widow." According to writer Eric Pearson, that was the initial plan, so what changed?!
"I do remember now that one version of the script, prior to me, literally had written into it the end moment of 'Civil War' with Tony and Natasha," said the writer on Comicbook.com's "Phase Zero" podcast. "That's the only time I saw Tony Stark's name in it, and it was just kind of a flag-planted reminder — like, 'Hey, we're right at the end of 'Civil War.'"
"Initially, there was discussions about everything, about all of the different characters," director Cate Shortland told GamesRadar+. "What we decided was, and I think [Marvel president] Kevin [Feige] was really great, he said, 'She doesn't need the boys.' We didn't want it to feel like she needs the support. We want her to stand alone. And she does." Scarlett Johannson proved she didn't need support, with "Black Widow" breaking pandemic records making $100 million in just six days.
Source: Read Full Article