What Lisa Marie Presley Did With Her Engagement Ring From Nicolas Cage
As the daughter of Elvis Presley, Lisa Marie Presley is one of the most well-known celebrities in Hollywood. Per Biography, Lisa Marie endured a rough childhood and adolescence after her dad died from heart failure from prescription drug abuse when she was 9 years old. In her junior year of high school, Lisa Marie dropped out and also began abusing drugs. Her reported struggles with drugs preceded a turbulent love life that saw her marry multiple famous musicians and actors.
According to People, Lisa Marie has been married four times in her life thus far. Her first marriage was with rock 'n' roll musician Danny Keough, with whom she shares two children. Following that marriage, she married Michael Jackson after four months of dating, but she filed for divorce in January 1996. Those two marriages were amicable for the most part, but the same couldn't be said about her marriage with Nicolas Cage in August 2002.
Their relationship was full of ups and downs and generated numerous headlines in the early aughts, including what Lisa Marie did with her engagement ring from Cage. Find out the story below.
Lisa Marie Presley lost her engagement ring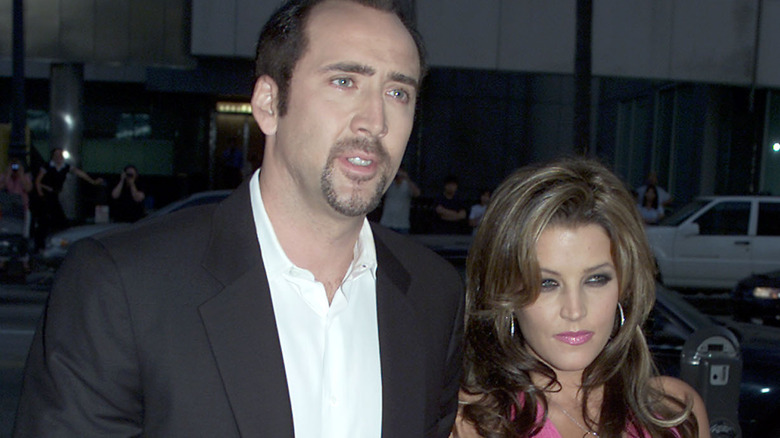 Lisa Marie Presley has had a complicated love life. Particularly, her third marriage with Nicolas Cage was the focus of many because they met when they were both involved with other people. People reported Cage met Lisa Marie at a party celebrating her father's life. At the time, she was reportedly engaged to musician John Oszajca, while Cage was in an estranged relationship with Patricia Arquette.
Describing their first encounter in an interview with ABC, Cage said he was enamored by Lisa Marie's beauty: "I walk into a party not knowing who I'm going to meet, and there's this beautiful girl standing in the middle of the living room wearing this short leather skirt and this fluffy jacket, and she looks up at me with these big, beautiful, soulful eyes that look like they have a sad story to tell, and I just went 'Oh.' I was thunderstruck." He continued, "And we got to talking, we got to know each other, and she's hilarious and she's a real firecracker and she tells it like it is."
From there, Cage admitted he and Lisa Marie "got into this unfortunate pattern of breaking up, getting back together again." During their breaking-up phase, Lisa Marie's 6 carat diamond engagement ring was thrown into the ocean mid-fight, according to ABC News. Though divers were hired to find the ring, it was never found. Cage made it up to Lisa Marie by buying an even bigger ring, but their marriage did not last.
Lisa Marie Presley and Nicolas Cage were incompatible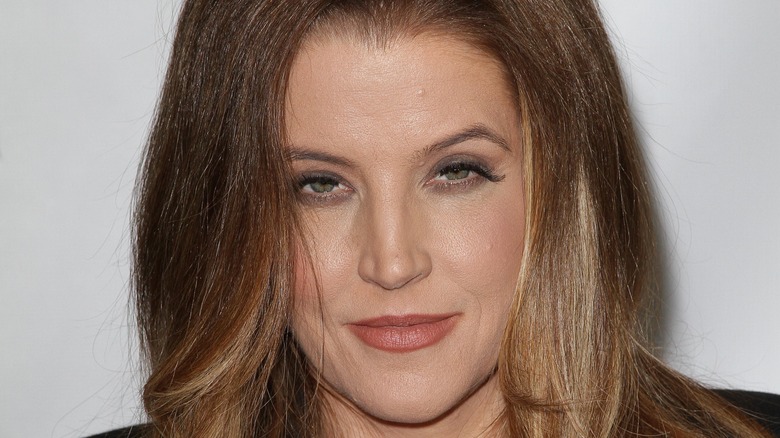 Three months after they wed in August 2002, Nicolas Cage filed for divorce from Lisa Marie Presley. At the time, Cage said in a statement that he would not comment on why they divorced. However, Lisa Marie said through a representative that she and Cage "shouldn't have been married in the first place" (via InStyle).
In 2003, Lisa Marie elaborated on their relationship struggles with Larry King on CNN, saying, "We were both a bit – we're sort of these gypsy spirited, you know, tyrannical pirates. And one pirate marries another they will sink the ship basically is what it comes down to." She added, "[The relationship] was one of those things where you're marrying hoping that you're going to either stabilize it or it's going to, you know, accentuate all that was going on prior to what was problematic. So it kind of did the latter, that's all."
Although their divorce was dramatic, Lisa Marie told Oprah Winfrey that she still had love for Cage. "[The divorce] was not a fun time for either of us," she said. "He did redeem himself in the end and we did become very good friends after that. We're better like that.
Source: Read Full Article