Try to Make It Through This List of the 10 Scariest Horror Movies on Netflix Without Screaming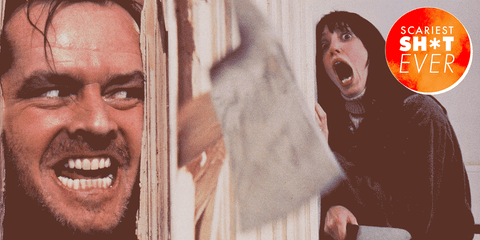 Spooky season is upon us, and what better way to celebrate than by lying on your couch, surrounded by pumpkins and streaming your fave Halloween movies? Exactly. Whether you're looking for a wholesome family film or a full-on nightmare, Netflix has you covered. Here, the 10 most horrifying, totally brilliant, WTF-iest Halloween-y films on Netflix. Just don't @ me if you spill your popcorn. Or never sleep again.
STREAM NOW
If you haven't already seen this Stephen King horror classic, basically, Jack Nicholson takes his family into the middle of nowhere and goes cray. Also, his son is psychic and the hotel they're living in is evil. LOL, have you canceled your family vacay plans yet? If anything, you'll be haunted forever by the image of a maniacal Nicholson breaking down the bathroom door with an ax.
STREAM NOW
We get it, you see dead people. An absolutely adorable Haley Joel Osment plays alongside Bruce Willis as an eight-year-old who can see ghosts. The ending comes with a shocking twist that you probably already know because, I don't know, the movie opened in theaters in 1999. But you should watch it anyway. Watch out for the prickly feels on the back of your neck.
STREAM NOW
If you're not so much into the paralyzing terror that is most Halloween movies, Coraline is the way to go. In this 2009 animated dark fantasy film (featuring the voices of Dakota Fanning and Teri Hatcher, and written and directed by The Nightmare Before Christmas mastermind Henry Selick), a girl discovers an alternate universe that seems exactly like her own, but better. She's forced to choose between the two, as her new world tries to keep her there. #Clingy
STREAM NOW
This M. Night Shyamalan film is about a village with serious homebody issues: The townspeople refuse to leave, claiming there are monsters in the woods surrounding them, which is my excuse every Friday night when I don't want to get out of bed. Warning: You will try to erase the memory of Judy Greer whispering, "Don't let them in," and you will fail.
STREAM NOW
The Conjuring is the first installment of the super-successful film franchise based on the lives of IRL paranormal investigators Ed and Lorraine Warren. As the story goes: an innocent family moves into a vacant farmhouse and is haunted by evil spirits. The Warrens work to end the haunting and discover even more effed up history along the way. Enjoy!
STREAM NOW
This 1984 film is scary as ever over 30 years later. What happens: Evil children hide in the corn and murder every adult that comes their way. Honestly, I get it.
STREAM NOW
This thriller-comedy-satire mash-up is about a babysitter and her secret satanic cult rituals that become not-so-secret when Cole, the kid she's babysitting, stays up past his bedtime. She's probably the worst babysitter ever, but we're into it.
STREAM NOW
Adam Scott becomes the stepdad to the antichrist in this hilariously dark take on your classic exorcism movie. Also, by law, any film starring Bridget Everett is a must-watch. Look it up.
STREAM NOW
You might recognize the top hat-wearing character from some very funny, very WTF memes but know this: there is literally nothing funny about this gripping, overwhelmingly terrifying, ridiculously good horror film about a single mom coping with her husband's haunting death, her son's fear of an imaginary creature, and the real-life monster that's taken over her life.
STREAM NOW
Your O.G. Scream cast faves, Neve Campbell, Courteney Cox, and David Arquette, return for the fourth (and final?) installment of the scary movie franchise. It's the most fun, self-aware, Gen Z-y of the series. Plus, it's the only Scream film available on Netflix, so you might as well make the most of it.
Source: Read Full Article