The Untold Truth Of Stephanie Beatriz
The following article includes mentions of disordered eating.
Stephanie Beatriz may not be the biggest star in Hollywood (yet?), however, fans of the actor absolutely adore her. Why? Well, for one thing, she takes on a range of roles. You may know her as the tough-as-nails Rosa Diaz from "Brooklyn Nine-Nine," a show that lets her show off her comedic skills. She also starred in 2017's "The Light of the Moon," which saw her take on a shatteringly serious and incredibly challenging role. Of course, anyone who loves musicals will know that she popped up as Carla in the 2021 big-screen version of "In the Heights." That's not to mention her performances on "Modern Family" and in "Pee-wee's Big Holiday," as well as her voice work on "Bob's Burgers" and "BoJack Horseman," just to name a few high-profile gigs.
Clearly, Beatriz has what it takes to mix things up, which is not only why she's done so much, but also why she's likely to be busy for years to come. And yet, there's much more to the star than what you see on the screen. Along with having a bright future ahead of her, this is one actor that happens to have an intriguing background and an interesting ongoing life both personally and professionally. Frankly, if you enjoy Beatriz's work in movies and television, then you'll likely love to find out what she's like in real life and what she's up to when the cameras aren't rolling. 
Keep scrolling to find out the untold truth about Stephanie Beatriz.
From Argentina to Texas to New York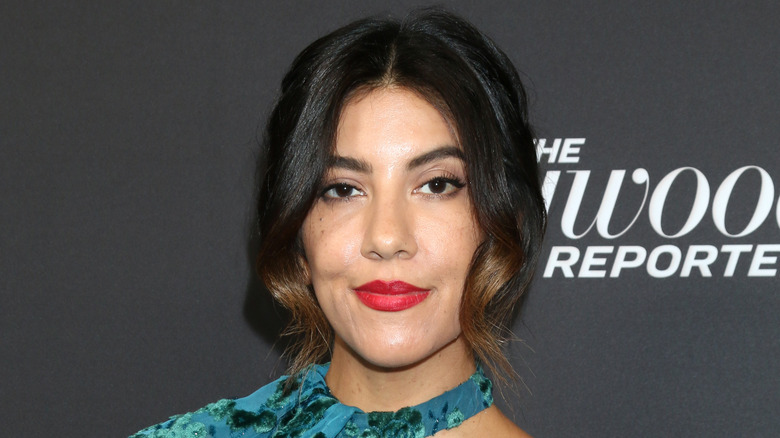 One of Stephanie Beatriz's most notable roles is that of a New York detective on "Brooklyn Nine-Nine," but the star wasn't born anywhere near NYC. Beatriz is the daughter of a father who is from Colombia while her mother is originally from Bolivia, according to Esquire. The actor herself made her entrance into the world on February 10, 1981, in Neuquén, Argentina, per IMDb. However, her family ended up moving to Webster, Texas, which is where she was raised. That's why, as Esquire noted, "She is the product of several Latinx cultures." It was after high school that Beatriz made the move to New York in order to make her name in show business, yet she didn't leave her background behind.
Granted, at one time, Beatriz thought that being Latinx might make her lose out on a major opportunity. Latino USA explained that back when "Brooklyn Nine-Nine" was casting its stars, both Beatriz and co-star Melissa Fumero "applied for [Amy] Santiago's role and thought only one Latina would be on the show." Even after getting the role of Rosa Diaz, Beatriz admitted, "I was terrified in the beginning that one of us was going to get fired after we shot the pilot, because somebody was going to say, 'We got one. We checked the box. We don't need two.'"
Beatriz also told Esquire, "When Melissa Fumero and I were both cast in this ensemble, and we're both Latina, it felt like an incredible moment where something really special was happening."
Stephanie Beatriz is only half of her name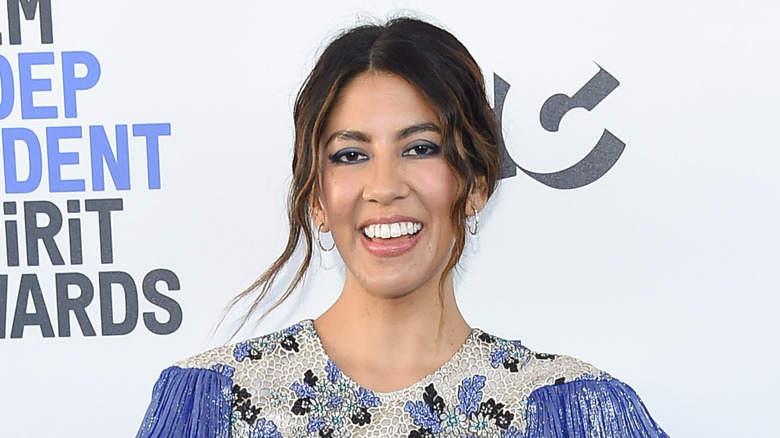 There are quite a few famous figures out there who don't go by their real or full names. For instance, did you know that Katy Perry's real name is Katheryn Elizabeth Hudson (which means that she could have gone by Kate Hudson)? Olivia Wilde was born with the name Olivia Cockburn, while Jamie Foxx was once known as Eric Bishop, and if you knew Portia De Rossi before she was famous, you might have called her Amanda Lee Rogers. Bruno Mars was Peter Hernández, Natalie Portman is Neta-Lee Hershlag, and Vin Diesel was Mark Sinclair. 
As for Stephanie Beatriz, that is her real name, but it's not her full name. Born as Stephanie Beatriz Bischoff Alvizuri, according to IMDb, it doesn't appear as if the star has spoken out about why she chose to leave out her third and fourth names when it comes to how she's known professionally.
Beyond that, there's not a lot of information behind the name Alvizuri, but it is shared by former competitive swimmer Alejandro Alvizuri. As for Bischoff, according to Ancestry, the name comes from the Middle High German word "bischof" and Middle Low German word "bischop," which means "bishop." It was "probably applied as a nickname for someone with a pompous manner or as a metonymic occupational name for someone in the service of a bishop." Although both Bischoff and Alvizuri are great names, we wonder if Beatriz just wanted to go with something a little shorter than her full four-name moniker.
Creating an inclusive family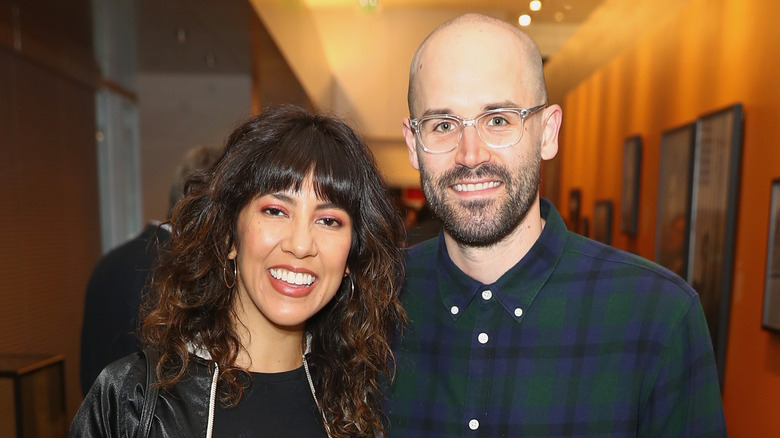 On October 6, 2018, Stephanie Beatriz took a big step in her personal life when she married marketing director Brad Hoss. While she's in a relationship with a man, the star who has come out as bisexual explained to People that being with Hoss doesn't mean that she's "any less queer." She added, "I [am] able to be my fullest, most authentic self around Brad. He's extremely empathetic and open."
Hoss is also someone that Beatriz apparently wants to grow their family with, which is why, in June 2021, the pair announced that they were expecting their first child. "I didn't think that a committed partnership was really for me. I couldn't really see kids. It wasn't that I was closed off to it. It was more that I couldn't quite see how a baby fit into the life that I was building," the actor admitted while discussing becoming a mother. However, her reluctance toward having a little one now seems to have changed.
Beyond that, Beatriz knows what she considers to be key when it comes to raising her child. She told People that it's important to both her and Hoss to bring up their little one as someone who values equality and acceptance. Beatriz explained, "I think one of the best things you can do is raise a kid who understands that however a person chooses to shape their one glorious life is worthy of celebration." It sounds like this is one lovingly inclusive family!
Stephanie Beatriz is 'almost legally blind'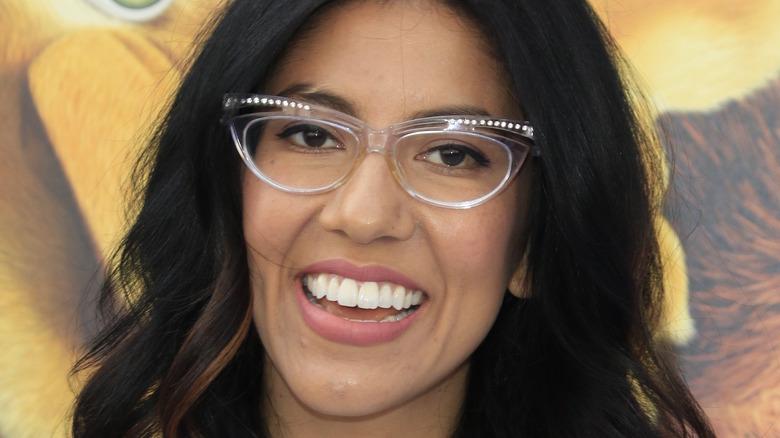 Stephanie Beatriz may look like she's totally in control of what she's doing when she's tackling roles like the fierce Rosa Diaz on "Brooklyn Nine-Nine" — however, the truth is that she often can't totally see what's in front of her. 
Back in 2014, she told Backstage, "I don't work with my glasses on and contacts really bother my eyes." That's why she doesn't wear either when she's performing, meaning, as BuzzFeed explained, "When acting, she's almost legally blind." Indeed, Beatriz was once asked by someone on Twitter how bad her eyesight is, and she tweeted back, "So bad that first season I kept missing my marks because I couldn't see em." That's seriously saying something considering, the fact that she pointed out that "they are huge marks — and hot pink."
Fortunately for the star, she has a great sense of style when it comes to glasses. On top of that, Beatriz seems to have a wide range of choices, which is why she can be seen in eyewear like a tortoiseshell turquoise look and pretty pink rims (or are those red?). You might have also spotted her in both a thin frame and a darker, heavier pair. In 2016, she shared a pic of three of her options, writing, "You know what they say about girls who wear glasses. WE DOPE AF." With the potential to add glasses to her signature style, we can only assume that sometime in the future this star might be launching her own (surely successful) eyewear brand!
A real voice that caused a 'confused' buzz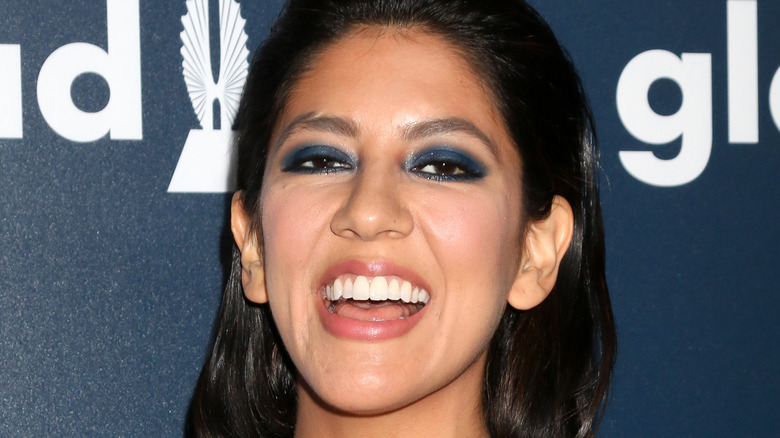 What are some of the things that you love about Stephanie Beatriz's "Brooklyn Nine-Nine" character, Rosa Diaz? Are you envious of her fierce attitude, leather-heavy wardrobe, or deep voice? If you answered "yes" to that final item, then you may be surprised to find out that isn't the actor's real voice.
It turns out that Beatriz's natural way of speaking is much higher and much, well, friendlier and peppier than her character's tone. The star once shared a pic of a stark black house and its pink-and-purple neighbor, writing, "Rosa Diaz vs Stephanie Beatriz," which aptly represents the difference between the two. In fact, when she sat down for an interview with Variety in 2020, she talked about when fans hear her real voice, admitting, "They're very confused." However, while Beatriz's tone is a lot different than the one that she uses for the onscreen detective, she's able to switch back and forth with no effort at all. She noted, "I mean, I've been doing it for … this is our seventh season." Because of that, the voice is apparently "second nature now."
That may be true, but the difference still throws fans off. "I will never get use[d] to this," one person admitted on Twitter when Variety shared the interview. Another fan tweeted, "Gotta admit, it still freaks me out." Over on YouTube, someone noted, "Her actual voice is like the voices that Roza jokes about like when she pretends to be girly." Too true!
Stephanie Beatriz: Scarred by LEGO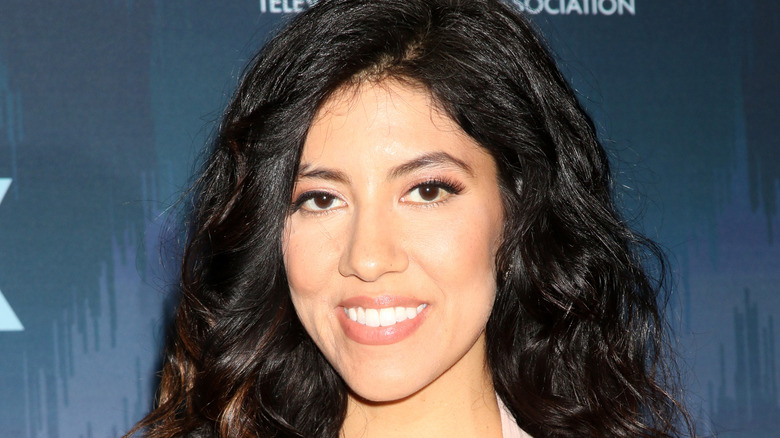 If you've seen a close-up photo of Stephanie Beatriz, then you may know that she has a noticeable facial scar that crosses through her eyebrow. It gives her the same kind of vibe as fellow eyebrow scar-adorned stars like "Aquaman" hero Jason Momoa, singer Charlie Puth, and the late Luke Perry. Beatriz once told the New York Daily News, "People have often been like, 'Do you shave that weird part in your eyebrow like Vanilla Ice?'" The answer is: Nope! Although it would certainly be interesting if that was true.
While chatting about her voice-work for 2019's "The LEGO Movie 2: The Second Part," Beatriz told Collider about the "very embarrassing nerd story" behind how she got her scar. Coincidentally enough, the initial injury was caused by LEGO. "So, I was like 10 or 11 and LEGOs were one of my favorite toys, so I was a big collector of them and I had many sets," she said. Beatriz went on to recall that she had created her own LEGO city in her bedroom, and even though she had been told repeatedly that she needed to clean it up, you guessed it, she didn't and that led to disaster: "I tripped over a chunk of [the LEGO] and the scar in my eyebrow is from that accident." 
Ouch! Although, if you ask any parent, they could probably tell you how painful it is to step on one of those little blocks, so they most likely wouldn't be surprised to find out that they could cause such a lasting scar.
She's a big-time Dolly Parton fan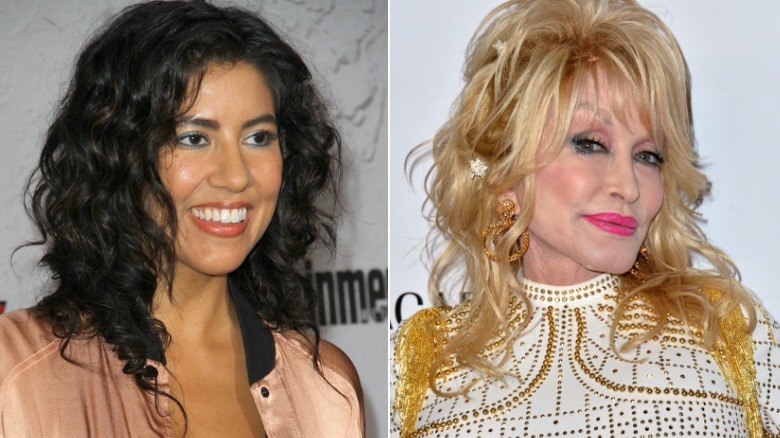 Stephanie Beatriz may be a famous figure, but it seems like she still gets starstruck by some particular celebrities. For instance, she happens to be a massive fan of the iconic Dolly Patron (and honestly, who isn't?). Beatriz doesn't try to hide her admiration for the country music legend, even using the link in her Instagram bio to promote Parton's Imagination Library, an organization that "is dedicated to inspiring a love of reading by gifting books free of charge to children."
Keep looking at Beatriz's Instagram account, and you'll find more proof when it comes to how much she adores Patron. In October 2016, she attended a performance by the singer and posted a photo, while writing, "DUDE WHAT JUST HAPPENED AM I DEAD also this looks like a stock photo but this how close we were and ok … yes I'm dead goodnight." Beatriz also shared a video with the caption, "THIS IS CHURCH." In the recording, the actor can be seen basically flipping out (in a joyful way) while singing along to her idol, who's onstage.
In fact, when Beatriz was asked by Issue about her interests, she noted, "Well, I'm listening to a lot of vintage Dolly Parton. I'm sure if you said that to her face she would be like, 'Ooh!'" While that may make it seem like Beatriz prefers Parton's older work over her newer releases, when BuzzFeed asked what she'd been up to during the coronavirus pandemic, she admitted, "Anything Dolly." Really, you can't go wrong with Dolly!
Stephanie Beatriz is seriously into Shakespeare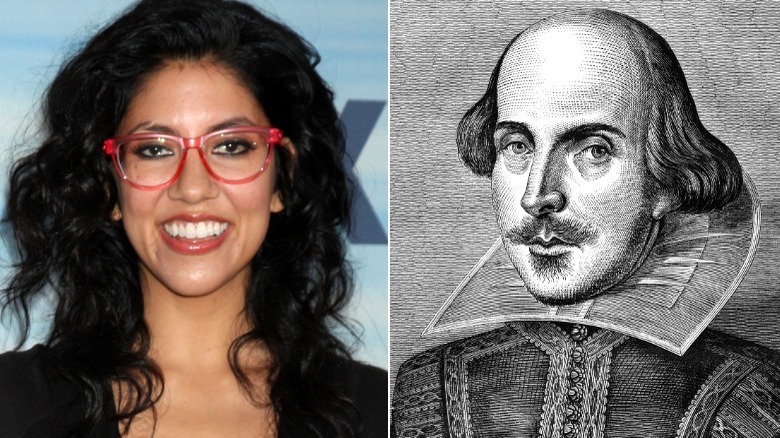 Stephanie Beatriz may be famous for her television role on "Brooklyn Nine-Nine" while also making her name over in the big-screen scene, but as she told Esquire, "I used to work in theater. I did a lot of Shakespeare and American classic theater."
Frankly, Beatriz didn't just perform in the Bard's plays, she became a student of his work. "When I was learning about Shakespeare, I was deep-diving into the history of Shakespeare, and how Shakespeare affected people, and how going to see plays affected people," she explained. Beatriz continued to touch on that effect, saying that it "was the main form of entertainment, right? … You pay literally your penny and you go stand in the front like a music show, and you watched the plays. That's where you're getting ideas about s**t."
The star also opened up to the Chicago Tribune about an unfortunate moment while performing at the Oregon Shakespeare Festival. While rotating between the late English playwright's work and "Cat on a Hot Tin Roof" by Tennessee Williams, she experienced a wardrobe malfunction that involved "'50s underwear, which is this big torpedo bra and a system that feels like a cage — it's a girdle and thigh-high stockings attached to a garter. It's a whole thing."
Fortunately for Beatriz, that didn't put her off acting. And as HuffPost noted, "after spending most of her career in theater, the actress decided to try television," which was definitely the right move.
This actor is open about her acne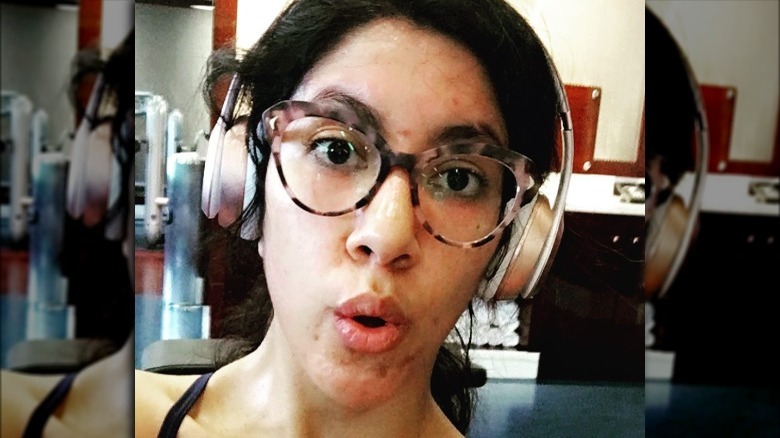 Stephanie Beatriz knows what it's like to deal with skin-related issues. "I got my first cystic pimple at the age of 12. Right smack in the center of my nose, it marked the onslaught of puberty and ushered in an era of pimples that would last until my 30s," Beatriz wrote for Latina. She "remember[s] sobbing as [she] looked at in the mirror, desperately attempting to cover the redness with concealer." When it came to her onscreen career, the actor explained that the "thought of going on auditions with huge zits on [her] chin kept [her] awake at night."
However, in the years since, Beatriz has learned a few things when it comes to acne. For instance, she noted that you should "never compare your skin to anyone else's, especially people on TV." On top of that, "drink a ton of water." The star also now shares photos of herself without makeup and with her blemishes clearly visible. She's captioned one pic by writing, "Don't even care about my visible acne (side note; you are not your acne!)."
Beatriz's social media followers appreciated her openness, with one person commenting, "Omg this is so real and brave and awesome." Another fan called Beatriz one of her "heroes," adding, "Genuinely love this. I always have acne no matter what I do and some days it can really get me down. Nice to see beautiful people I admire and respect embracing parts of themselves we are taught to hide."
She's opened up about dealing with disordered eating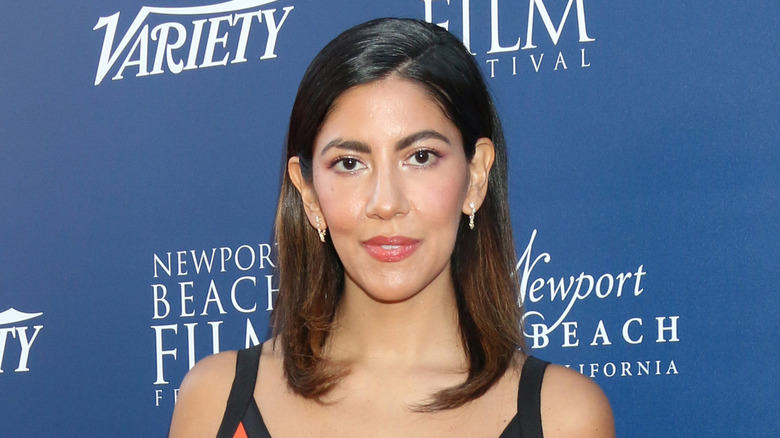 Stephanie Beatriz first found herself dealing with an eating disorder while attending an all-women's university, and told the "Queery with Cameron Esposito" podcast in 2017 that the situation she was in "create[d] really gnarly behavior that became normalized within that group of women." 
When it came to Beatriz's career, she recalled for InStyle what she used to go through while preparing for publicity photoshoots, saying, "I'd stress. I'd look in the mirror and pick apart my body … I'd zoom in on areas I hated, like my a** or my stomach. And then I'd start the obsessive food restriction and compulsive workouts." Explaining that she's "not a bulimic" and "not anorexic," Beatriz noted that she deals with "disordered eating," which "is an umbrella label because eating disorders can be hard to categorize."
Saying that she "often used food to self-medicate," and "thought by controlling what [she] ate [she] was controlling [her] fate," Beatriz eventually realized that she needed to change how she viewed food, others, and herself. While the actor still works toward a healthy relationship with her body, as well as with what she eats, Beatriz noted, "I'm going to keep moving in the direction of my most authentic self by reminding myself every day that I'm worthy."
If you are struggling with an eating disorder, or know someone who is, help is available. Visit the National Eating Disorders Association website or contact NEDA's Live Helpline at 1-800-931-2237. You can also receive 24/7 Crisis Support via text (send NEDA to 741-741).
Stephanie Beatriz went from '$200 in the bank' to millions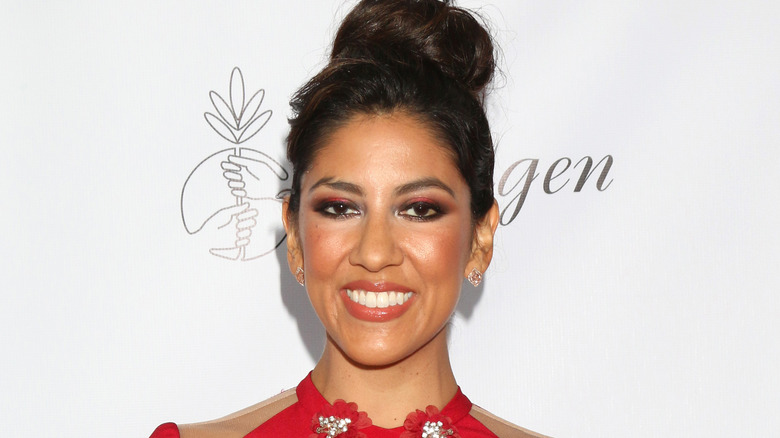 Stephanie Beatriz has gone from a child who had little means to a celebrity who can use her fortune for good. While growing up, Beatriz's family was "not wealthy," but as she explained to Stuff in 2017, "I never really wanted anything because my parents are definitely hard workers." The actor added, "My family was never in a position to save money. It was always, 'Just make it through the month … and make sure the kids are fed.'"
Beatriz's financial situation wasn't much better when she landed the role of Rose Diaz. "I was teaching workout classes at the time. I had $200 in the bank when I booked 'Brooklyn Nine-Nine,'" she continued, adding, "I was a struggling actor for sure. 'Brooklyn' really changed my life." Indeed, the popular show is likely a large part of why she now has $2 million, according to Celebrity Net Worth. That's surely why she also told Stuff, "I just feel so grateful for a lot of things in my life. One of them is 'Brooklyn Nine-Nine.'"
However, it turns out that Beatriz hasn't actually kept all of the money that she's brought in for herself. In June 2020, the New York Daily News reported that "following the death of George Floyd, multiple actors and writers who have worked on police procedural TV shows … announced they're donating to bail funds and organizations combating racial injustice." That included Beatriz, who donated $11,000. While that's obviously only a fraction of her overall fortune, it's certainly putting her money into action.
Source: Read Full Article