Inside the IRL 'Amityville Horror' House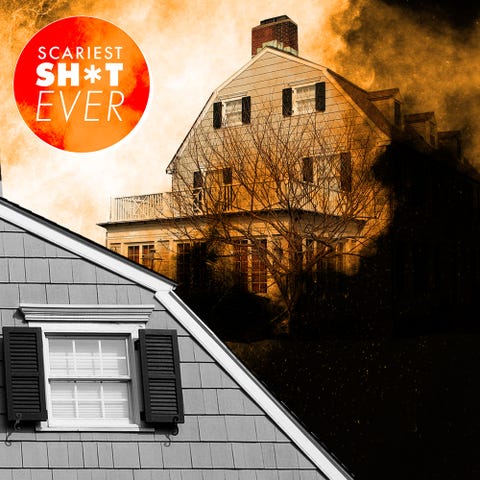 Halloween isn't just a holiday—it's our entire October mood. So celebrate the best time of year with a month's worth of stories that will keep you up all night long. (Binge-watching and eating candy, probably. Same, tbh.) Cheers, witches!
We've all heard of the Amityville house (mostly because Ryan Reynolds starred in the 2005 remake of The Amityville Horror). But did you know the series of horror films are based on alleged real-life events that happened in an actual house that *still exists* in 2018? And the IRL details are just as freaky as the Hollywood versions, which, like, never happens.
LET'S START WITH THE BASICS:
The Amityville house is in the small town of Amityville, Long Island, just 30 miles outside of New York City. The iconic windows seen in the film have since been changed, and so has the interior (for obvious reasons). Amenities include a deck, a sunroom, a back patio, a boathouse. It's actually stunning AF and appears to be a completely normal home with absolutely no paranormal activity in sight (looks can be deceiving, tho).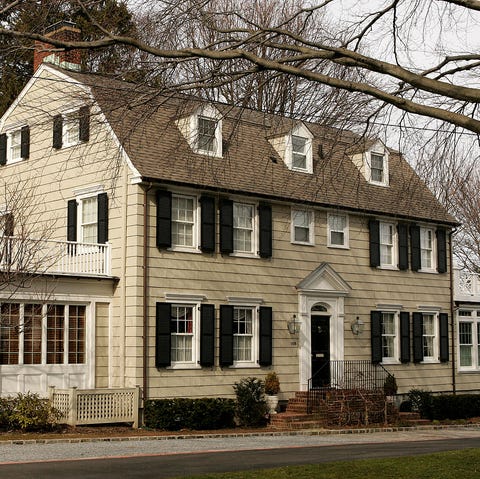 BORING—LET'S GET TO THE SPOOKY STUFF!
In November 1974, a seemingly normal DeFeo family resided in the Amityville home. Around 3:15 AM, one of the DeFeo children, Ronald DeFeo Jr., murdered his entire family as they slept. The 23-year-old went from room to room and shot dead both of his parents and his four siblings. DeFeo has said that he heard voices in the home telling him to murder his parents, brothers, and sister. He was given six life sentences. Today he is still serving his time in a New York prison.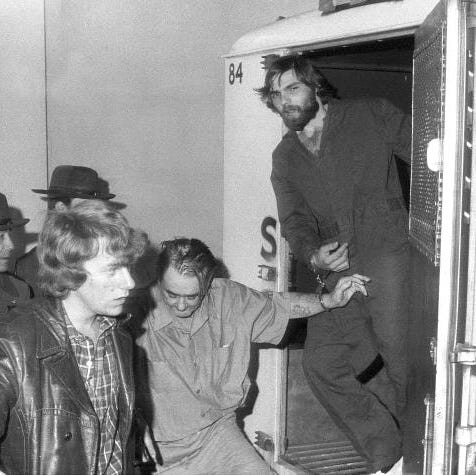 OK…BUT IS THE HOUSE ACTUALLY HAUNTED?

After the murders, the house was vacant for over a year. It was then purchased for an extremely (and understandably) low price of $80,000 by George Lutz, his wife Kathy, and their sons Daniel and Christopher. The family moved in…but they only lasted 28 days (dun dun dun).
Obviously, some crazy shiz started happening.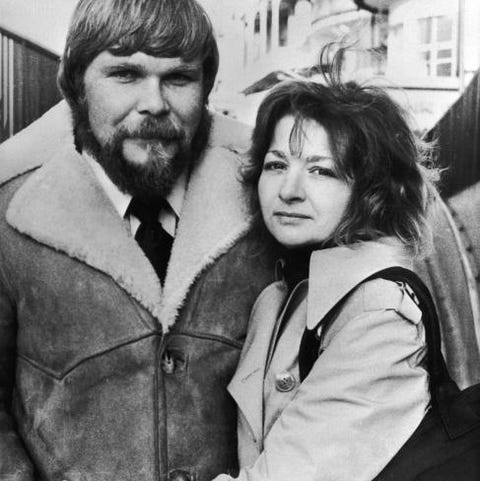 The Lutz family claimed to have seen slime coming out of the walls, knives being thrown off kitchen counters, and a red-eyed creature resembling a pig. They've seen figures wandering inside the home when it was supposed to be empty. George says he saw his wife levitating above their bed, and was woken up every morning at 3:15 a.m., the exact time that DeFeo killed his entire family. The Lutz family eventually brought in a priest to bless the home, but he left after hearing a voice telling him to "Get out!" (rly tho, I would've been gone after I saw the pig).
HOLD UP—WASN'T THERE SOME SKEPTICISM?
Everyone in the Amityville community began hearing of the Lutz's spooky stories and were questioning the legitimacy of the levitation, the voices, the pig, etc. The family was also apparently in a lot of debt, which led to rumors that they simply wanted movie and book deals out of their stories. The Lutz's had a falling-out with their lawyer due to financial issues; he has since said that the haunted house stories were an elaborate ruse by the Lutz family to get themselves out of debt.
To prove their story, George and Kathy Lutz took a lie detector test and passed. Daniel Lutz, who currently lives in Queens, says he still has nightmares about those 28 days in the Amityville home.
SO WHAT'S HAPPENING NOW?
The house has had five different owners since the DeFeo murders. One of the owners even changed the address from 112 Ocean Avenue to 108 Ocean Avenue (maybe ghosts are rly bad at reading maps??) Most recently, it was purchased for $605,000 ($200,000 below asking price) in February 2017.
The Lutz family's paranormal experiences first inspired Jay Anson's 1977 book, The Amityville Horror, as well as the 1979 original movie and the 2005 remake. Today, there are 18 different films about the house, the most recent one being Amityville: The Awakening starring Bella Thorne. Several documentaries have also been made, including some that feature Ronald DeFeo Jr.
While we may never know exactly what went on in the Amityville house, we can be sure of one thing: I wouldn't have lasted 28 seconds.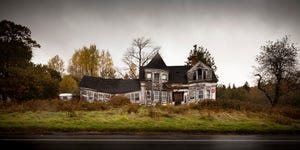 Source: Read Full Article