'Dune: Part Two' Cast: Fans React to Christopher Walken as Emperor Shaddam IV
We've known for a while that the epic sci-fi movie Dune: Part Two would happen. The first entry is No. 1 on the list of director Denis Villeneuve's highest-grossing movies, and it is titled Part One, after all. We knew some of the cast members from the first installment would return, but Villeneuve still had some key roles to cast for Part Two. The director locked in one of those roles by casting Christopher Walken as Emperor Shaddam IV. Here's how Dune fans reacted to the news.
Christopher Walken is the newest cast member for 'Dune: Part Two'
Walken joining the Dune cast is just the latest bit of casting news as Villeneuve preps for the second installment. Florence Pugh (Princess Irulan) and Austin Butler (Feyd-Rautha Harkonnen) joined the roster before Walken.
Depending on how closely Villeneuve, who is also writing the screenplay, adheres to the source material, Walken might not have much screen time. In Frank Herbert's novel, Emperor Shaddam works behind the scenes, using House Harkonnen as his chess piece to destroy House Atreides. Walken was once a lion tamer; his character in Dune seeks to tame Paul Atreides' uprising on Arrakis (but you'll have to read the book or watch Part Two to find out how that goes).
Even if his screen time is relatively minimal, fans had some strong reactions to Walken's casting news.
Fans react to Walken as Emperor Shaddam IV
Soon after the Walken news broke, the official Dune Twitter feed shared a link to a Rolling Stone article about his casting. Fans reacted positively for the most part, though some fans had strong reactions the other way.
"We did it. We won," replied one fan. Another reply included a photoshopped image of Walken dressed as the emperor in his throne room.
"Incredibly wild casting for Shaddam!" tweeted another fan. 
Some Twitter reactions weren't as enthusiastic. One user hoped to see a Black actor in the role instead of Walken as the emperor. Another wrote, "I can't endorse this, as much as I want to," and one reply was merely a GIF of Andy from The Office dressed as George Michael saying, "I'm sorry. What?"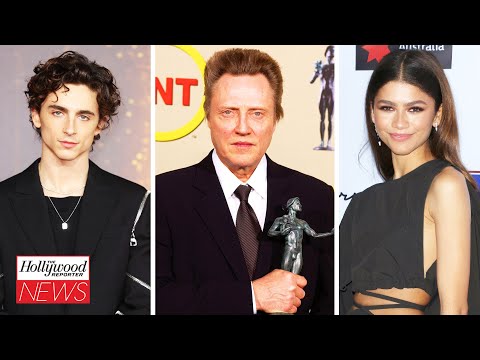 Over on Reddit, the fan reaction was overwhelmingly positive. "This is some wild casting. But I trust their casting team 100%," wrote one user.
"This choice is such a weird decision that I'm honestly excited for it. Loved him in Severance," read one response to the thread. A reply stated, "I strongly had hoped for more 'weirdness' in pt 1. if that makes sense. So this is definitely interesting and curious to see. Makes me excited." Another reply later in the thread read, "My only gripe is that the emperor is described as having a striking physical similarity to Duke Leto, as if they were brothers (and were, in fact, genetically close cousins). But that's a nit-pick."
We know how fans reacted to the news that Walken plays the emperor. Now comes the long wait for the movie to hit theaters.
Dune: Part Two' cast, filming location, release date — what we know so far
Walken as the emperor, Florence Pugh as the princess, and Austin Butler as Feyd-Rautha are the Dune newcomers. Timothée Chalamet, Zendaya, Jessica Ferguson, Stellan Skarsgård, Josh Brolin, and Javier Bardem reprise their roles from Part One. One part left to cast is Paul's sister Alia, who plays a crucial role in the plot.
Villeneuve was a snub for best director, but Dune: Part One was a serious best picture contender at the 2022 Academy Awards. It didn't win that award, but it won several statuettes, and many of those creatives return. 
Ron Bartlett, who was part of the team that won for best sound, returns to the crew. Hans Zimmer (Oscar winner for best score) returns, as do Patrice Vermette (winner for production design) and effects supervisor Paul Lambert, whose team won an Oscar for Part One.
Filming will take place in Budapest, Hungary, starting in the fall, according to The Hollywood Reporter. Part One shot some scenes in the city's Origo Film Studios, per IMDb. Sites in Jordan and the United Arab Emirates served as Arrakis exteriors and could once again be part of the on-location filming.
Dune: Part Two should arrive in theaters in October 2023, with a U.S. release scheduled for Oct. 20, per IMDb.
Source: Read Full Article