Academy Awards 2019: Who will win, and who should win, this year's Oscars
Timing isn't everything with the Oscars – parties, phone campaigns and masterly PR companies called in to brainstorm ultimate victory are considerably more crucial – but there are films that simply miss their moment.
Bradley Cooper's A Star is Born, for example, waxed early this year, garnered eight nominations, then waned to the point where it seems unlikely to get anything but a gong for a song. Bohemian Rhapsody, the cinematic equivalent of an Aussie pub tribute band, has long since struck out for its proper habitat in suburban lounge rooms. And whatever happened to the new Mary Poppins, which hit our screens in the most delightful way over Christmas and then took off on the next umbrella?
Olivia Colman is touted to win an Oscar for The Favourite.Credit:Atsushi Nishijima
Two contenders announcing their blackness in their titles: that has to count for something. Spike Lee, whose BlacKkKlansman draws a thread between efforts of a black undercover cop to penetrate the Ku Klux Klan in the '60s and the recent shootings in Charlottesville, has never had a movie nominated in this category before; Black Panther, a comic-book fantasy about a rich Lost Kingdom in Africa, is a Marvel blockbuster and thus hitherto unthinkable as an Oscar contender.
Neither, however, has the sleek, soft charm of Green Book, which is properly infuriating for those who think Peter Farrelly's feel-good dramedy is "white liberal hogwash". Viggo Mortensen plays a cheerfully vulgar Bronx Italian who takes a job driving an effete black classical pianist (Mahershala Ali: exquisite) on a concert tour of the south in the '60s. They squabble; they reach an understanding; they become friends: it's old-school Hollywood humanism. Audiences like it. It's quite a challenge, in my view, to resist liking it. Is feeling good so bad, after all?
Admirable as it is, however, Roma wouldn't get my vote. That would go to Yorgos Lanthimos's The Favourite: a rollicking re-imagining of the early 18th century court of Queen Anne with its backstabbing politics, sanctioned royal madness, free range bunnies running around the palace and a lot of hot, hilarious lesbian sex. It's all too mad for the Academy, of course; in a way it's amazing it came this far, for which we can probably thank the trio of great female performances (see below) led by Olivia Colman's batty, bathetic queen.
WHO WILL WIN: ROMA
WHO SHOULD WIN: THE FAVOURITE
Adam Driver (left) and John David Washington in BlacKkKlansman.Credit:DAVID LEE
BEST DIRECTOR
Alfonso Cuaron (Roma); Yorgos Lanthimos (The Favourite); Spike Lee (BlacKkKlansman); Adam McKay (Vice); Pawel Pawlikowski (Cold War)
In 1990, Spike Lee's urgent, vividly kinetic Do the Right Thing didn't get nominated; Driving Miss Daisy was the aging Academy's chosen race picture that year. Since then, Lee's feature films have been consistently – and yep, let's say it, systematically – overlooked.
Pawlikowski, whose Cold War is a spikily poetic account of two Polish musicians faced with the choice of whether to defect to the West, is the surprise inclusion. He's also the most deserving, but timing hasn't worked so well for him.
WHO WILL WIN: SPIKE LEE
WHO SHOULD WIN: PAWEL PAWLIKOWSKI
Christian Bale as Dick Cheney in a scene from Credit:Greig Fraser
BEST ACTOR
Christian Bale (Vice); Bradley Cooper (A Star Is Born); Willem Dafoe (At Eternity's Gate); Rami Malek (Bohemian Rhapsody); Viggo Mortensen (Green Book)
Even a couple of weeks ago, with a Golden Globe, Screen Actors' Guild award and a BAFTA in the bag, it seemed Rami Malek would definitely be clearing a statuette-sized space on the shelf where the hardest-working false teeth in showbiz are presumably already enshrined.
Oscar-watching psephologists – and spare a minute, if you will, to imagine what a fun bunch they must be – are holding the line for Malek, but the competition is strong and BohoRap, for all its huggable success at the box office, is not.
He'll win against Dafoe's stirring Van Gogh, against Bradley Cooper's glamorously waning star and, not quite justifiably, against Viggo driving Mr Ali.
WHO WILL WIN: CHRISTIAN BALE
WHO SHOULD WIN: VIGGO MORTENSEN
Glenn Close in a scene from Credit:Graeme Hunter
BEST ACTRESS
Yalitza Aparicio (Roma); Glenn Close (The Wife); Olivia Colman (The Favourite); Lady Gaga (A Star Is Born); Melissa McCarthy (Can You Ever Forgive Me?)
Back in balmy September, when this awards season began, this category looked like a straight race to a close February finish between the incandescent Colman and the surprise of the Venice-Telluride-Toronto festival bracket: wacky Lady Gaga doing real acting.
I don't understand how the worthy, dreary drama The Wife wedged itself between them, to the point where it is now apparently a given that Glenn Close's seventh nomination will go gold.
Of course, her performance as the beleaguered partner to a bellicose, Saul Bellow-like writer about to collect a Nobel Prize is thoughtful, contained, nuanced. Of course she's good. But so is everyone else: it's the Oscars.
WHO WILL WIN: GLENN CLOSE
WHO SHOULD WIN: OLIVIA COLMAN
Viggo Mortensen (left) and Mahershala Ali in Credit:Universal Pictures
BEST SUPPORTING ACTOR
Mahershala Ali (Green Book); Adam Driver (BlacKkKlansman); Sam Elliott (A Star Is Born); Richard E. Grant (Can You Ever Forgive Me?); Sam Rockwell (Vice)
Can they really throw Mahershala Ali the bridesmaid's bouquet again, just two years after he won the same prize for Moonlight? Doesn't that rake up those awkward questions about why cinema's present eminence noir is in this category in the first place, given that Green Book is a buddy movie in which he plays exactly one half of the buddies?
Well yes, it will, but it would be worse if he were passed over for one of the white dudes. Which is kind of a shame, because the true joy of this year's Oscar schmooze campaign has been watching Richard E. on an elegant rampage – rather like the gay barfly he plays in Can You Ever Forgive Me? – clearly chuffed to the point of spontaneous combustion just to be asked to the parties that lesser livers find a gruelling chore. "We want the finest wines available to humanity. We want them here, and we want them now!" And here they are, Mr Withnail, with the greatest of pleasure.
WHO WILL WIN: MAHERSHALA ALI
WHO SHOULD WIN: RICHARD E. GRANT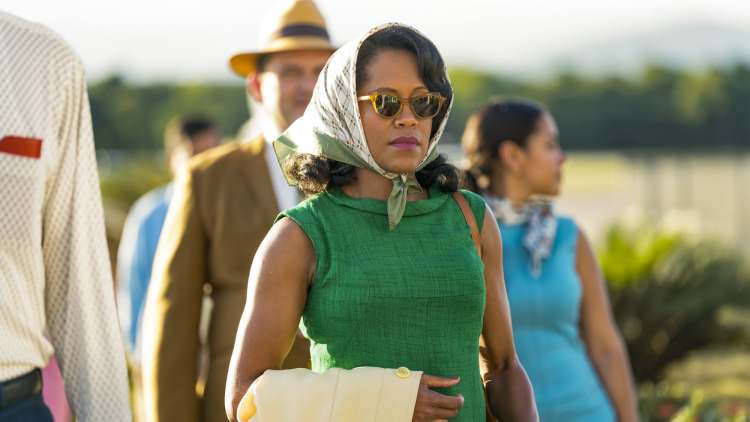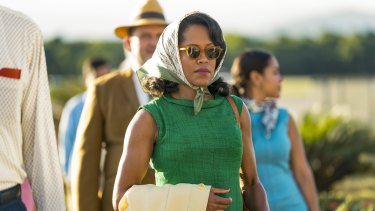 Regina King as Sharon in Credit:Tatum Mangus / Annapurna Picture
BEST SUPPORTING ACTRESS
Amy Adams (Vice); Marina de Tavira (Roma); Regina King (If Beale Street Could Talk); Emma Stone (The Favourite); Rachel Weisz (The Favourite)
One happy by-product of the #OscarSoWhite campaign has been the overdue recognition and, in some instances, unearthing of overlooked black actors. Regina King moved from second-string roles in movies to TV early in her career, (very) eventually winning an Emmy in 2015. And now here she is, back in movies at 48, plumbing emotional depths as the stalwart mother to a pregnant teenager in Beale Street.
Of course, it would be great to see Amy Adams get a win after six nominations, but her characteristically diamond-hard Lady Macbeth turn as Dick Cheney's wife isn't going to cut it this time. Go, Regina, go!
WHO WILL WIN: REGINA KING
WHO SHOULD WIN: REGINA KING
Olivia Colman as Queen Anne in Credit:Atsushi Nishijima
The Favourite (Deborah Davis and Tony McNamara); First Reformed (Paul Schrader); Green Book (Nick Vallelonga, Brian Hayes Currie and Peter Farrelly); Roma (Alfonso Cuaron); Vice (Adam McKay)
Spare a thought for Paul Schrader, tortured outlier of the '70s movie brat generation, who spent years in B-movie wilderness since the heyday he enjoyed with Cat People and American Gigolo, had a surprise festival hit with First Reformed (considerably assisted by Ethan Hawke's wired performance as a whisky priest), nabs an Oscar nomination – another surprise – and finds himself up against The Favourite. Talk about bad timing! Because our own Tony McNamara's scurrilous, madcap, brilliant rethinking of Deborah Davis's costume drama is a surefire winner.
WHO WILL WIN: THE FAVOURITE
WHO SHOULD WIN: THE FAVOURITE
Richard E. Grant as Jack Hock and Melissa McCarthy as Lee Israel in Credit:Photo by Mary Cybulski
BEST ADAPTED SCREENPLAY
A Star Is Born (Eric Roth, Will Fetters and Bradley Cooper); The Ballad of Buster Scruggs (Joel Coen and Ethan Coen); BlacKkKlansman (Charlie Wachtel and David Rabinowitz and Kevin Willmott and Spike Lee); If Beale Street Could Talk (Barry Jenkins); Can You Ever Forgive Me? (Nicole Holofcener and Jeff Whitty)
The cleverest clogs in Hollywood are calling it for BlacKkKlansman again, but I am sniffing a potential #TimesUp get-out moment here. Marielle Heller's Can You Ever Forgive Me?, the amiable retelling of Lee Israel's account of forging letters from better-known writers to make a living, may chalk up a win for Nicole Holofcener – a respected New York indie director in her own right – and co-writer Jeff Whitty.
It doesn't have the Coens' daring – Buster Scruggs is crazily misconceived, but shot through with brilliant moments – or the gravitas of Barry Jenkins' lustrous, faithfully rendered James Baldwin tribute. It's probably no better than the romance of rock 'n' roll dissipation evoked in A Star is Born, either. What it offers, potentially, is the image of a woman with a statuette in her hand to beam round the world. And it'll do.
WHO WILL WIN: CAN YOU EVER FORGIVE ME?
WHO SHOULD WIN: IF BEALE STREET COULD TALK
Yalitza Aparicio as Cleo, Marco Graf as Pepe, Fernando Gradiaga as Senor Antonio, and Marina De Tavira as Senora Sofia in Credit:Carlos Somonte
BEST FOREIGN FILM
Capernaum (Nadine Labaki, Lebanon); Cold War (Pawel Pawlikowski, Poland); Never Look Away (Florian Henckel von Donnersmarck, Germany); Roma (Alfonso Cuaron, Mexico); Shoplifters (Hirokazu Kore-eda, Japan)
So tricky to get the balance right! What if Roma wins this category and Best Picture? What if Cold War wins best director (unlikely) or best cinematography (quite possible)? Or do some official gremlins do an envelope switcheroo backstage to prevent doubling up? Given that nobody knows Oscar's secret ways, Roma's legions of fans are likely to hedge their bets and vote for it anyway.
All the films on this list have garnered awards elsewhere; Kore-eda's story of a makeshift family living below the Tokyo breadline, which won the Palme D'Or in Cannes, has the edge on the rest of the pack but has also been the most conspicuously rewarded already. Maybe they should just throw the little guy in the air and see what happens.
WHO WILL WIN: ROMA
WHO SHOULD WIN: ANYBODY. EVERYBODY.
Bradley Cooper (left) and Lady Gaga in Credit:NEAL PRESTON
BEST ORIGINAL SONG
All the Stars (Black Panther); I'll Fight (RBG); The Place Where Lost Things Go (Mary Poppins Returns); Shallow (A Star Is Born); When a Cowboy Trades His Spurs for Wings (The Ballad of Buster Scruggs)
All awards involve pitting apples against oranges, but none more than this one: how to judge Marc Shaiman's old-school musical interlude from Mary Poppins Returns against Kendrick Lamar and SZA thumping out an African beats-electronica mash-up for Black Panther? Or my own fave, Willie Nelson and Tim Blake-Nelson wheedling country harmonies in the Buster Scruggs theme song? Not that it matters. Lady Gaga et al have had this in the bag since day one. Come Oscar night, we'll all be singing along.
Who will win: Shallow
Who should win: Shallow
The Oscars screen on Nine on Monday, February 25, from midday; with the red carpet action screening on Foxtel's E! from 9.30am.
Source: Read Full Article