Why Kelly Ripa's Latest Instagram Upload With Mark Consuelos Has Everyone Talking
Kelly Ripa had everyone talking on July 19 when she shared a risqué snap to Instagram alongside her husband, Mark Consuelos. The "Live with Kelly and Ryan" co-host and the "Riverdale" star haven't been afraid to show off some serious PDA throughout their 25-year marriage — and social media certainly hasn't been safe from some risky content from the happily married duo.
Their feeds are regularly flooded with gushy message for one another, so much so that their kids probably have to avert their eyes. The two welcomed son, Michael Consuelos in 1997, daughter, Lola Consuelos in 2001, and a second son, Joaquin Consuelos in 2003, and Ripa has confessed that Michael and Lola in particular aren't down for their parents' public displays of affection.
"My daughter and my older son, if there's PDA, they are disgusted. And by PDA I don't mean… We're not making out, but if there's PDA, like, if Mark gives me a kiss, they're like, 'Ugh, ugh!,'" she told Us Weekly in 2018.
Lola's been forced to clap back at her parents in the comments section more than once, hilariously calling out her parents over a thirsty exchange in February 2020. Ripa shared a cheeky video on Instagram of a man emerging from under her floor length gown as she lifted it up, to which Mark commented, "Been there." Lola responded, "Absolutely repulsive" (via Good Housekeeping).
Well, we think Lola is probably going to have a whole lot to say about this new one…
Kelly Ripa gave Mark Consuelous a good look at her booty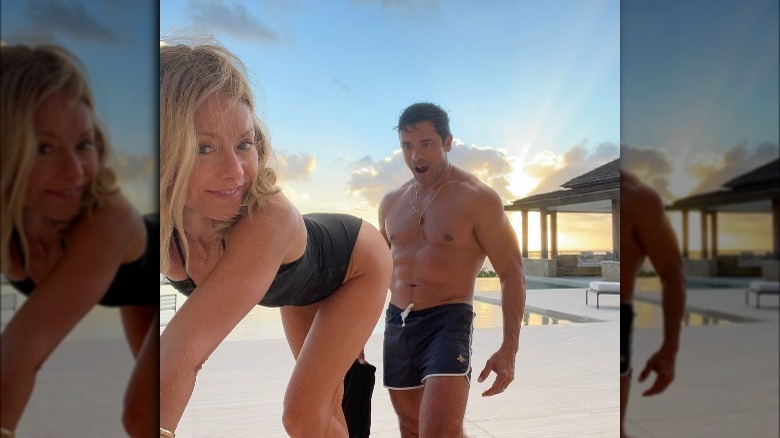 Kelly Ripa's July 19 Instagram upload most certainly got people's attention. The former "All My Children" star stunned in a black swimsuit by the pool — bending over in front of her husband, Mark Consuelos. Mark, who was shirtless in swim shorts, seemed pretty excited by what he saw and sported a very shocked expression as he got a good look at his wife's booty.
Ripa teasingly captioned it, "When the end is in sight……" alongside a winking face with its tongue out, while Mark commented, "Okay" with three fire emoji and hearts. But it wasn't just her husband's attention Ripa got.
While Ripa and Mark's daughter, Lola Consuelos, is yet to share her thoughts publicly, a slew of famous faces commented on the saucy snap. Joel McHale joked he and his wife, Sarah Williams, "did a very similar photo shoot last week," while Jenna Dewan wrote, "Yasssss," with two fire and two clapping hands emoji.
Holly Robinson Peete wrote, "And now the end is near" with a peach emoji, while Carrie Ann Inaba gushed, "You two…. [six fire emoji] get it! #forreal #hottiesforlife."
Also clearly entertained by the couple's antics was "Real Housewives of Beverly Hills" star Lisa Rinna, who commented, "This is just epic. Period. I don't even have anything clever to say. It's just hot!" Naomi Watts flooded the comments with praising hands and fire emoji, while Scissor Sisters singer Jake Shears wrote, "Yowza." Yowza, indeed.
Source: Read Full Article