What Will The Updated Edition Of Harry And Meghan's Finding Freedom Contain?
There's been a lot of talk about the literary life of Prince Harry and Meghan Markle recently. To recap, Harry caused a stir in July when he announced his partnership with Penguin Random House and his plans to publish a memoir in 2022. This was big news because the royal family rarely divulges details of their personal lives to the public. It's the first time Harry has personally penned a book about his life, but it's definitely not the first book on the subject. The most recent or at the very least most splashy royal biography to cover Harry and Meghan's life is "Finding Freedom." 
"Finding Freedom" was released after Harry and Meghan announced their intention to officially leave the royal family and move to the U.S. A lot has happened in the intervening year, so "Finding Freedom" isn't exactly the most recent version of the story. To remedy that issue, Harper Collins is releasing a new edition of the book with an updated chapter to further flesh out the details of the Duke and Duchess of Sussex's lives, per The Daily Mail.
Here's what you can expect to find in the new edition of the book.
The updated version will cover a lot of ground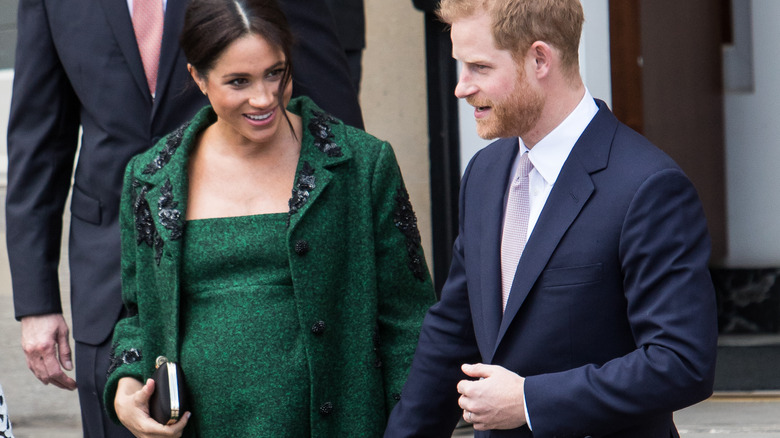 The updated version of "Finding Freedom" will go on sale on August 31. To fill readers in on the wild two years that have taken place since the first edition, authors Omid Scobie and Carolyn Durand went out of their way to talk to those closest to the Duke and Duchess, per the Daily Mail. So, what can we expect all those sources to dish on?
According to Harper Collins (via the Daily Mail), the newest edition will include details about Meghan's recovery after her 2019 miscarriage. The additional chapters will also cover Meghan and Harry's scandalizing interview with Oprah Winfrey — in which they accused the royal family of racism and of denying Meghan adequate health care. Scobie and Durand will also examine, per Harper Collins, "The continuous challenges the couple face regarding privacy and the British press [and] the heartbreak the couple felt over Prince Philip's death."
Because the first edition was released in the interim of Harry and Meghan deciding to leave the royal family and their interview with Oprah, in which they explained their reasoning, readers can likely look forward to more in-depth information about the rift in the royal family. Who knows? Maybe we'll get the third edition in 2022, so to speak … when Harry releases his memoir.
Source: Read Full Article