Vanessa Bryant Celebrates Her Daughter Capri's First Birthday: "Named After Her Dearly Missed Daddy"
Vanessa Bryant is celebrating her daughter Capri Bryant's first birthday—sharing a beautiful photo of herself holding Capri with her late husband Kobe Bryant, who tragically died in a helicopter crash on January 26 with their daughter Gianna. In the post, Vanessa revealed that Capri was named after her father.
"Happy 1st Birthday Capri!" Vanessa wrote, per Entertainment Tonight. "Mommy, Daddy, Nani, Gigi and BB love you SO much!!! God Bless you sweet princess. ❤️ Capri Kobe Bryant a.k.a. 'Koko-Bean' named after her dearly missed daddy, Kobe Bean Bryant ❤️ We miss you SO much Gigi and Daddy."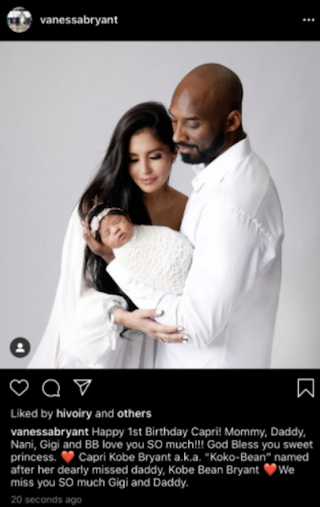 Vanessa's post comes several days after she revealed that she'd decided to block fan pages dedicated to Kobe due to it being difficult for her to heal.
"Thx so much of all the 💜" she reportedly said. "@nataliabryant and I have unfortunately had to block fan pages because it's been really hard to go online and constantly see pics of our beloved Gigi and Kobe under every single square of our explore pages. Blocking the fan pages has helped change the algorithm. We 💜 you all but please understand that we had to do this for our own healing not because we don't appreciate your 💜. Xo."
Source: Read Full Article