Tyler Florence's Banana Pecan Pancakes Are a Decadent Weekend Treat
Food Network star Tyler Florence's Banana and Pecan Pancakes are brimming with the flavors of delicious banana bread. Topped with the chef's creamy maple butter recipe, this breakfast is one to add to the weekend morning menu rotation.
Florence's pancakes feature ground-up pecans
The chef remarked on the Food Network video for this recipe, "I've got a 6-year-old son who absolutely loves daddy's pancakes; so these are going to be Miles' ultimate pancakes I'm going to make. … The flavor pecans and bananas together are remarkable."
In addition to toasted and ground (not chopped) pecans, the recipe needs, for the pancakes: buttermilk, eggs, vanilla extract, flour, baking powder, baking soda, salt, sugar, unsalted butter, and sliced bananas. The maple butter needs unsalted butter, maple syrup, and honey.
Tyler Florence's pancakes are a perfect weekend breakfast
The chef starts by making the compound butter ("Basically compound butter is just that; butter compounded with some flavor"). Two sticks of unsalted butter are "mashed together" with maple syrup and honey using a spatula. The mixture is then rolled into a log-like shape using "parchment paper, wax paper, plastic wrap, whatever you have laying around." The reason the chef tackles this first is that it needs to go into the refrigerator for at least 30 minutes "to set up."
To prep the pancakes, the Great Food Truck Race host says, "When you're making pancakes, basically you want to mix wet ingredients into dry ingredients."
The eggs, vanilla extract, and buttermilk are combined ("Buttermilk has an acidic quality that gives pancakes an amazing flavor and also helps give it a lot of lift") in a bowl. In a separate bowl, the flour, baking powder and soda, salt, and sugar are stirred together.
Pour the wet ingredients into the bowl with the dry and mix together ("I hate lumpy pancakes; it takes a second to work out all the little small lumps of flour"). Now, the ground pecans and melted butter are folded in.
Once the batter is prepared in a skillet and it's poured into a heated skillet a ladleful at a time, Florence adds that it's important to not "move the ladle itself; the pancakes actually roll out into a perfect circle all on their own." Drop banana slices onto the pancake batter circles.
Serve topped with dollops of maple butter and a dusting of powdered sugar, if desired.
Get the full recipe, video, and reviews on Food Network's site.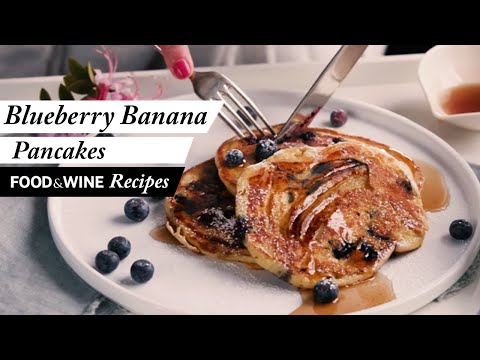 Reviewers loved Florence's 'super easy' pancakes
Home cooks noted on Food Network's site their warm feelings for the chef's cozy breakfast offering.
"A recipe you will keep in your archives for holidays and special occasions. Simple to make and delicious! Thanks, Tyler!," wrote one reviewer.
Another satisfied fan added, "After about 5 different recipes, I have finally found a homemade pancake recipe. I should have come to Tyler Florence first."
"VERY delicious, and super easy," a happy reviewer said.
Make a stack of Tyler Florence's five-star rated Banana Pecan Pancakes for an indulgent, tasty breakfast!
Source: Read Full Article