Sabrina Ionescu, N.Y. Liberty Pop Champagne After Winning Commissioner's Cup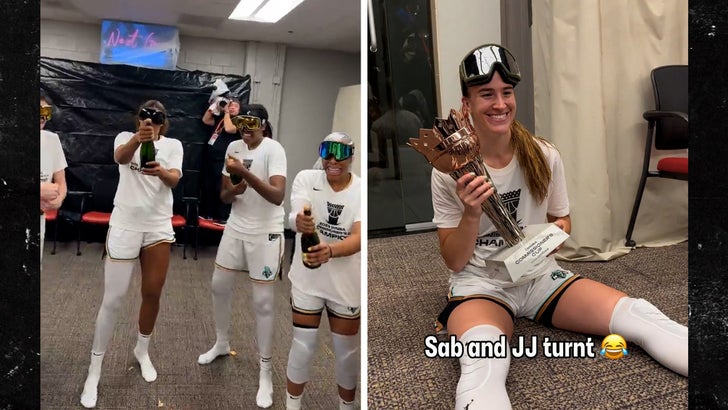 It may not have been the WNBA Finals, but the New York Liberty certainly partied like it Tuesday night … letting the champagne bottles pop after winning the franchise's first-ever Commissioner's Cup!!
It's the third year the WNBA has held the in-season tournament … and the Liberty earned the hardware after defeating the Las Vegas Aces, 82-63, at Michelob Ultra Arena in Sin City, the first time the defending champions lost on their home court this season.
The whole team gathered in a circle in the locker room after the big win … simultaneously opening and spraying their bottles of bubbly to kick off the celebration.
Star forward Breanna Stewart even got an extra assist on the night … helping her teammate who was struggling with the bottle.
Sabrina Ionescu — who scored 12 points in the title game — was extra lit with the MVP, Jonquel Jones, as the two hoops stars showed off their dance moves and took sips out of the championship trophy.
The Liberty had every reason to party …. besides it being the franchise's first championship win of any kind, each player gets $30k out of the $500k prize pool, while Aces players get $10k each.
Preview of this year's WNBA Finals??
Source: Read Full Article