Meet Sarah Jade, Dave Bautista's Ex-Wife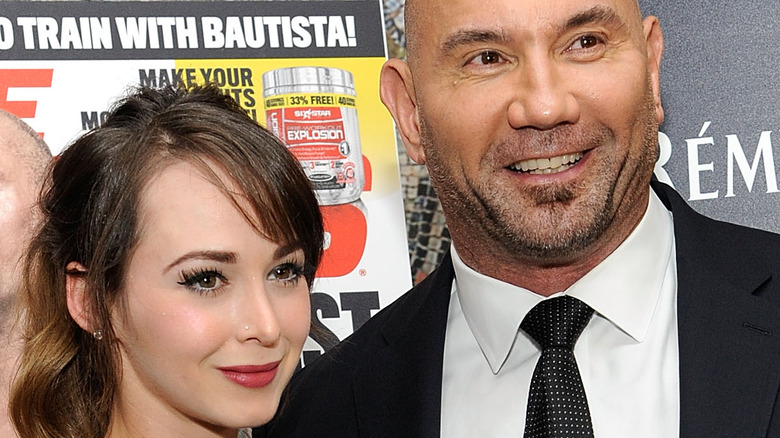 They say the third time's the charm. However, this age-old idiom didn't ring true for WWE champ Dave Bautista's marriage to his third wife, Sarah Jade, as the couple called it quits in 2019 after four years of marriage (via The U.S. Sun).
The two got married in an outdoor wedding where Jade stunned in a Grecian-style dress as she said "I do" in front of several of Bautista's WWE friends and coworkers as well as director James Gunn, per Closer Weekly. Not much has been revealed about what may have led the "Avengers: Endgame" star to divorce Jade, who was 20 years younger than Bautista, according to Top Cultured. His history of rocky relationships may provide some insight as to why the marriage failed, but not much has been shared by the athlete-turned-actor or Jade herself (per TheThings).
Although the pair parted ways, fans of Bautista still want to know more about the woman who captured his heart several years ago. Here's everything we know. 
Sarah Jade owns a pole dance studio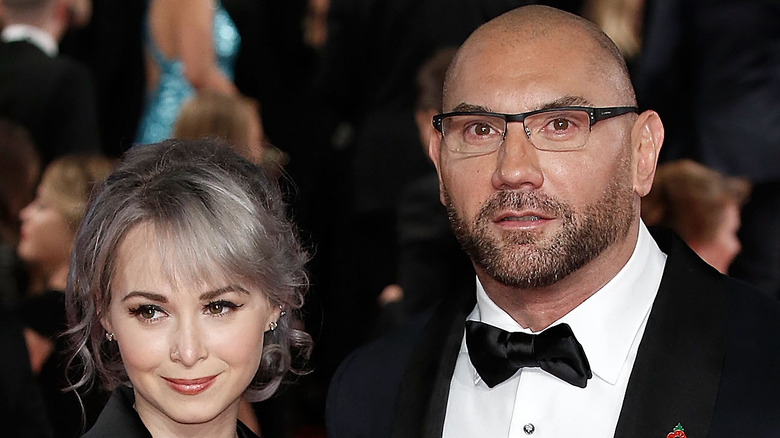 Entrepreneur Sarah Jade is doing just fine post-breakup from Dave Bautista. The Florida native is the founder of a successful pole and aerial dance studio, Buttercup Pole Dance, where she teaches students the art of dancing (via Celeb Suburb). Those who join the dance studio in Tampa, Florida, have the unique privilege of being taught by the former winner of the Miss Pole Dance America 2016 and two-time winner of the Florida Pole Fitness Championship, according to the outlet.
Top Cultured reports that the "petite" dancer discovered her interest in pole dancing at age 18 and soon began competing on a national level. She also balanced dancing with school work before graduating from the University of South Florida with a degree in sociology.
Jade appears to love what she does, often posing in fun photos at her studio and posting videos of some of her classes to Instagram. Somehow, she even manages to make dancing in both a mask and banana costume look sexy (via Instagram). It's safe to say Jade is not stuck in the past. 
Source: Read Full Article