Lol: Now Little Mix Is Trying to Get Involved in Nicki and Cardi's Feud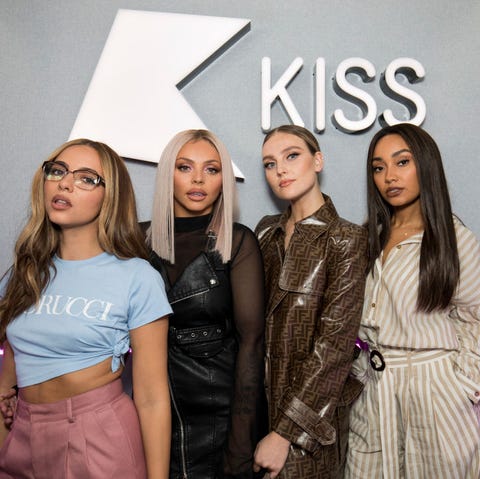 As you may have heard, the feud between Nicki Minaj and Cardi B came to yet another head yesterday when Nicki went on her Queen Radio show to talk about Cardi.
Cardi followed that convo up with a whopping eight Instagram videos addressing the matter, and in one of them, she made a claim that she was actually asked to perform on Little Mix's jam "Woman Like Me" before Nicki was.
Her exact wording went something like: "That 'Woman Like Me' record? Yeah, I had to decline it because I'm doing a lot of pop records, so I can't, you know, over-exaggerate myself. But that came to me first, and then they give it to you."
View this post on Instagram
A post shared by CARDIVENOM (@iamcardib) on
Relatively speaking, the claim came out of left field. The band, now officially in a narrative they probably want to be excluded from™, decided to address Cardi's comments on Twitter in a very polite and respectful statement.
❤️ pic.twitter.com/K9dWShfqKv
"We love and respect both Nicki and Cardi B," the band wrote Tuesday morning. "Both were approached by our label to work with us on 'Woman Like Me,' Nicki, then Cardi. We went with Nicki because, like we've said over and over for years, it's been a dream of ours to work with her since the beginning. We have nothing but love and positivity for both Nicki and Cardi."
That statement, totally civil, is very different compared to what they posted on their Instagram. Let's just say they had receipts of the whole thing from July in which they talked to someone about confirming Nicki.
View this post on Instagram
We just want to clarify…Nicki was approached first (swipe for date) 👑 #WomanLikeMe @nickiminaj @iamcardib The girls x
A post shared by Little Mix (@littlemix) on
So yeah! That seems to put that issue to bed?? Kind of, sort of??? IDK. Either way, Nicki and Cardi officially called a truce with one another, so it looks like this is over…for now.
Follow Emma on Instagram.
Source: Read Full Article