Jack's Wedding Speech About Princess Eugenie Will Melt your Heart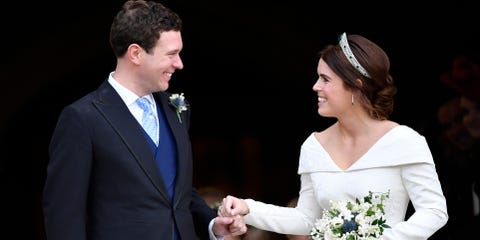 Throughout the royal wedding ceremony, Princess Eugenie and Jack Brooksbank looked completely smitten with one another. So it shouldn't come as a surprise that Jack gave an emotional speech about the bride which will literally destroy you.
According to Hello! magazine, Brooksbank made his feelings for Eugenie clear at their wedding reception, when his speech brought tears to everyone's eyes.
The publication's source is Anthony Wallersteiner, who just so happens to be the chair of the charity Street Child, which the York family regularly works with.
Wallersteiner told Hello!, "For a young man of 32 to be that open about his emotions, was quite affecting. He talked about how she is the one light of his life. She makes him complete and he can't imagine spending a day apart. Everyone cried—Eugenie's eyes went too. I mean she wasn't sobbing. It was just lovely, sweet, short and modern."
If you don't also have tears in your eyes after reading that then you better call a doctor because you might be sick.
View this post on Instagram
The newly married couple, Princess Eugenie and Jack Brooksbank, depart from their afternoon reception. They left in an Aston Martin DB10, designed and engineered in the UK and made for the James Bond film Spectre. #RoyalWedding
A post shared by The Duke of York (@hrhthedukeofyork) on
It was also reported that Eugenie's father, Prince Andrew's speech had the guests both laughing and crying. From anecdotes about his daughter's childhood, to a true embrace of Jack into the York family, Prince Andrew made sure that Eugenie's new husband felt at home.
An anonymous source also told Hello! that Prince Andrew "isn't a very tactile person," but that the royal showed his affection for Jack by doing "something he's never done before; he went over to his new son-in-law and hugged him." I need to rest now.
Source: Read Full Article