Here's What David Beckham's Tattoos Really Mean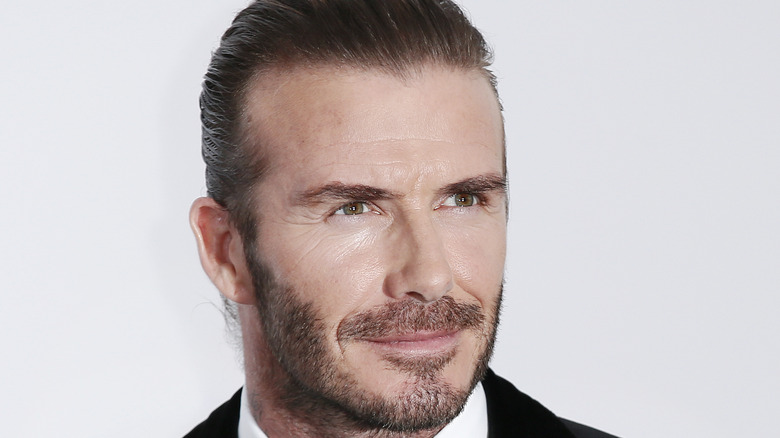 David Beckham has lived a fascinating 30 years in the spotlight. He was introduced to the world as player for Manchester United, the team he grew up with an intense love for. Beckham may have started out as just another "footballer," but he ended up being one of the most recognizable figures in professional sports. Though his professional soccer days are now behind him, Beckham has made the move from player to partial owner of Inter Miami CF (per ESPN).
Over the years, Beckham has become known for his good looks and celebrity status almost as much as his career on the soccer pitch. Beckham, husband to former Spice Girl/fashion designer Victoria Beckham and father of four, has acted, modeled, and more, all while displaying his impressive collection of body art. Beckham is believed to have anywhere from 60 to 80 individual pieces (per Men's Health).
Unlike some celebrities who piece together random tattoos, Beckham has some definite themes in his art, focusing on faith and family in most of his pieces. Here's a closer look at his myriad of tattoos and their meanings.
David's got an impressive amount of ink from the neck up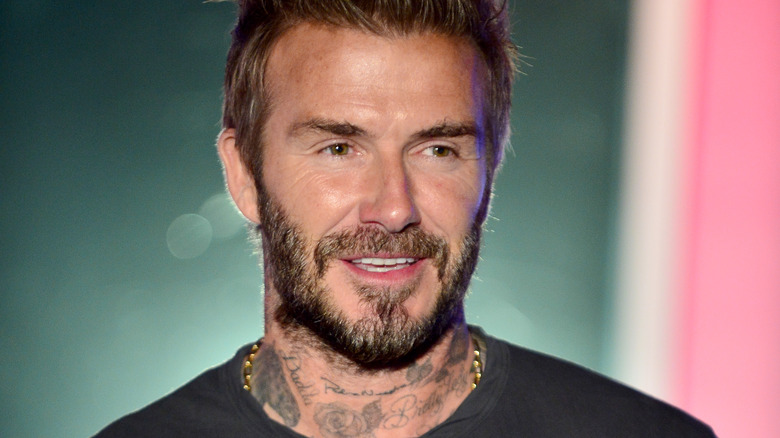 Many heavily tattooed people try to avoid constantly visible spaces like the neck and head, but David Beckham isn't one of those people. Despite being heavily inked from the neck up, he can still pull off a clean-cut look in a suit and tie.
A closer look will show you a lot of meaningful ink in that space. On the left side of his neck, he has his daughter's name, "Harper," to which he later added "Pretty Lady," a rose, and the phrase, "I love you" (per the Daily Mirror). There's also a flock of birds flying near the left side of his ear, which even has a tiny rose tatted on the tragus and a little black heart on the ear (per Men's Health). On the left side of his head, Beckham sports a small solar system.
At the front of his neck, Beckham has the phrase, "dadda do it," with a black horse. The back of his neck includes a crucifix right above son Romeo's name. Brooklyn is honored with his nickname, "Buster," on the right side of Beckham's neck.
Beckham's back may be pretty bare, but the same isn't true for his chest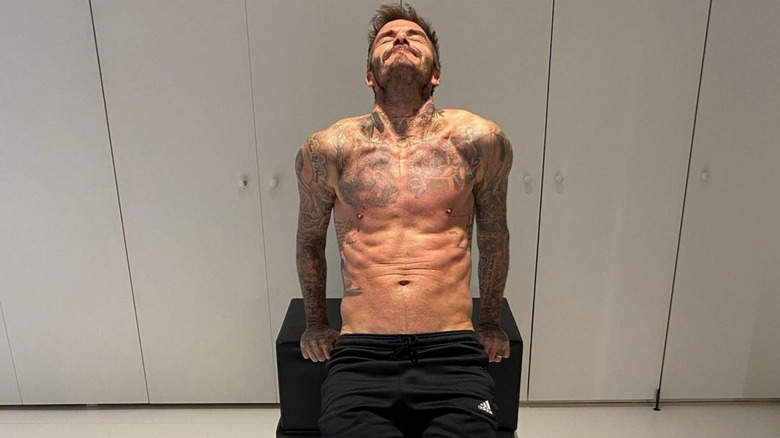 David Beckham's torso doesn't just illustrate that the man spends a lot of time working out. It's also a proud showcase of more of his body art. In the center of his sternum sits a minimalist cross, one of Beckham's many religious pieces. On the left, he has a detailed tattoo showing three cherubs lifting Jesus out of his tomb. 
"Jesus being carried by three cherubs and obviously the cherubs are boys," Beckham explained in a Facebook video where the ink was mentioned. "My thought of it is, at some point my boys [Brooklyn, Romeo and Cruz] are going to need to look after me and that's what they're doing in the picture."
On the other side, there's a mysterious motif of a woman deep in a forest. There have been rumors that the tattoo may signify one of the strong women in his life, though it's unclear if it is his wife or mother.
David's got more familial tattoos on his back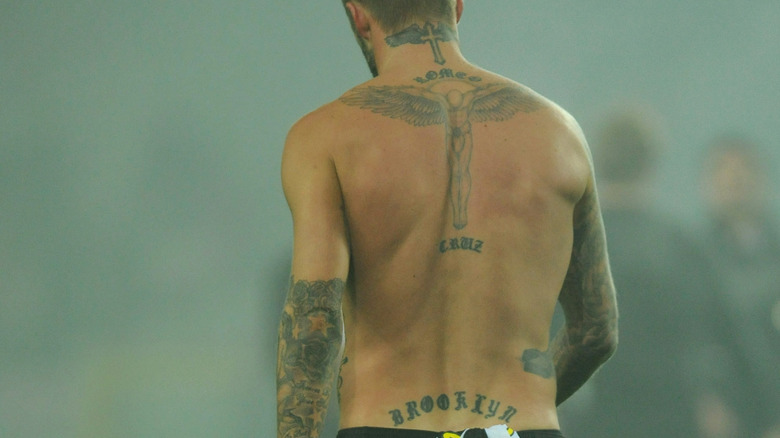 David Beckham has even more tattoos on his back, both related to his faith and family. Underneath the cross on his neck is son Romeo's name. Underneath that is an angel with wings outstretched in a crucifix-like position. Beneath that angel is son Cruz's name. At the bottom of Beckham's back is son Brooklyn's name (per Goal).
Beckham's back also gives a peak at his oblique tattoos. On the right side, he has a ship at full mast tattooed. The tattoo is nearly identical to one that Beckham's father, David Edward Alan "Ted" Beckham, has (per The Sun).
On his left side, he has Chinese characters which translate to "death and life have determined appointments". He also has a eagle flying with wings outstretched tattooed on his armpit. Underneath it is the head of a Native American Chief (per Body Art Guru).
David has two full sleeves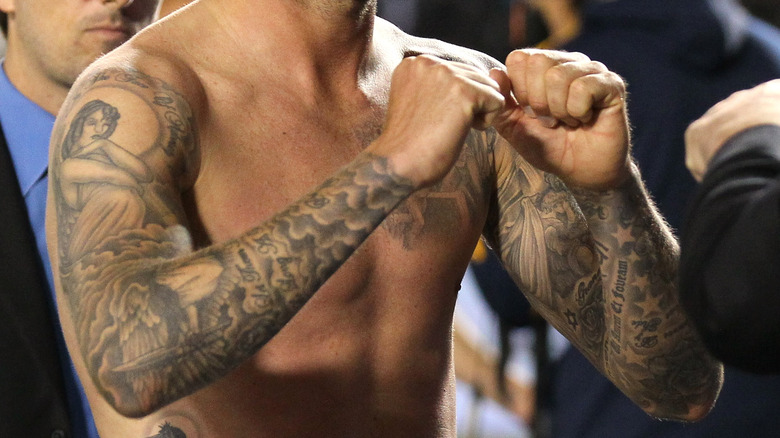 David Beckham's struggles are documented in his two sleeve tattoos. He has an angel on his right shoulder with "In the face of adversity" tattooed around it, a nod to his alleged affair in 2004 (per Tattoo.com). A heavenly cloud motif then gives way to cherub tattoos that represent his sons, another angel, and a Roman phrase that reads, "Let Them Hate As Long As They Fear." There's also the phrase "Pray for Me," which he got when leaving Manchester United for the Los Angeles Galaxy (per Men's Health).
On his left arm, Beckham has a Renaissance painting of Cupid flying his wife Psyche into heaven (per the Daily Mirror). There's his tattoo of wife Victoria Beckham, as well as her name in Sanskrit on his forearm. Between the two are tattoos of plants and the Latin phrase, "Ut Amem Et Foveam," which means to love and to cherish. He also has the phrase "Forever By Your Side."
David Beckham's constantly expanding on his body art, so surely these tattoos are far from his last. He's likely to continue debuting new ink as he enjoys the milestones of his life and commemorates them on his body.
Source: Read Full Article