Hailey Bieber Calls Roe v. Wade Reversal an 'Extreme Loss'
After the 1973 ruling that granted women the right to an abortion was overturned by the Supreme Court, the model wife of Justin Bieber joins many in expressing her outrage and disappointment.
AceShowbiz -Hailey Bieber a.k.a Hailey Baldwin could not help but express her heavy disappointment at the U.S. Supreme Court decision to overturn Roe v. Wade. On Friday, June 24, shortly after news of the ruling reversal spread, the wife of Justin Bieber vented her frustration on her social media account and called it an "extreme loss."
Making use of her Instagram Story, the 26-year-old model reposted Complex's news story about the historic decision. Along with it, she shared her thoughts that read, "Wow… I'm speechless. What an extreme loss and disappointment." She further added, "This is really really scary."
Hailey's reaction came not long after U.S. Supreme Court announced that Roe v. Wade was officially overturned on Friday. The landmark Supreme Court decision which has been in place since 1973 granted women the right to an abortion in every state in the United States. After its reversal, individual states now have the power to ban women from seeking legal abortion.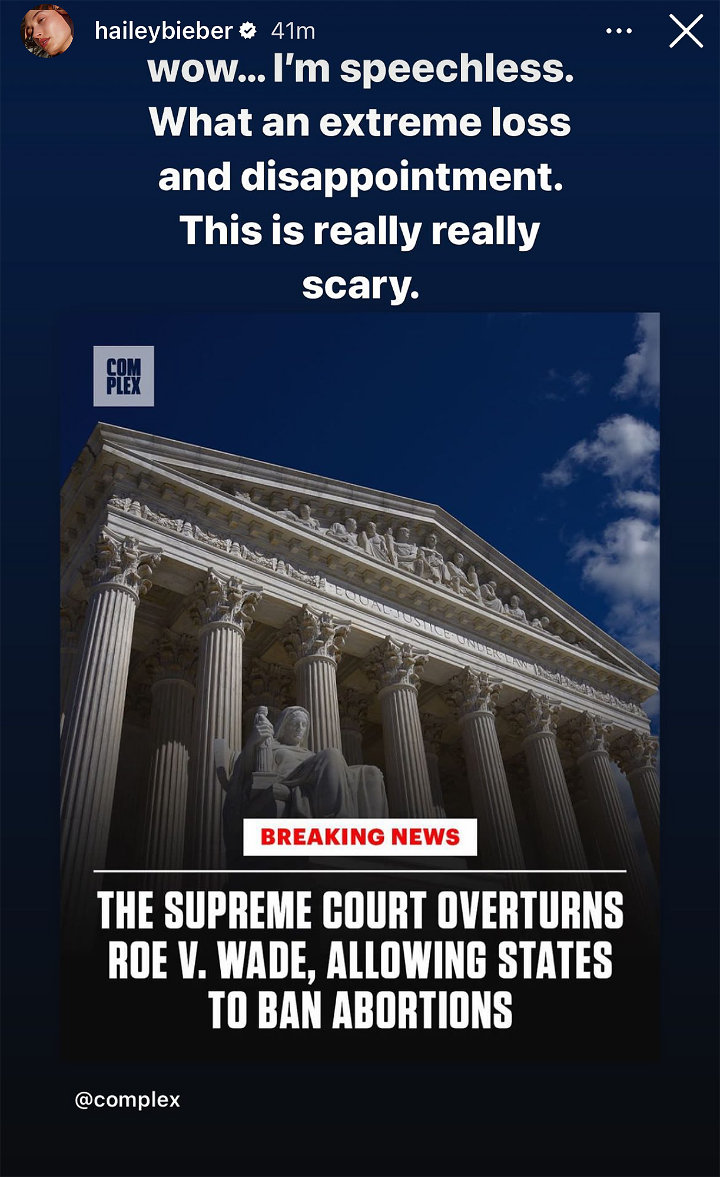 Hailey Bieber expressed her disappointment to Roe v. Wade reversal.
The daughter of Stephen Baldwin was not the only one left shocked by the reversal. A number of celebrities and high-profile women have also expressed outrage and disgust in response to the ruling. Among them was Kim Kardashian who wrote in her Instagram story, "In America, guns have more rights than women."
Taylor Swift, in the meantime, took to Twitter to share her honest thought, "I'm absolutely terrified that this is where we are." The "Shake It Off" hitmaker went on stating, "After so many decades of people fighting for women's rights to their own bodies, today's decision has stripped us of that."
Former Secretary of State Hillary Clinton joined the critics. "Most Americans believe the decision to have a child is one of the most sacred decisions there is, and that such decisions should remain between patients and their doctors," she tweeted. "Today's Supreme Court opinion will live in infamy as a step backward for women's rights and human rights."
While many were against the reversal, former President Donald Trump applauded the Supreme Court's decision. In an interview with Fox News, the 76-year-old stated, "This is following the Constitution, and giving rights back when they should have been given long ago."
Trump went on to send a message to his supporters who might be pro-choice. "I think, in the end, this is something that will work out for everybody," he pointed out, further adding, "This brings everything back to the states where it has always belonged."
Source: Read Full Article