Guests Are Selling Their Gift Bags from Princess Eugenie's Wedding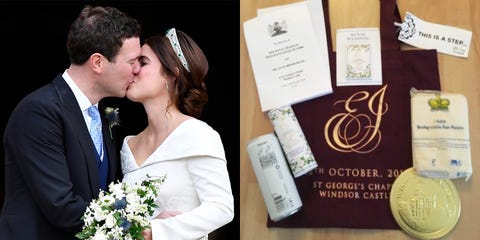 After Prince Harry and Meghan Markle's royal wedding back in May 2018, some of the guests who'd received gift bags at the nuptials decided to put the items on eBay. And now, following Princess Eugenie's wedding, it seems as though guests are doing the exact same thing.
However, it's already clear that merchandise linked to Harry and Meghan's wedding seems to have sold for a lot more money. It was initially reported back in May that one guest gift bag from the Duke and Duchess of Sussex's special day had sold for the staggering amount of $28,500. While some of the souvenirs traded hands for a lot less cash, this huge sale set a record of sorts.
The BBC is reporting that several members of the public who received invitations to Eugenie and Jack's wedding, and were subsequently given gift bags, have tried listing them for sale online already. The bags contain keepsakes such as an Order of Service for the royal wedding ceremony, a fridge magnet, a poncho in case of rain on the day, shortbread cookies, and chocolate coins.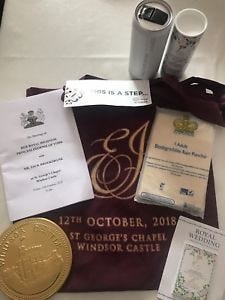 While none of Princess Eugenie's wedding gift bags have reached the heights of Harry and Meghan's, as of this morning, one had already sold for £450, which is around $600. A second bag had also sold for the much smaller amount of £98 (around $130), with many more still available to buy.
Even though gift bags from the second royal wedding of 2018 will likely never beat the monetary record set by the first, it's clear that royal family fans are willing to pay a lot of money for Princess Eugenie souvenirs.
Source: Read Full Article