Every Time Prince Harry Discussed Wanting Kids Through the Years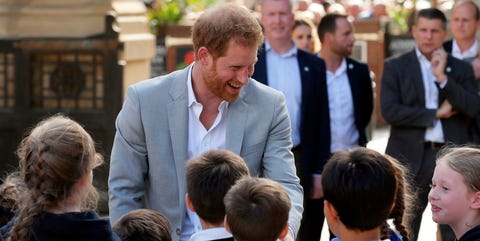 Today, Prince Harry and Meghan Markle announced that they are officially expecting their first child in the spring of 2019. The couple got engaged in November 2017, and officially tied the knot in a beautiful royal wedding back in May.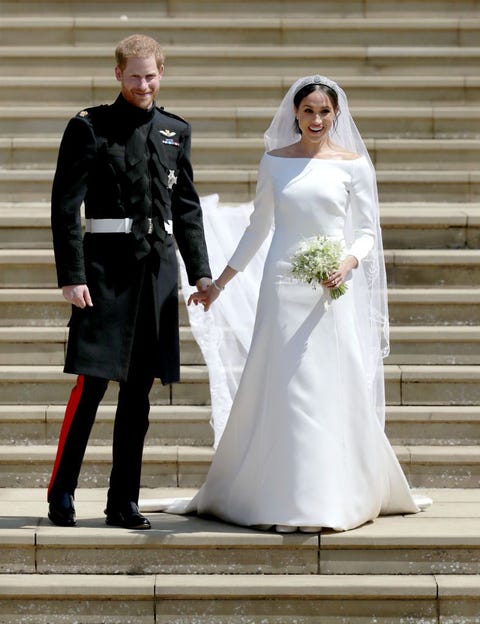 Prince Harry has always been great with kids, and has never been shy about his longing to be a parent—often speaking about it openly in interviews whenever the subject of starting a family was broached. Here's a timeline of every time Prince Harry discussed his future children, long before that dream became a reality.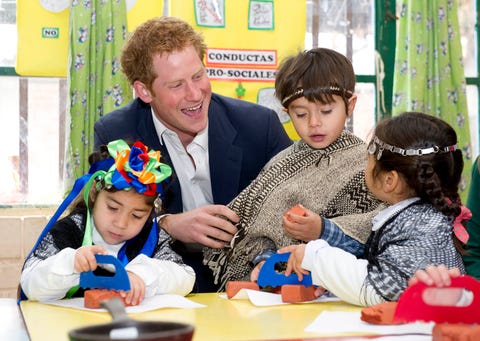 May 2012: Longing for Kids
Just after his brother Prince William tied the knot with Kate Middleton, Prince Harry told Katie Couric on ABC News that he has always wanted kids. "I've longed for kids since I was very, very young. I'm waiting to find the right person and someone who's willing to take on the job."
May 2015: Looking for the Right Partner
Prince Harry talked to Sky News about life on the road, finding a partner to share it with, and when kids will be in the cards. "I don't think you can force these things, you know, it will happen when it's gonna happen. Of course I would love to have kids right now but, there's a process that one has to go through. And you know, tours like this is great fun. Hopefully I'm doing alright by myself, it would be great to have someone else next to me to sort of share the pressure but, you know, the time will come. Whatever happens happens, I guess."
March 2016: Making His Mother Proud
Prince Harry sat down with Robin Roberts for ABC News to discuss his involvement with the Invictus Games and making his mother, the late Princess Diana, proud. "I hope she's looking down with tears in her eyes being incredibly proud of what we've established. I'm sure she's longing for me to have kids so she can be a grandmother again. I hope, once again, that everything we do privately and officially that it makes her proud."
When Roberts asks Harry about his desire to be a father and his gravitation towards children, he seemed to be excited. "I can't wait for the day. So, you know, it will be fantastic," Harry said. "I've got a kid inside of me. I want to keep that. I adore kids. I enjoy everything that they bring to the party. They just say what they think."
May 2016: Competitors Are His Children
While discussing having kids in 2016, Prince Harry seemed to be excited, but still very focused on his charity work with the Invictus Games. "Me and being a dad? One thing at a time….I look forward to the time when it comes, but at the moment I'm 'Dad' to 110 of these competitors."
May 2016: Touring With Kids
Prince Harry spoke to People about his thoughts on having kids while he travels the world. "There have been moments through life, especially when we do a tour abroad, when I think, 'I'd love to have kids now.' . . . And then there are other times when I bury my head in the sand going, 'All right, don't need kids!' There's no rush. I think . . . I tell you what: There's been times I've been put off having children. No, actually, I've got a couple of mates and being around their children just brings me back down."
April 2017: Godfather Duties
On Bryony Gordon's "Mad World" podcast, Prince Harry opened up about his role as a godfather to his friend's kids, and preparing for becoming a dad in the future. "Are you like a really awesome godfather?" Gordon asked. "I'd like to think so. I think the key to that is to grow up, but also be able to stay in touch with your childish side. If that means going to someone's house and playing PlayStation and kicking the a** of their son on Counter-Strike or Halo or whatever it is then I'll try and do that. But I, of course, I would love to have kids."
November 2017: Future Parents
In their first interview after getting engaged, Harry and Meghan were asked about their plans to have children. "Of course, you know, one step at a time. Hopefully we'll start a family in the near future."
We can't wait to watch Prince Harry with his own kids very, very soon.
Source: Read Full Article