'Claim to Fame' Season 2: Who is Gabriel Related to? Clues, Guesses & Spoilers Revealed!
Claim to Fame season two is getting closer and closer to the end!
Celebrity siblings Kevin and Franklin Jonas returned as hosts, with the new season introducing many new competitors and continuing the game of mystery and hidden identities.
One of the 12 new contestants on the series this season is "Gabriel."
He is competing for the $100,000 grand prize and his own "Claim to Fame."
Season two has promised "double the fun, with super-sized competition, drama and more," along with A-list celebrity relative reveals.
Check out all of the clues and guesses for Gabriel's identity inside…
Before the season started, Gabriel revealed the last text from his relative was, "Don't make me look crazy!!," and he is going in with these words describing her strategy: We Shall Overcome.
Check out all of the clues revealed about him below, and our best guess at who his celebrity relative is…
WEEK 1 CLUES: In two truths and a lie, Gabriel shared that his relative is his brother, that he's an athlete and the biggest award he has gotten is an NAACP Award. He later revealed that the athlete part was a lie.
WEEK 2 CLUES: In the challenge, it was revealed that his relative was born in San Diego, Calif.
WEEK 3 CLUES: In the challenge, they showed Gabriel's headshot with three clues to his relative – a hat with a propeller on the top, drumsticks and a star.
WEEK 4 CLUES: During the Feeling Famous challenge, there was a giant burger, which Gabriel immediately identified as being his relatives. He pointed out that the burger is for the movie Good Burger, and his brother was on Nickelodeon with Good Burger stars Kenan Thompson and Kel Mitchell.
WEEK 6 CLUES: JR thinks that many clues lead to Gabriel's relative being NFL star Julius Peppers, with the clues being the Julius Caesar statue, the football plays, the trojan horse for Julius' alma mater USC, and he currently plays for the Carolina Panthers, and Gabriel lives in North Carolina. In the week's lie detector test challenge, he asked a series of football and NFL related questions, like does his relative play in the NFL and has he won the Heisman trophy, which Gabriel said yes. JR also asked if he played offense or defense and Gabriel said both. Gabriel ended up winning the challenge, being named the best detective and unlocking another winner's clue.
Who is he related to? Online sleuths believe he is related to… (scroll down for SPOILERS)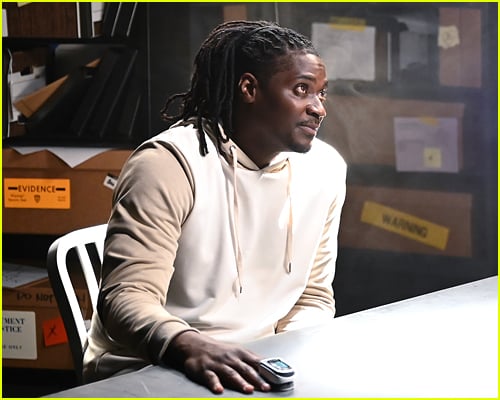 Our best guess is that he is related to Nick Cannon!
The clues to Nick add up, as he was on Nickelodeon back in the 90s at the same time as Kenan and Kel. There were clues for his movie Drumline, and the "loud battles" clue in week five seemingly alludes to Wild N Out.
Source: Read Full Article